Saturday Bonus Questions & Answers – 112721

Check out our special Holiday prices on SeniorPass, Cloudeight Direct Computer Care Keys, Emsisoft & more.
---
It's Saturday. The weekend is here and you know what that means. It's time for more Bonus Questions & Answers.
Sometimes the best tips and tricks are hidden in the questions and answers we publish. And rarely do we post questions and answers on this website. Today, we're featuring some of the questions and answers from past issues of our InfoAve Weekly newsletters. 
These answers were selected at random from past InfoAve Weekly newsletters.
---
Saturday Bonus Questions & Answers – 112721
Mae encounters a scam
Last night Windows 10 restarted without my permission. Now it wants my Hotmail password but it doesn't recognize it when I type it in. Then it asked for my name birthdate & postal code. Next, it wanted the address of 5 people to whom I had sent emails and the subject line. Is this a scam?
Our answer
Hi Mae. You encountered a scam. Always make sure you go to the correct site to log in to your Hotmail account. If you typed in your Hotmail password on a counterfeit, fake Hotmail site (scam form) when you typed in your correct Hotmail password you just gave the criminals your Hotmail password. It's very important that you change your Hotmail password immediately.
You've been the target of a phishing scam. Your correct password did not work on the fake Hotmail site because it was a fake site, so when you typed in your password, you gave it to the scammers. And of course, it did not work to log in to your account because the page was fake. Remember a Hotmail account is a Microsoft account (Hotmail, Outlook.com, MSN.com, Live.com, Live.ca are all Microsoft accounts).
As soon as you possibly can, change your Hotmail password:
Sign in to your Microsoft account using your current password. If you forgot your password, select "Forgot my password" and follow the following steps:
Once you've signed in…
Select Security.

Select Password security.

Type your current password, then type a new password and type it again to verify.

Select "Save"
For deeper account sign-in issues, see How to reset your Microsoft account password.
In the future make sure you're logging into the correct Microsoft/Hotmail site. Here's the correct login page for Hotmail (and all Microsoft accounts – Outlook.com, Hotmail.com, MSN.com, Live.com, Live.ca)
And here's something to always remember…
What happens on your local computer (updates, reboots, etc.) does not affect what happens on the Web or the Internet – if it did, can you imagine what a mess we'd all have if our computer problems changed the internet? A Windows update does not change your Hotmail password.
If you need any more help, please let us know. We are so sorry this happened to you.
---
Sharon wants to find and remove duplicate photos
My picture file is a mess. Is there a program you would recommend to clean up duplicate pics, one that is simple for anyone to use?
Our answer
Hi Sharon. You have to be really careful when you use a duplicate file finder for important/precious pictures. Some duplicate file finders don't compare all the elements of a picture. They may only go by file name – and this could result in problems. We found one we trust, but you still have to exercise some care and make sure you're not deleting something that is not a duplicate.
Read our article here about our recommended duplicate file finder.
I hope this helps you, Sharon. Be safe.
——
Sharon wrote back: "Thank you so much. After reading your email I think I will manually delete the duplicates. After all, I have plenty of time at home right now, and I will eventually get it done. Stay healthy and thank you!"
---
Wayne cannot fill in forms online
My computer has lost the ability to fill in information like my name, address, e-mail address, etc. How can I correct this?  I seem to be up to date on my programs. I am using Chrome. Help! Thank you.
Our answer
Hi Wayne. It most likely is a browser problem, not a computer problem. The best and easiest fix is to reset your browser.
Here's how to Reset Chrome:
In Chrome, open Settings [ Type chrome://settings/ in the address bar or click the 3 vertical dots in the top right corner and click on settings ].  In Settings, scroll down to the bottom and click " Show advanced settings". Next, scroll down to the bottom of Advanced Settings until you see this:

Click on the arrow (see above), the Reset dialog appears (see below).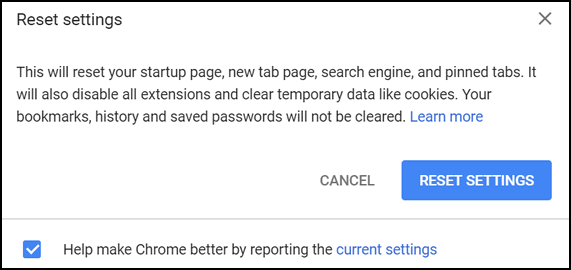 Click the Reset button. Wait while Chrome resets. Then close Chrome and re-open it. Chrome will be reset to its defaults and all your extensions will be disabled. You can re-enable the extensions you need.
Let us know if you need more help.
---
Sharon does not want to use a password to log into Windows 10
I want to cancel my login password. When I purchased this computer the computer tech insisted I have a login password setup. I told him I didn't want a password setup. He kept insisting, so he set one up and I have regretted it ever since.
I followed the instructions from Microsoft to turn this off but it only made it worse. Plus I am tired of having to reset my password all of the time just because Microsoft says to.

Our answer
Hi Sharon. The computer tech was right, it's not a good idea to leave your PC unprotected even if no one else uses it. If you do not want to use a password, at least use a 4-digit PIN. To learn how to use a PIN instead of a password, see our instructions here.
The only way to remove your password if you're using a non-Microsoft account is this:
Right-click the Windows 10 Start button & click run
Type netplwiz in the Run box and press Enter.
Select your username from the box in the middle
Uncheck the box above it by 'Users must enter a user name and password to use this computer
Enter your password to confirm the change, then click Apply/OK.
NOTE: If you have typed your password incorrectly during ANY previous Windows 10 boot, this will not work. If, after following the steps above to remove your password you are still being asked for a password when you start up or restart your computer do this:
Right-click the Windows 10 Start button & click run
Type netplwiz in the Run box and press Enter.
Select your username from the box in the middle
Check the box that says "Users must enter a user name and password…"
Add your password
Reboot
Then… do this again:
Right-click the Windows 10 Start button & click run
Type netplwiz in the Run box and press Enter.
Select your username from the box in the middle
Uncheck the box above it by 'Users must enter a user name and password to use this computer
Enter your password to confirm the change, then click Apply/OK.
We hope that you'll consider using a PIN instead of removing your account protection (password/PIN) from your PC.
---
Diane has problems with her Internet connection
Here I am again…with a question…
1) My internet service is with a private city-run via a tower cabled into our house by a signal to it.
2) attached into a modem
3) every year once our trees leaf out they claim is why my service is slowing down, at times it even goes off & on within seconds!
SO to the question:
1) Being I am using (renting) their modem, perhaps buying a better one would be the 'cure' or
2) I've been reading often about a Wi-Fi Booster that plugs into an electrical outlet to get better reception, whether that would work….OR. Is that just for within the house (not from the tower to modem)?
Our answer
Hi Diane. I'm not familiar with your type of Internet provider, so I wasn't sure if leaves on a tree can block a Wi-Fi signal so I did some research because it's not unusual for Internet providers to not be forthright with their customers. Here's what I found:
"Trees when in full leaf, do not so much block WiFi signals as attenuate (reduce them). The greater the mass of the trees in the path of the signal the greater the effect.
There is also the issue of signal reflection from the 'wall' of leaves. Not only does this cause a reduction in the signals that get through, the reflections vary randomly with the wind, altering the timing and path length of the signals. This will increase the error rate and reduce the effective 'speed' of the connection…"
So, it looks like your ISP is telling you the truth. Buying your own modem would not do anything for you. A modem can only work with thing signal it receives. Do you mean Wi-Fi Router instead of a modem?
Wi-Fi "Boosters" are actually range extenders and work only within your house or around your house- for instance, on a backyard patio. If your computer is located too far from your router the signal can degrade as it passes through walls in your house. But a Wi-Fi booster cannot boost your Internet signal, it can improve the quality of the Internet if your computer is located a long way from the router – but so would moving your computer closer to the router. A booster or extender will not make your Internet speed faster than the ISP provides and works only in or near your house.
I hope this helps you. But in your case, I think your ISP might be telling you the truth if your Wi-Fi signal does come from a radio tower.
---
Gordon says pictures in our article almost started resetting his computer
Hey folks. I am reading the latest weekly newsletter and I came across something unusual. I have never seen (or at least noticed) this in any previous publication, and I wanted to bring it to your attention in case…..
I was reading the section "How to Wipe Your Computer and Reinstall Windows 10", and when I ran the cursor over the example illustrations, a small black arrow popped up and when clicking on it, I got a dialogue that allowed me to take an action that would have led (I think) to resetting my computer. This happened on more than 1 screen illustration. This might have been intentional on your part, but I just felt that you needed to know. Stay healthy.
Our answer
Hi Gordon. We cannot access your PC via a picture – nor would we ever want to. The pictures we use in our articles for illustration purposes are simple PNG files and they are not linked to anything.
Can you imagine what criminals could do if they could show you a picture and wipe your computer?
Here is the source code from the newsletter- the source is the HTML code the newsletter and all Web sites are made with.
As you can see they're more than links picture files on our site:
https://thundercloud.net/infoave/images/2019/reset3.png
https://thundercloud.net/infoave/images/2020/reset4.png
https://thundercloud.net/infoave/images/2020/reset5.png
If you click on any of those the corresponding picture will open but nothing else.
So, I'm not sure what you were looking at, but we cannot open Settings > Update & Security > Recovery > Reset This PC on your computer using pictures.
---
Phyllis wants to unzip files in Windows 10
I would like to know if there is a free file like WinZip to unzip files. I downloaded screen savers from some of the sites you recommended but am unable to open them up. I went to the Microsoft Store but there is a charge for WinZip & WinZip Universal that I found. Since I'm not savvy with any of this, I didn't know what to try. Thanks for any info you can give me. Sincerely, Phyllis.
Our answer
Hi Phyllis. Windows has had a built-in unzip tool since Windows XP. You don't need WinZip (which now borders on malware) or any other program to unzip zip files
Right-click on any zip file you and choose "Extract all"

Then click the "Extract" button.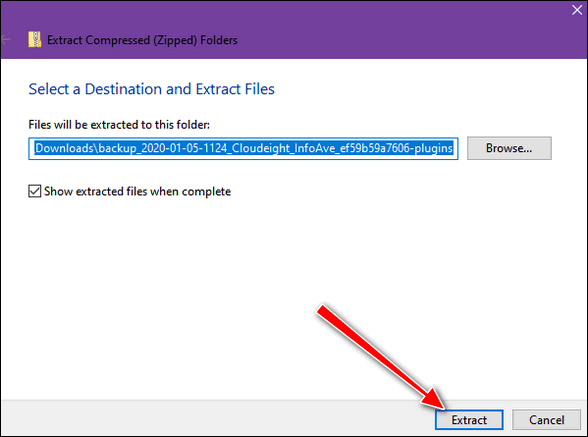 The files will be extracted to the same location as the zip file.
---
Judy wants to know how long a computer normally lasts
I just wanted to ask a question before I actually need it someday. My computer is running well with NO problems. However, it is 7 years old and I'm not sure what the normal lifespan is for a desktop. and I am thinking about buying a new computer. My only fear in buying a new one is losing important files and info from my old one. I have a Seagate Expansion drive for backup on my current computer. My problem is how to use it to transfer my info on it to a new computer. I know this is such a dumb question, but can you tell me, would I just need to plug it into the new computer and transfer those files? Thank you for any help you can give me. I am always in great gratitude for Cloudeight for all the help and info you have given me through the years. Judy.
Our answer
Hi Judy. Thanks so much. No one can predict how long a computer will last. I'm using a laptop computer I purchased in September 2012. I have another laptop that is just over 3 years old. I use the 8-year-old computer for business/work and rarely use the newer one. The 8-year-old laptop works great. How long it will last? I don't know but all of my files are constantly backed up because I know, with an older computer, the end could come any time. And sometimes when the end comes, it comes without warning.
There are no dumb questions. Actually, yours is a very smart question, because if you back up the wrong things or you copy the files to the new PC incorrectly, you may be missing files and/or have a mess after copying them to a new computer.
If you backup your Users folder located at C:\Users\YOUR USER NAME, you will have everything you need – pictures, documents, music, videos, etc. All your files are in that one (large) folder. When/if you get a new computer, all you have to do is open that folder on your backup drive and start copying files from the folders on your external drive to the new computer.
For instance, from the backup drive open the folder you backed up, and open "Documents". Press CTRL+A to select all the files in that folder to the corresponding folder on your new computer (Documents). Do the same with Pictures, Music, Videos, etc. Just make sure you open the folder in the backup and select all the files/folders inside If you copy, for instance, the entire documents folder without opening it, you will have a mess. On the new PC, you'll open the Documents folder only to find another documents folder inside, and you'll have to open that to get to your files.
If you have more questions or need more help, please let me know.
———–
Judy wrote back: "Thank you so much TC, forever in your debt for all the help you give us on our computers. I appreciate the technical support, advice, and help you give us and your answers to all our questions. I sent a small donation. I always wish it was more. Thank you once again for your quick response and for always being there for us. ~Judy~"
---
Brenda is looking for fonts she can safely download and install
I am using Windows 10. I would like to add some script fonts – handwriting fonts to my computer. Can you tell me where I can find some handwriting fonts I can download without getting malware or causing problems? I would like to find safe, free fonts, but I would be willing to pay for fonts if I can't find any safe free ones.
Our answer
Hi Brenda.  Here is an article that we wrote we wrote some time ago that features three very nice fonts sites (mostly free fonts) All were safe to use at the time we tested them.
Also included in the article is how to preview and install fonts in Windows 10.
I hope this helps you.

Bonnie has problems with Task Manager
Hi guys. I have a problem. When I open Task Manager it won't stay open. It flashes for a second or two and then closes. I have looked all over for a fix for this but I'm reluctant to edit the registry. Help! Bonnie
Our answer
Hi Bonnie. Before you do anything else, try this:
1. Shut down your computer (power it off)
2. Make sure no lights are on and everything is off
3. Wait 5 minutes.
4. Power on (turn on) your computer.
Wait for Windows to fully load, then try opening Task Manager.
Let us know if that fixes Task Manager.
——
Bonnie wrote back: "THANK YOU! It worked! Thanks so much for the easy fix. Bonnie"

Wilma wants to know about PrivacyMate

Just wondering if you can tell me something about this PrivacyMate thing… is it legit, reliable? I get gobs of junk mail and phone calls that I would like to stop. Thanks in advance.
Our answer

Hi Wilma. I hope all is well with you.
 I don't know if you're talking about junk email or junk snail mail. So, we'll start with email.
All of these so-called miracle apps are not necessary. In fact, spam blockers have almost become extinct because so often they could not tell good emails from spam emails. We use Gmail to filter spam. See this Cloudeight article to learn more.
As for phone calls, if you have a cell phone you can block numbers. And if don't answer calls unless you know the number you can, over time, reduce the number of spam calls you get. Don't worry about not answering numbers you don't recognize – if it's something important they'll leave a message. If you stop answering junk calls you'll eventually stop getting so many of them.
There is no snake oil that's going to protect you from the age-old problems of junk mail and junk calls. And junk snail mail? I just toss it… not a big problem.
There are literally dozens of snake oil companies – including some well-known brand names like "Norton Lifelock" promising you privacy. But there is no privacy anymore. And everyone is going to have to get used to the brave new world.
If you:
1. Use the internet
2. Drive a car
3. Own a house
4. Have a credit card
5. Have a bank account
6. Have a driver's license
7. Own a cellphone
… your data is on the Internet and some of it is public. Privacy is not something we can count on anymore, and no program or service is going to change that.
My advice? Don't pay someone to protect your privacy, because it's not going to happen. Just be careful with links in emails. If you get criminals your email password or passwords to banking/credit card sites and the like, you could lose a lot of money.
I know this is not what you were hoping to hear – everyone wants a pill to fix whatever ails, but there isn't any magic privacy software you can buy that's going to protect your privacy.
Being careful with links in email, common sense, and using the software between your ears, are the only things that can really help protect your privacy.
I hope this gives you some food for thought.

---
Robert wants to create a local account not a Microsoft account
I used your link today to do a fresh install of Windows 10. I there a way to NOT have to create a Microsoft account when you install. I could not find a way to get around not having to create one. I don't want one.
Our answer
Hi Robert. It is really to your benefit to have a Microsoft account. If you don't, some features of Windows 10 won't be available to you. Also if you use a Microsoft account you'll never get locked out of your computer if you forget your password since you can create a new password online.
To answer your question… here's how to create a non-Microsoft account – which is called a "local account".
Click the Start button, click the user icon, and then select Change account settings.
In the Change Account Settings dialog, click Family & other users in the menu on the left.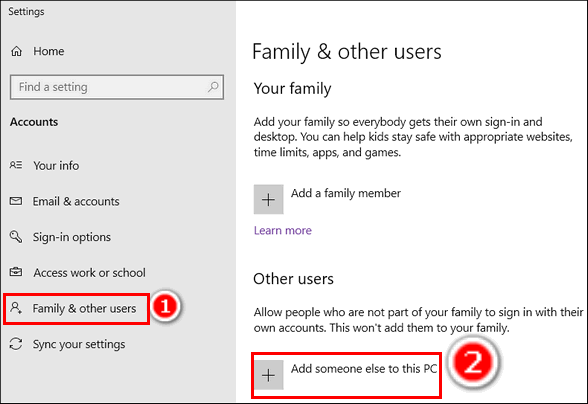 Then, click "Add someone else to this PC "under Other users.
Don't enter an email address or phone number on the "How will this person sign in" screen. Click on "I don't have this person's sign-in information" instead. Click "Next".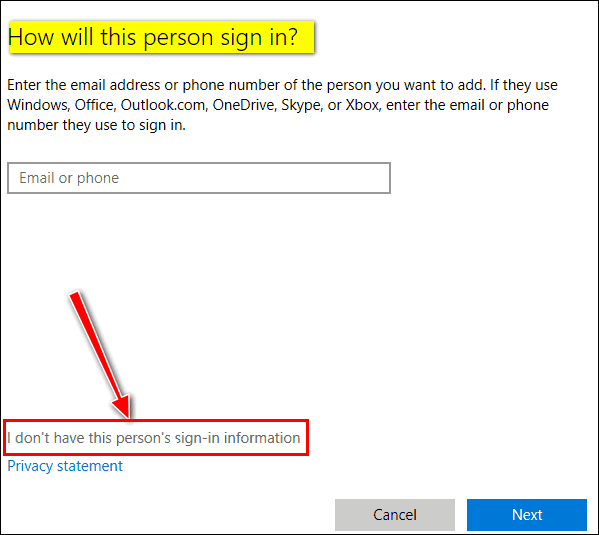 On the next dialog click "Add user without a Microsoft account".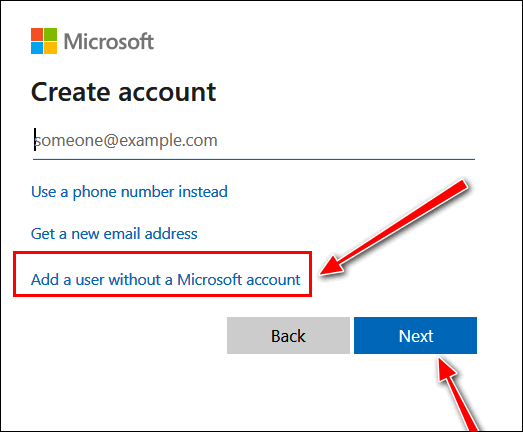 Type a user name (whatever you want) and a password (optional) and click "Next".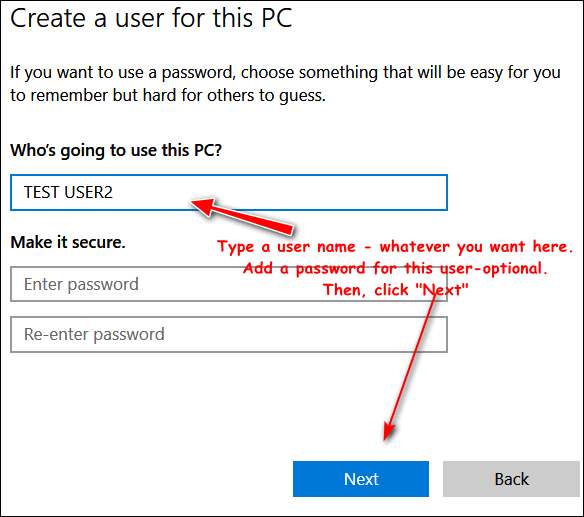 As soon as you click "Next" the user account is added and you'll see it added under "Other users"
If you want to make this account an administrator account – and it if your account you most likely do, click on your new local (non-Microsoft account) and choose "Change account type"
Use the arrow to change the account type from Standard to Administrator and click "OK".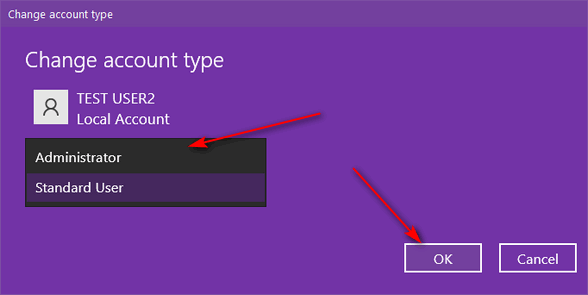 That's it, your done. You just created a non-Microsoft account (local account) with administrator privileges.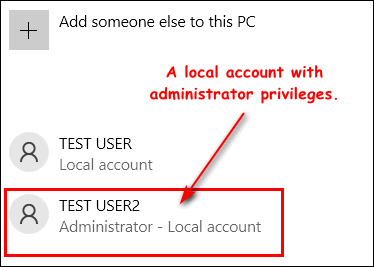 You can switch between user accounts using the Windows Key + L shortcut.
---
Donald says our tip on power settings didn't work for him
Question about information in the last Newsletter. I followed your instruction about putting my display to sleep but after the first time to sleep when I went to wake it up, it would not wake. Had to reboot the computer to get out of sleep mood. I have two dell desktops and the one went to sleep and as it should and then woke as it should and the other one went to sleep but would not come out of sleep. Any suggestions?
Many thanks for the help I have received from newsletters and the one time that I used one of your services. If I ever need help you will be the first person I will go to. Thanks again and stay safe.
Our answer
Hi Donald. Thank you so much. You can't put the display to sleep, you can only turn it off. You can put the computer to sleep, but not the display.
I think you may have the settings wrong since the only thing that sleeps is the computer. This tip won't work if the computer is set up to go to sleep after any amount of time.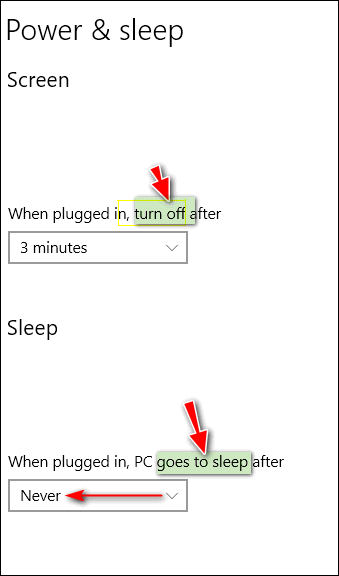 The screen (Display) does not sleep so there's nothing to wake up. The screen will come back on when you touch the keyboard, touchpad (on a laptop), or mouse. It will not come back on if the computer is turned off, in hibernation, or sleeping.
We've been using these settings in one variation or another since Windows 98.
If the screen does not come back on and you have the computer set up correctly then you have a Windows issue or a hardware problem.
—–
Donald wrote back: "Good Morning: I followed your instructions and it works just as you said. Thank you for the quick response. Be safe and have a good day. Donald"
---

Check out our special Holiday prices on SeniorPass, Cloudeight Direct Computer Care Keys, Emsisoft & more.