Secure Email Made Easy
Windows/Apple/Android
One of the most insecure forms of communications is email. Email is stored not only on your computer (even if you delete it) but it's stored on a Web server whether you use a Web mail service or your ISP's mail service. And by now, there is one thing we all know — if something is stored anywhere on the Web it can be hacked and/or scrutinized.
And maybe you don't write any emails with any personal information in them and therefor you're not concerned about having them explored by prying eyes. On the other hand maybe you just don't realize how much private information is store in the emails to/from your account(s).
For instance: You signed up for an account somewhere and they send you a welcome letter with your username and/or password. Or you give your password to a family member (it happens). The facts are that even if most of us think we don't send/receive personal information to/from our email accounts, almost all of us do. And almost every email account, whether you use your ISP's mail service or a Web mail service like Gmail or Outlook.com all of your email, received, sent and drafts will be archived on a server that stores emails — and there is no way of knowing how long those are stored.
When we tried ShazzleMail we were impressed with it's simple interface. excellent performance and easy set up. But ShazzleMail is more than a functional email client, your email is not stored on their server — whether you send or receive it.
The best way to explain it is to let you read the welcome letter ShazzleMail sent me when I first set up a free account.
Hello Mosaic,
Welcome to ShazzleMail, a patented email application that transfers all communications directly via a SSL encrypted channel to guarantee impenetrable delivery of your content. In other words…your email, your data. No 3rd party access, no stored copies, no data mining.
Getting Started: Send your first private and secure email by selecting "Create New Message" from the ShazzleMail Home screen. Check your email by selecting the "Inbox."
Sending Email: If you send an email from your ShazzleMail account to a recipient who does not currently have ShazzleMail, they will receive an email with a link to a web browser view of the email you sent. No bulky password for them to enter. If your recipient has a ShazzleMail account, they will receive your email in their inbox as they would any other email – except it will remain private and secure.
ShazzleMail for Desktop or Laptop: If you would like to use your ShazzleMail account on your PC or Mac computer, click here to go to http://shazzlemail.com/downloads  and download our Outlook Plug-In or ShazzleConnect to use with your Windows or Mac email.
As a reminder, your new email address is xxxxxxxxxx@shazzlemail.com. If you need any assistance, visit our website at www.shazzle.com  and select FAQs or Help.
Thanks again and enjoy your privacy… finally!
The ShazzleMail Team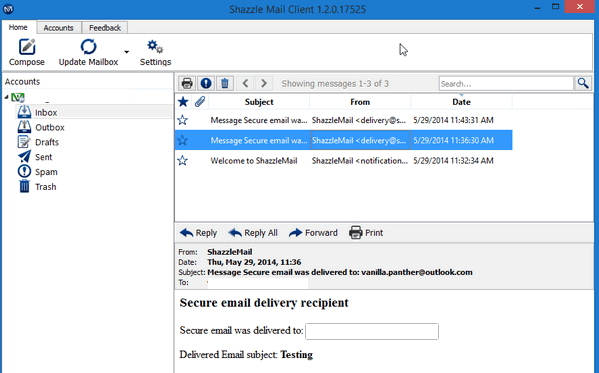 OK to sum it up, if the recipient has ShazzleMail, they'll be able to open your secure message in the ShazzleMail program. If they don't, they'll receive a message with a link to click to read your email securely online. Once they close their browser, the message is gone forever. You retain a copy in your sent folder on your local machine. It's the only copy and you retain control of it.
This would have been our freeware pick this week but for the fact that in order to get a ShazzleMail account you need an Android or Apple device. If you have one you can sign up for a free account then download the free ShazzleMail program for your Widows or Mac computer. In order to use the secure mail feature, you must have a ShazzleMail account. And in case you are wondering – yes once you get a ShazzleMail account and set it up, you can add additional accounts such as Gmail or your ISP account. But keep in mind that accounts other than your ShazzleMail account will not be secure.
If you want to know more visit www.shazzlemail.com