Show and Print a List of All Running Processes on Your PC
This tip is for Windows 10 and Windows 11. 
First, let's open a command prompt with administrator privileges. Type Command in taskbar search, press Enter, then click "Run as administrator" in the search results.
In the command prompt, at the prompt, type:
tasklist
and press Enter: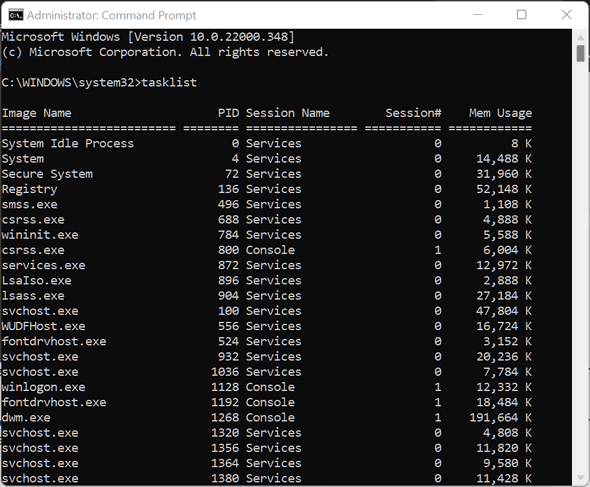 As you can see (above) you'll get a list of all processes running on your computer. You can scroll through the list and see every process that is running on your computer at the time you ran the command. It will also show you how much memory (RAM) each process is using. Some processes will have multiple instances running, this is normal and expected.
If you want to print a list of processes, it gets a little more complicated. You can save the file to any drive or folder you want to… but remember, spacing is important and you must know the complete file path. The simplest way to do this is to just to save it to the root of the C:\ drive… with the following command
Tasklist >C:\running-processes.txt
And press "Enter"
It will look like this…

Then, using File Explorer, look in the root of your C:\ drive for a text tile named "running-processes".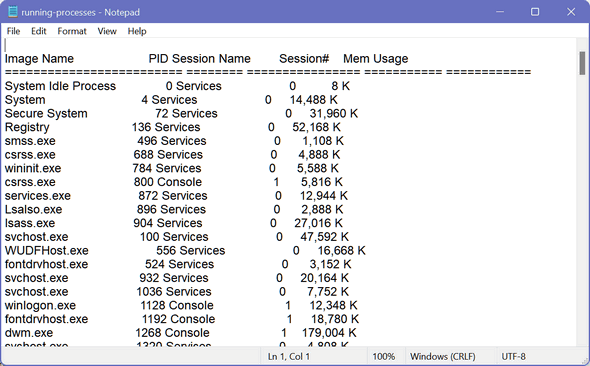 Above: The text file we created using the tasklist command and you can see it matches the tasklist we created in the first step. And once you print the list of running processes.. you can take a look at it and find out exactly what's running on your computer and how much memory (RAM) each process is using.