Snap to it! Windows 10's Snap Feature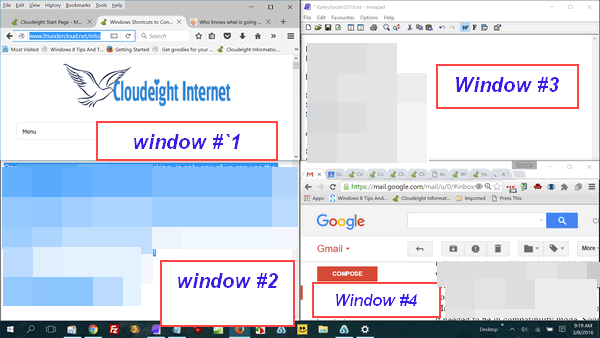 With Windows 10's Snap feature you can snap up to four windows on the same screen/desktop. You can work in each window while the others stay in view. You might say…why would I want to do this? Well, think about it for minute. We think you'll find Windows Snap handy for a lot of things.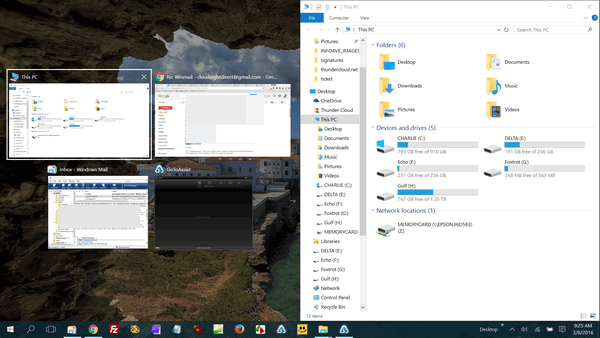 When you snap a window to one side of the desktop, on the other side you'll see the open Windows you could snap to the that side of your desktop. Above you can see we have a Windows File Explorer window snapped to the right side of our desktop. Look on the left, and you'll see 3 thumbnails. We can snap any one of these windows to the left sides of the screen and next to the snapped window on the right.
If you you have ever needed to drag a folder or a file from one drive/directory to another, it makes it a lot easier if you have two file explorer windows open side by side in front of you. You can drag files & folders from one directory/drive to another with ease if you can see what you're doing.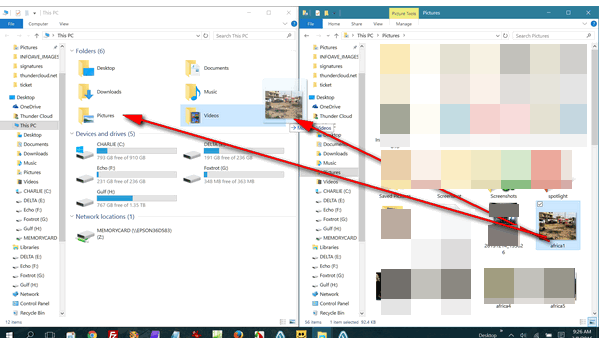 See? Look up! As an example (above)  we show you how we can move a video from the "Pictures" folder (on the right) to any other folder on this computer – or any other drive on this computer.  It's a "snap" to move files if you know how to snap windows. Snap to it, EB! When I snap my fingers I expect you to get busy or bring me a beer!
So how do you do this Windows magic? It's easy, but it does take some practice.
Your can snap any window, up/down/right/left by dragging the window until it snaps (hard way), or you can use the Windows Key + the Arrow Keys (the easy-peasy way!)
Try it. You might need to play around with it before you get the hang of it, but once you learn it, you'll use it a lot – especially for moving files from one folder to another or working in two windows and you need to keep a reference handy on the screen while you work in another window.
Snap is different than virtual desktops. You can learn more about virtual desktops here.
OK snap to it & learn to do it!
---


Cloudeight Direct Season Tickets $99 for one computer – $169 for two computers
Get one full year of unlimited Cloudeight Direct Computer Care for just $99. Regular price is $135. You save $36. Save $30 on 2-computer price. Get more information here.

Cloudeight Direct Windows 10 Pre-install Checkup $29.
Make sure your Windows 10 upgrade is successful without any unexpected upgrade problems. $29. Was $35 – you save $6. Get more information here.
Cloudeight Direct Computer Care Global Keys $44
GLOBAL KEYS OFFER GOOD THROUGH MARCH 13, 2016 ONLY – Last week to get our Global Keys – good for ANY Cloudeight Direct Computer Care service. Keys never expire. They are good until you use them. This is the last week we will be offering Global Keys. Get the details here.