Special Characters Made Easy with the Windows Emoji Pad
Back in the day, the only way to use symbols was to use the Windows Character Map. Want to check it out? Just type Charmap in the taskbar search and press Enter — it's still there even in Windows 11.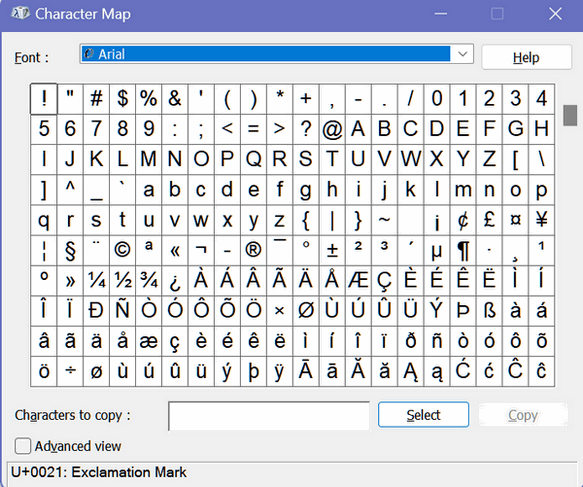 But as always nothing is as certain as change and this change (we think) is for the better.
Wait! Before we delve into this any deeper, if you're not sure what special characters are we'll show you:
§ ∨ ℉ € ¥ Ǎ ǎ Å å ↪ ↩ ↣ ↢ ↟ ¼ ⅓ ⅜ ⅞ ⨌ ⨁ ⨑ ⨝ β μ Γ λ å ć Ñ ú ⸘ £ ñ ē
You get the idea, right?
All of those symbols, and a whole lot more, are all at your fingertips in the Windows Emoji pad.
How to open the Windows Emoji pad
You can open the Emoji pad by holding down the Windows key plus the . (period key) or the Windows key and the ; (semi-colon) key. Your choice.
Once the Emoji pad opens, click the Symbols icon at the top.
You can choose symbols from seven different categories.
General punctuation symbols
Latin symbols
Currency symbols
Geometric symbols
Math symbols
Supplemental symbols
Language symbols
You can change categories by using the slider located at the right edge of the Emoji pad.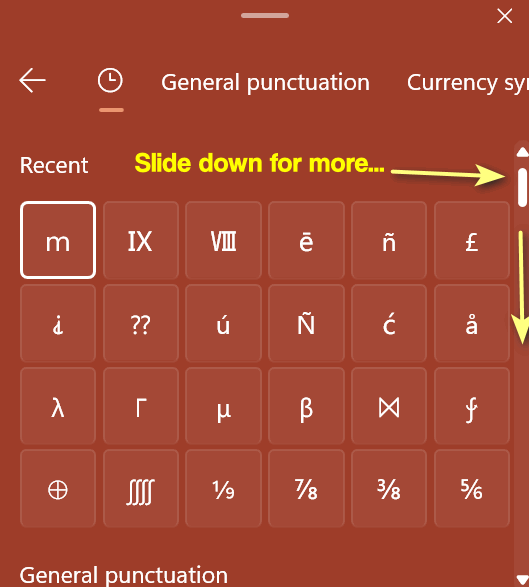 The category you are in is shown by a small underline… see?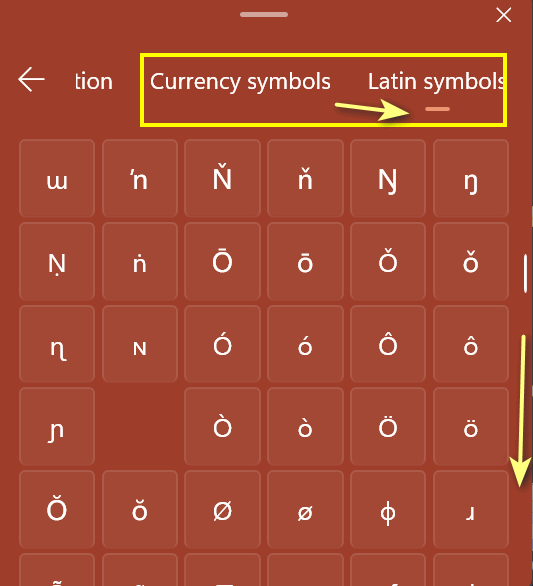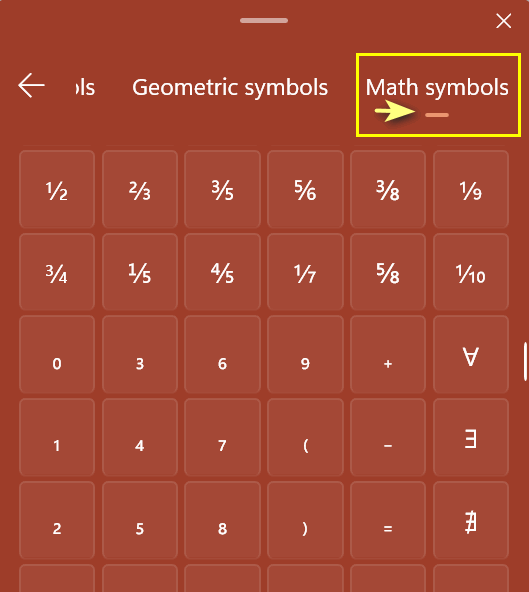 How to use the symbols in an email or a document
To use any of the symbols in an email, document,  text,  or PDF file, place your cursor at the location in your email or document where you want to add the special character and open the Emoji pad (Windows key +  the period or semi-colon key). Then find the character you want to use, then click it. That's all there is to it. 
I could go and on into infinity ∞ but I'm not going to.  Señor Winches is waiting in his taxi. He will be taking me to the dock where I'll board a ship to Cålístō. Cålístō is a beautiful place with a lot of sunshine and the weather pleasant with an average high of 72 ℉ or 22.2 ℃. And the best part is there's nothing to do but watch the ladies sunning on the beach and drink Piña Coladas and Mai Tais until my ship comes in.
Did you know that Piña Colada means "strained pineapple" in Spanish and Mai Tai means "good" in Polynesian? Now you know.
Sorry, folks. It's time to hop into Señor Winches' taxi. He's taking me to The Docks of Fuddledum where I'll board the U.S.S. Sea Sloth – destination Cålístō… l'ile du plaisir.
Aye, Aye, Captain… I'm sailing away.