Spotlight Wallpapers
Windows Store App for Windows 10 (any version)
Spotlight Wallpapers is a very simple free app you can get from the Windows store.
Spotlight Wallpapers makes it easy to get new wallpapers almost every day. You can either download the wallpaper images or set an image as your desktop wallpaper or as your lock screen image with just two clicks.
It's so simple and easy to use, there's not much more I can say. So, let's bring in the developer of Spotlight Wallpapers to tell you a little more about his program:
Spotlight Wallpapers

"Spotlight Wallpapers" is a simple UWP app able to find and download windows spotlight and Bing wallpapers. We are looking forward to your feedback. You can rate in Microsoft store or fork this project on github and get notified about news and updates. New features are coming…
I have been using Spotlight Wallpapers for a week now and I love it. I've already changed my desktop wallpaper more in the last week than I have in the last year. It's very easy to do and there are quite a few images to choose from. Plus you'll get some new ones almost every day.
So, what I do is open the program (app) every couple of days to see what new images have been added. If you like Bing images, there's a new one every day but the old ones are not saved. So if you like them, you can save them to your computer -but remember, the Bing images change every day and there's only one of them. You can use any of the Spotlight Wallpapers as your desktop wallpaper or your lock screen background image. You can also use the Bing "image of the day" as your desktop wallpaper or lock screen image. You can do this with just two clicks as you'll soon see.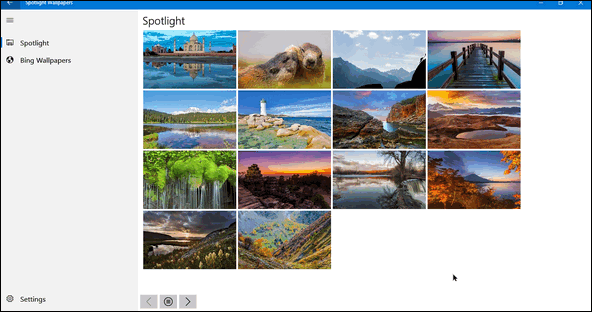 Spotlight Wallpapers offer up pages of images all suitable for desktop wallpaper or a lock screen background.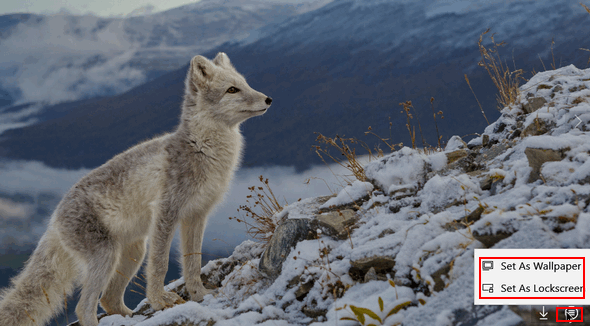 Click on any image from any page of Spotlight Wallpaper and in the lower right corner you'll see the option to set the image as Wallpaper or as "Lockscreen" background. You'll also see a down-arrow. Clicking the down-arrow lets you download the image to any folder or location on your computer.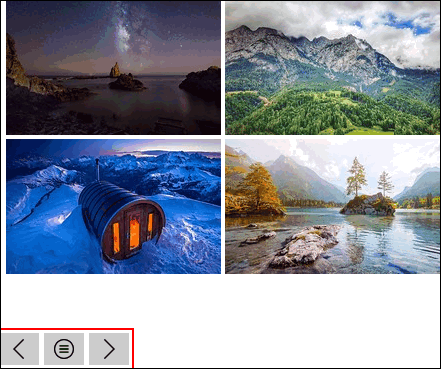 In the bottom left corner, you'll see backward and forward icons that let you move back and forth through all the Spotlight Wallpapers.

Each day the Bing image changes. You can set any Bing image as your desktop wallpaper or lock screen background image. You can also click the down arrow in the bottom right corner to save the image to your PC.

Spotlight Wallpaper is a very simple and very easy to use program. Above, see the settings panel. The developer promises that "New features are coming…"
I find this program very useful. If you like changing your desktop wallpaper often you should give "Desktop Wallpapers" a try. Even if you don't change your desktop wallpaper often, you can download and save any or all of these (mostly) beautiful images to your computer.
You can read more about "Spotlight Wallpapers" by visiting its page in the Windows store.