Stop Using Disk Cleanup and Start Using Storage Sense
Microsoft is deprecating Windows Disk Cleanup beginning with Windows 10 Version 1809 (October 2018 update).  Microsoft said in an announcement on August 30, 2018:
The Disk Cleanup experience ("cleanmgr.exe") is being deprecated. We're retaining the Disk Cleanup tool for compatibility reasons. There's no need to worry since Storage Sense's functionality is a superset of what the legacy Disk Cleanup provides! The Disk Cleanup Tool has been there for years.Sep 17, 2018
Microsoft uses the word "deprecated" loosely. The meaning of deprecate, according to Merriam-Webster is " (to)…disapprove of, deplore, abhor, find unacceptable, be against, frown on, take a dim view of, look askance at, take exception to, detest, despise, execrate…"   A good synonym for the word deprecate in the sense that Microsoft uses that word is "retire". So, Microsoft is retiring the venerable, old Windows Disk Cleanup in favor of Storage Sense.

What does this really mean for you? It means Disk Cleanup may stop working correctly or it may start deleting things it shouldn't … or it may stop working entirely.
It's time we let Disk Cleanup enjoy its retirement and start using Storage sense to clean up the clutter our on our computers.
Using Storage sense
Right-click on the Windows Start button, click "Settings". In "Settings"  > "System" click on "Storage":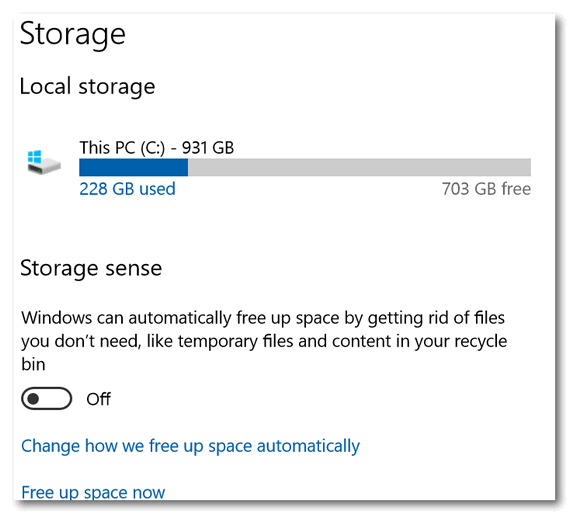 Use the switch to turn Windows 10 Storage sense ON.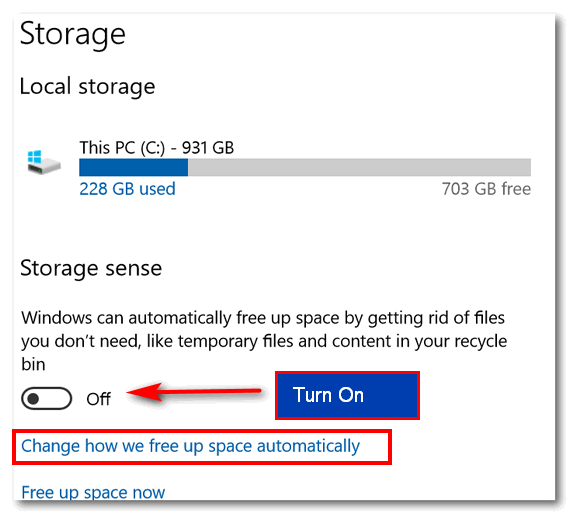 Then click on "Change how we free up space automatically" to customize your Storage sense settings.
You'll see the Windows default Storage Sense settings. Windows will decide when to run Storage sense and will delete temporary files every 60 days. But you can customize these settings.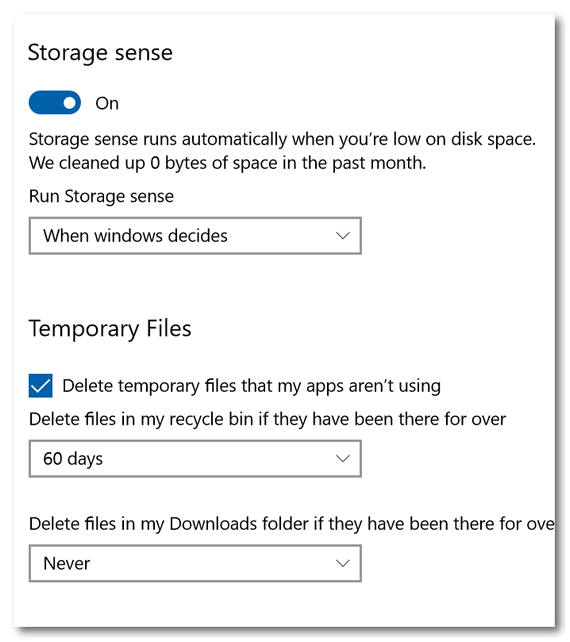 You can choose to run Storage sense,  Every day; Every week; Every month; or let Windows decide for you.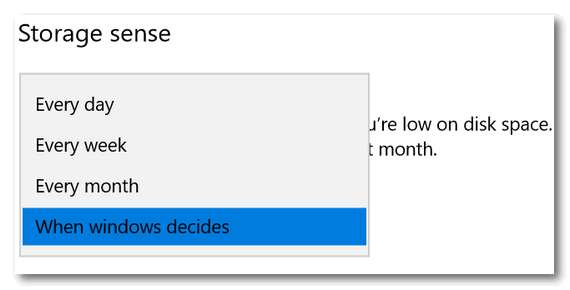 When you turn Storage sense on, it will, by default be set to automatically delete your temporary files every 60 days, but you can change it to: Never; 1 day; 14 days; 30 days or leave it set to its default – 60 days.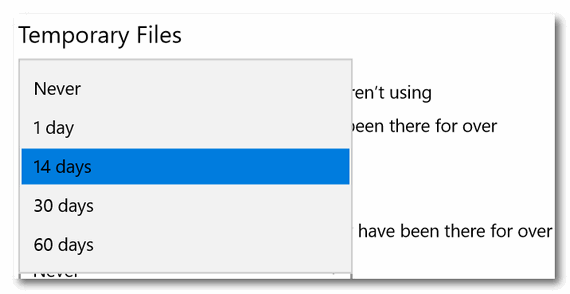 You'll also see an option to delete all files in your Downloads folder. By default this option is set to Never. When I download portable applications – applications that don't need to be installed, I leave them in my Downloads folder and make a shortcut to them. I do not want Windows to delete anything in my Downloads folder. But if you don't use portable apps, or you keep your portable apps in another location and all you have in your Downloads folder are program installers for programs you've already installed you might want to let Windows clean your Downloads folder.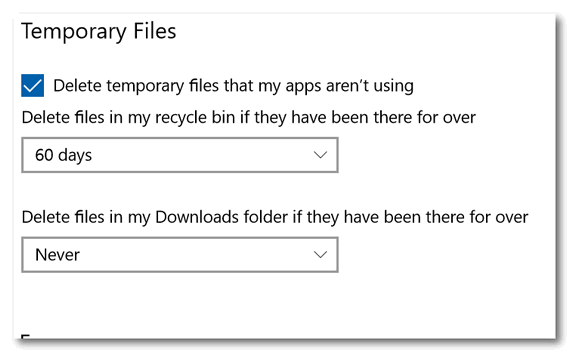 I would suggest you leave it set to "Never" unless you're sure you have nothing important in your Downloads folder. But if you want Windows to clean it up, you can choose to have Windows clean up your Downloads folder every: 1 day; 14 days, 30 days or 60 days.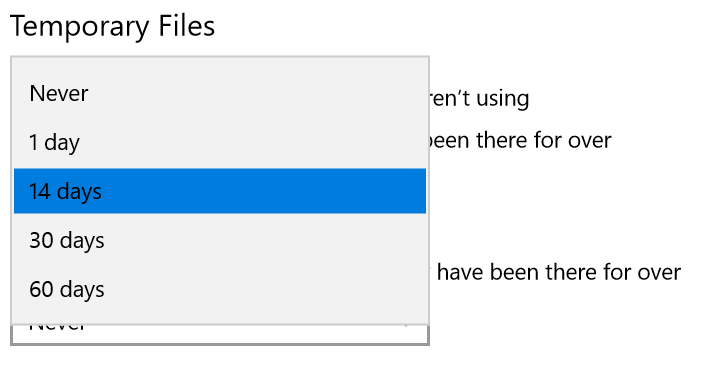 The "Clean now" option
You can also use Storage sense like you used to use Disk Cleanup – you can run it on demand, whenever you want .
NOTE: If you select "Delete previous versions of Windows"  you will not be able to roll back your Windows version to the previous version of Windows 10. If it's been more than 10 days since you updated to a new version of Windows, the Windows.old file (the file that lets you roll back to a previous version) should be automatically deleted after 10 days. If you want to learn how to give yourself more than 10 days to go back to a previous version of Windows, read this.
Once everything is set the way you want it, click on the "Clean now"  button to clean up junk, temp, and other unnecessary files on your computer.
I have not used Storage sense or anything else to clean up this computer in a long time, so let's see what happens when I click "Clean now".

Windows Storage sense cleaned up my computer and freed up 4.46 gigabytes of disk space. Not bad!
It's time to stop using Windows Disk Cleanup and start using Storage sense. As time goes by Disk Cleanup may tend to get more and more unreliable. It's time to move on.