Normally when you clear your browser's cache you have to fool around clicking a number of tabs and buttons to get to the place where you clear the browser's cache. It need not be so convoluted. Nope. We've discovered a way to open the browser's cache clearing dialog without so much as touching your browser's toolbar or settings.
If you're using Internet Explorer 8 or 9, any current version of Chrome, or Firefox version 3 or better, you can get to the cache clearing dialog by pressing three keys on your keyboard.
Here's how you do it.
Make sure your browser is in focus (open and not behind any other windows). Now do this:
Press your Ctrl, Shift, and Delete keys at the same time. For some reason, on my computer it only works if you use the Shift key on the left side of the keyboard. It may be different on your computer.
When you press the Ctrl, Shift, and Delete keys, the browser's cache clearing dialog opens instantly and you can clear you cache quickly and easily. Now this is a tip you'll want to pass along to your friends with dirty caches, right?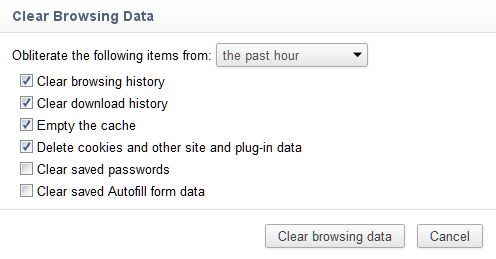 Google Chrome's cache clearing dialog