Tech Support Scams Continue to Evolve
One day last week,  I was looking at freeware picks, and site picks, and evaluating them for possible inclusion in our newsletters. I had 12-15 tabs open at the time, when suddenly, what to my bloodshot eyes should appear? This: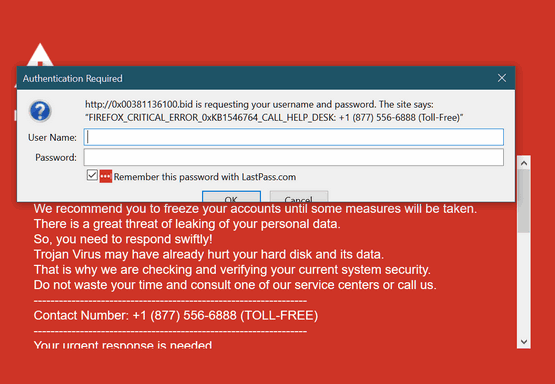 And accompanying these ominous warnings including "There is a great threat of leaking your personal data. So you need to respond swiftly! Trojan Virus may have already hurt your hard disk and its data. That is why we are checking and verifying your current system security. Do not waste your time and consult one of our service centers or call us."
I really love the last line "Do not waste your time and consult one of our service centers", because that is exactly what you'd be doing if you did.
Also , accompanying this "warning", was a loud, annoying, continuous beeping sound, coming from my laptop.  I can imagine someone seeing this for the first time, and who had never heard of these kinds of tech support scams before, panicking and calling that number. But anyone who does is probably going to get ripped off for hundreds of dollars.
Now,  it just so happens that when this "warning" popped up out of nowhere, I could not close the window. Using Alt+F4 did not work, and clicking the "X" would have opened up other potential warnings – even download. So here was no apparent way to close it. Trying to close the browser does not work; trying to close the window does not work. The beeping continues and the "warning" seems dire.
I closed the fake scam window using Task Manager to end the browser process containing the warning – which is nothing but a web page designed to look like a warning.  I was using Firefox at the time, so I just found the Firefox process in Task Manger, and right-clicked on it and clicked "End process". You can do this with any browser process, although in some browsers, like Chrome, each open browser tab is a separate process.

If you're not sure how to end the browser process that is displaying the warning,  simply restart your PC. Keep in mind that when you restart to close the fake scam warning, when you reopen your browser after restarting, it's will ask if you want to restore the pages that were open when restarted your computer. In this kind of situation, always click "No". Clicking "Yes" may put you right back to where you started with the fake Tech Support Scam "warning" beeping away and staring you right in the eyeballs. You don't want to get yourself stuck in that loop.
It's not real. It's just a scam. The whole point of this kind of scam is to get you to  call a phone number – where upon you'll be told your PC is terribly infected, your personal data in at risk, in fact all your data might be immediately erased if you don't get this fixed up right now. And of course, they'll be at the ready with the remedy. All you have to do is let them connect to your PC and they'll either run a fake scan that show hundreds of problems, and then tell you that your PC can be fixed up if you just give them a credit card number. And you'll be charged a hundred dollars or more. After you pay these pirates, they'll install some freeware on your PC, then run another fake scan that shows they've miraculously fixed your PC and you're good to go.
It's just a scam to steal your money by frightening you. It's all about using your fear to get you to panic and to get your money.
Know this: Windows never pops up warnings telling you that you're in danger and to call a phone number. No legitimate security software will show you warnings with a phone number to call and listing a series of dire consequences if you don't comply.
The reason why these kinds of tech support scams are everywhere and why they continue to evolve is because these criminals are making millions of dollars by tricking people into calling for help.
If you see one of these scams, don't panic. Stop and think.
If you can't get rid of the warning dialog (actually a web page) just restart your computer. If, after restarting your computer your browser asks you if you want to restore the pages that were open when you restarted your PC, click "No".
We have more more articles that will help you avoid falling victim to one of these tech-support scams. Please take some time to review them:
Tech Support Scams are Everywhere
Tech Support Scams, Microsoft Support Scams: Scams Scams Everywhere!
The best way to keep from being a victim is not to panic. Stay informed and use your common sense. The more you know the less you're likely to fall for one of these scams.
---
We Help Keep You Save On the Internet… Get our daily computer tips delivered to your inbox!