Tell Me Best – A Cloudeight Site Pick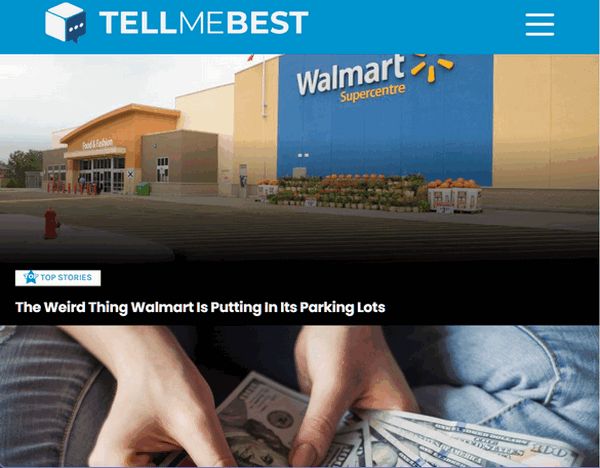 Sometimes we go on a search for a good site pick and sometimes we just stumble into one. It just so happens that today's site pick falls into the latter category. Today's site pick came to our attention when one of our Wednesday Newsbytes happened to be cherry-picked from this site. During the process of putting together this week's edition of Wednesday Newsbytes, we found ourselves spending way too much time reading some of the other articles there and then the lightbulb went off — this would make a great Cloudeight site pick.
The site is called "Tell Me Best". And it's a great collection of product reviews, information, and consumer news. It's quite unique.
To pique your interest, here are a few of the articles that appeared on the front pages of Tell Me Best on Wednesday, August 10, 2022…
The Weird Thing Walmart Is Putting In Its Parking Lots

Why A Major Airline Is Suddenly Demoting Executives To Baggage Handlers

Why A McDonald's McMuffin Cost Someone Nearly $2,000

Toyota Buying Back Cars For Potentially Deadly Reason

Getting Married At Grocery Stores Is Now A Thing?

The Shrewd Way Walmart May Be Overcharging You

Who Owns Dr. Pepper?

Prime Drink – The Logan Paul Hydration Beverage. Is It Worth It?

Best Portable Air Conditioner To Keep You Cool This Summer

Top 10 Best YouTube Cooking Channels 2022

The Best Pet Products For Your Dog Or Cat
How can you not be intrigued — we asks ya?
What exactly is Tell Me Best all about?
We are glad you asked. We're going to invite the head honchos from Tell Me Best to tell you best all about Tell Me Best…
ABOUT US

TELL ME BEST LLC is owned and operated by Walk Big. We're focused on delivering the very best value to our readers, making sure they never settle for second rate. For our more than 3 million readers, TELL ME BEST is the only place to find out what's happening in their local suburban stripmall.

Founded in 2017 and then acquired and relaunched in 2021 by Walk Big, TELL ME BEST is the gold standard in product information, reviews, and news. The best way to know what's best, is to simply ask TELL ME BEST.

WHO OUR READERS ARE

Savvy people who refuse to settle for anything less than the best they can afford are 75% more likely to get their information from TELL ME BEST than the average consumer.
So are you curious? Of course, you are. Isn't it about time you visited Tell Me Best? After all,  it's a Cloudeight site pick.