The 200 Worst Passwords of 2020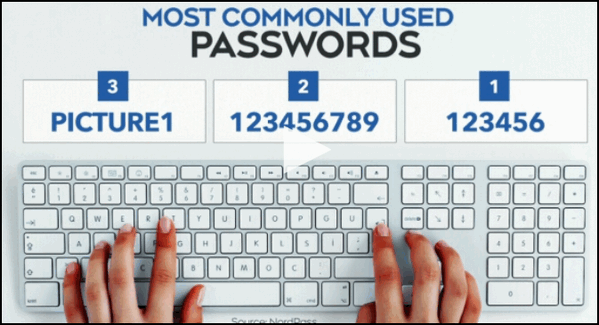 We've been promoting strong passwords for a long time. We've promoted free password managers like LastPass.
We've written numerous articles such as this one and this one, hoping to help you find easy ways of creating and remembering strong passwords. But we know that not everyone takes strong passwords seriously. But we cannot understand why not. After all, your password is the front door to the vault of your personal information. But if your vault has a balsa wood door that anyone can kick down in less than a second – why even shut it?
Every year, some security company or another digs down and does some extensive research, and produces a list of the most commonly used passwords. This year NordPass teamed up with a top security firm to do the digging – and guess what passwords top that list?
The most popular one, "123456" was used by more than 2.5 million users. How quickly do you think a hacker could guess your password if it were 123456? The password "Picture1" was used by more than 371,600 people. And the password "password" was used by over 360,000 people. "iloveyou" and "password1." But variations of "123456", such as "1234567890" and "123123" take up most of the top ten.
Look at the top ten…
We hope you'll take a few minutes to visit this page and make sure that none of your passwords are on that list of the two hundred worst passwords of 2020. Think about it… what year could be worse to be using weak passwords than this crazy year of 2020?
One more time —
ALWAYS USE STRONG PASSWORDS AND NEVER USE THE SAME PASSWORDS FOR ACCOUNTS WHICH DEAL WITH MONEY OR PERSONAL INFORMATION SUCH AS BANKS, CREDIT CARD SITES, ONLINE SHOPPING SITES, GOVERNMENT SITES AND SO ON.