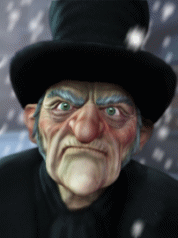 The Christmas Poem
Another Christmas is here – I'm surly and mad,
And feeling quite grouchy and really quite sad.
There is no sign of Christmas, not one I can see.
No holly, no wreaths, and not one Christmas tree.
I opened a can. It was spaghetti with meat
No, it was not really a good holiday treat
But I ate it, I tell you, as I sat sad and alone…
Eating a can of spaghetti… reaping what I had sown.
I turned on the TV and it started hissing
A voice said to me "Do you know what you're missing?"
In a white robe, she appeared on my screen
And said, "You are old and pathetic and really quite mean!"
I looked at her and said, "Are you talking to me?"
Surely you're not, for plainly you see,
I am eating spaghetti straight out of a can
I have every convenience. I've done well as a man"
She smiled and looked straight into my eyes –
"Grab hold of my hand, I have quite a surprise!"
"You're surely kidding, you're inside my TV!"
She said, "Do what I say and you will soon see."
I felt like a fool sticking my hand in the screen
But I did it and saw something I'd never seen.
I was floating around with a lady in white
Looking down on a village on a cold Christmas night.
I saw families gathered with smiles on their faces
Dancing by fires in quaint brick fireplaces.
Presents were scattered all over those houses
Dads with new sweaters and moms with new blouses.
There were smiles everywhere, I could feel all the love
Church bells were ringing! Snow fell from above!
The ground sparkled in white, the snow was aglisten
The lady in white said "Shhhhh! Be quiet and listen!"
Floating around with a lady in white,
Above a small village on a cold Christmas night
I heard people singing, I could feel all the joy!
I felt so much younger — like a young schoolboy.
"Do you feel the love? Can you hear them all singing?"
The snow kept on falling; the church bells kept ringing.
"I do" I answered as we flew over the town.
I saw nothing but smiles – not one single frown.
She smiled and took me to a place I don't know…
It was a place far away, a place far below.
I saw an old man alone and confused,
He did not look happy, no… not one bit amused!
He was dour and wrinkled, a pathetic old man
Eating spaghetti with meat right out of a can!
The lady in white said, "Tell me what do you see?"
"I see my own future. That old man is me!"
"Now you have seen what the future will be"
"Yes! If I don't change, that's what I will be!
She took me back home and I floated no more…
I must have been dreaming right there on the floor!
I got up and showered, and put on some new clothes
I opened my door and felt the snow fall on my nose!
I walked down the street and with a smile on my face
"Merry Christmas" I shouted… to everyone, everyplace!
I went to my neighbors and shouted "Come over and dine!
I have turkey and pie and some really nice wine."
I called up my children – "Come see your old dad!"
I could tell by their voices they were really quite glad.
That evening we gathered for a big Christmas feast
The bread was amazing, it was homemade at least.
The turkey was juicy and the pie was supreme –
My family together; Oh, it seemed like a dream!
So perhaps we should think… lest we end up alone
Eating food from a can in the dark, all alone…
It's never too late to make everything right
And what better time is there… than on this Christmas night?
---

Merry Christmas and all the best in the new year!