First, Windows XP users, don't dismay – this freeware pick is for Windows Vista and Windows 7. Don't pout now. We've featured hundreds of things for you in our past 321 issues. This week we're going to take care of our Windows Vista and Windows 7 users — who haven't had anything just for them in a long time.
Let me say this: I am not a fan of "fix all" programs, because they never work. So let me say that this is not a fix-all program. This program, called "FixWin" is a program that fixes those minor annoyances that we all know and love. Things like Internet Explorer refusing to let you change the start page from Bing or whatever Microsoft wants you to see. Oh, you can change it all right, but the next time you fire it up – MSN or Bing or whatever is back, in full glory. Little things that don't really cause major problems but are annoying and sometimes inconvenient nonetheless.
Many times, we'll feature a tip or trick and inevitably someone will write and say they don't see that particular dialog on their computer. That's annoying to them, I'm sure. Sometimes, little things go wrong with Windows that don't cause any major problems but they can awfully  frustrating nonetheless.
FixWin offers five different sections of Windows fixes: Windows Explorer, Internet & Connectivity (which also covers IE), Windows Media, System Tools, Additional fixes. We're pretty sure if you're using Windows 7 or Windows Vista, you're going to recognize one or more of the things in one or more of these sections – things you'd like to fix but don't know how.
Let me point out, right now, that you don't need this program to fix these issues and annoyances. You can make the registry changes yourself and fix any of these minor problems, but do you want to spend that much time, googling and then messing around with Regedit? Ha! See I knew you didn't want to. No one likes mucking around in the registry and deleting keys or adding DWORDs. Not even EB who loves the arcane and tangled things of the world. Nothing is more tangled than a good Windows registry on a computer that's been running for a year or so. Lovely stuff the registry.
Anyway, I don't mean to ramble so, but my genes won't let me be succinct. You could blame my parents if you want, but that wouldn't do any good. I need a gene transplant, and I think Walmart has genes on sale right now too. My genes are too tight. I'm gaining weight or my dryer is too hot.
OK enough. Time to bring in the developers of this small but useful program. Take it away guys or gals: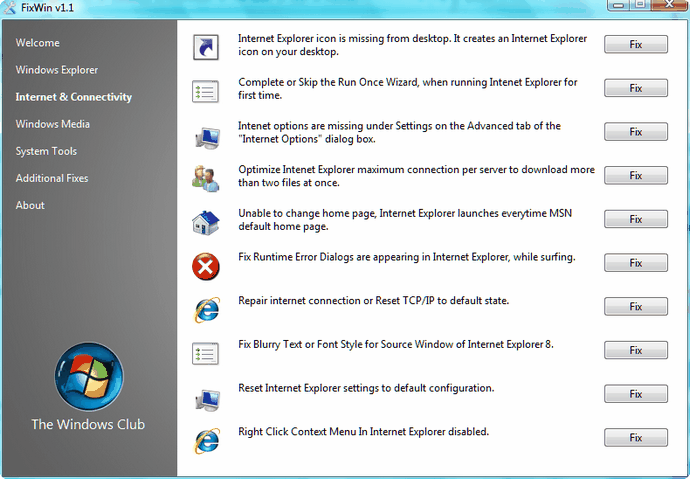 "While there were several tutorials and how-to's already available on the Internet to deal with such annoyances, FixWin as a single utility was conceptualized, to fix some of the common annoyances which may be faced by a Windows user.
Does your Recycle Bin not refresh correctly? Or maybe you find that for some reason your right click context menu has been disabled in Internet Explorer! Or perhaps things are not fine with your Windows Media Center and you need to flush & rebuild Windows Media Center database! Maybe you opted to be not-warned while deleting Sticky Notes and you now want the warning dialog box back! Or then perhaps, post a malware attack you find that your task manage or cmd or your Registry Editor has been disabled! Fixes for these and many more such common Windows problems are being offered here.
The solutions to repair and fix 50 common Windows annoyances, issues & problems have been categorized under 5 tabs, viz : Windows Explorer, Internet & Connectivity, Windows Media, System Tools & Misc Additional Fixes.
50 problems … 1 solution … FixWin is the Windows Doctor all have been waiting for! "
Indeed! The Windows Doctor makes house calls and all you need to do is download our freeware pick and the doctor will be with you in a minute. The program is called FixWin. It's small file and you don't even have to install it. Just unzip it and click the executable (exe), and you're off and running. Be sure to use the "Restore Point" feature BEFORE you make any changes – just to be safe. Download our freeware pick "FixWin" or learn more about it by visiting this page.
The scoop:
FixWin
Windows Vista and Windows 7
What is it? It's a kind of a doctor for Windows Vista and Windows 7
569 KB Zip file
No installation required – just unzip and run the exe file.