The Fastest Way to Add a New Local User Account to Windows 10
It takes a lot of bravado to say something is the fastest way to do something in Windows. Windows usually gives users three or more ways to do the same thing. But this is the fastest way we know of to create a new local account in Windows 10.
Type CMD in the Windows taskbar search (Cortana)
When Command Prompt appears, right-click it and choose "Run as administrator"
At the prompt type:
net user <username> /add
Where you see <username> type the username without the brackets. Blacklist is one of my favorite Netflix shows, and villain we all love to hate is named Reddington. So I'm going to make a new local account named Reddington.  After you enter the user name you want to use, leave a space before the slash. See below:

If you did that right, you'll see "The command has completed successfully."
If you want to add a password for the user account "Reddington" (or whatever your new account is called) run the following command
net user Reddington <password>
Instead of <password> you'd type the password you want to use when you log in to this account.
For example:
net user Reddington eatingmoondaisies

Now open Settings (Windows key + i) and click Accounts > Family & other people> Other people… you'll see the account you created. As you can see, there is good old Reddington.
Now how did I make old Reddington an administrator? Easy. In Settings > Family & other people > Other people, click on Reddington…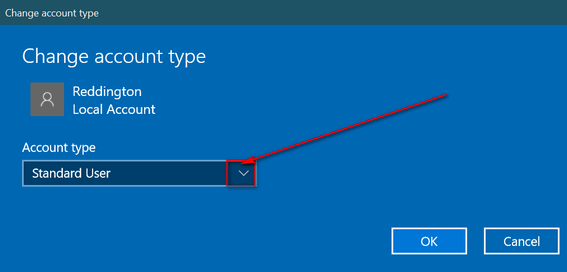 Click the down arrow next to Standard user, choose Administrator and click OK.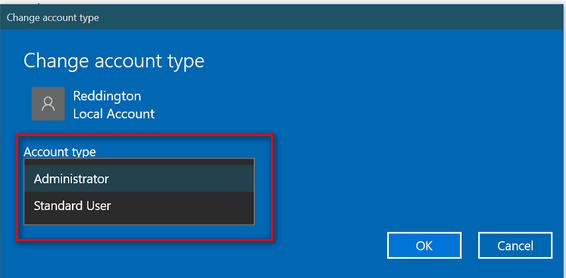 Now, if you set a password for your new local account, please make sure you remember it or this account will be useless.
Now, if you want to try out your new account, press Windows Key + L. Click the lock screen, on the log in screen you'll see your new account. Click to select it and log in. The first time you log in it will take some extra time as Windows will set up the account for its first use.
What if you no longer want this account? No problem, you can divest yourself of this account easily…
Open Settings > Accounts > Family & other people > Other people, click on the new account you created and click "Remove"