The [Nearly Invisible] "Show Desktop" Button on Windows 10
The show desktop button has its roots in Windows XP. In Windows XP it actually looked like a button. See?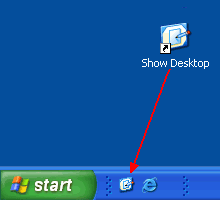 It lost weight in Windows Vista and in Windows 7… but it still looked kind of like a button. In Windows 10, it's gotten downright skinny. Look at the very bottom-right corner of your taskbar – to the right of the clock – to the right of the Action Center icon… see it? At the very right edge of your taskbar is a skinny strip – a sliver of a button. Just click it to minimize all open windows and bring your desktop into focus. We call it the show desktop button. You can call it what you want? How about tiny?
See the tiny strip along the right edge? That's your show desktop button on Windows 10. Aye! It is!

Another tip. If you hover over the "show desktop button" and you have "Use peek to preview the desktop" set as your preference in Settings > Personalization > Taskbar > "Use peek to preview the desktop", you'll be able to peek at the desktop without minimizing any open windows. It makes all open windows transparent. See?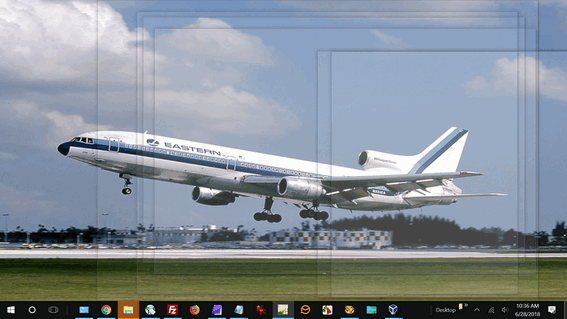 Oh… my wallpaper? That's an Eastern Airlines' L-1011..