uBlock Origin – The General Purpose Blocker


We understand why websites display ads. It's a source of revenue. But some sites get carried away. And we don't understand that because it ruins it for everybody. Why sites would display so many ads as to annoy their visitors is beyond my understanding. Some sites have so many flashing, floating, content-burying ads, they are almost impossible to use. It makes no sense. Yet, there are tens of thousands of Web sites that cram so many ads on one page you can hardly see the page.
We totally understand why so many of you use adblockers. Today we're going to tell you about an ad blocker called uBlock Origin which just happens to be the best adblocker we've ever tested.
uBlock Origin was suggested to us by David Biggar, a security expert at Emsisoft. Having a recommendation from someone like David gets our attention. So. we decided to test drive uBlock Origin and we were impressed.
We know many of you use AdBlock Plus – it's the most popular ad blocker, by far. But like a lot of programs that started free, they discovered a way to make money while staying free – and there is nothing wrong with that. However, if you use Adblock Plus, you've noticed you still see some ads. This is because some advertisers pay Adblock Plus not to block their ads. Adblock Plus calls these ads "Acceptable"
uBlock Origin is free – and blocks all ads. There are no acceptable ads. It also allows you more control over websites and allows you to pinpoint and block annoying page content (zapper). You can also add sites to your trusted site list, thus allowing those sites to display some ads.
Why would you want to whitelist a site? Well, for example, we make a little bit each month for the ads displayed on our site. We don't use floating ads, popup ads, interstitial ads, or any ads that distract from the content. We need the little bit of revenue these ads generate. So, you can help us by not blocking ads on our site. With uBlock Origin, it's as easy as adding "thundercloud.net" to uBlock Origin's trusted site list. We'll tell you more about that a bit later.
Let's take a closer look at uBlock Origin.
uBlock Origin works in Chrome, Edge, Firefox, and Opera. Direct links to install the uBlock Origin extension in your browser are at the bottom of this page.
Once you install the uBlock Origin extension in your favorite browser, you'll see its icon appear alongside your other extensions to the right of your address bar.
uBlock Origin is easy to configure and use…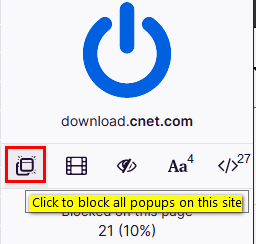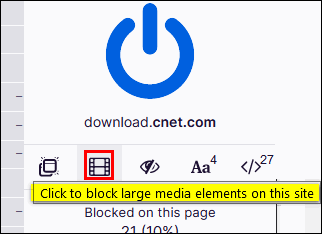 Above: uBlock Origin gives you a lot of control. In the screenshot above you can click an icon to block all popups. And you can block "large media elements". In other words, those annoying video ads you see on many pages.  Zapper mode (see the screenshot below) allows you to 'zap' any part of the page you're viewing.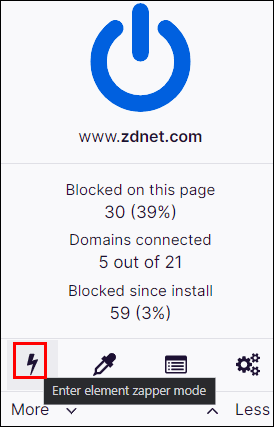 And, though doing so could render certain interactive elements on the page useless, you can easily turn JavaScript off.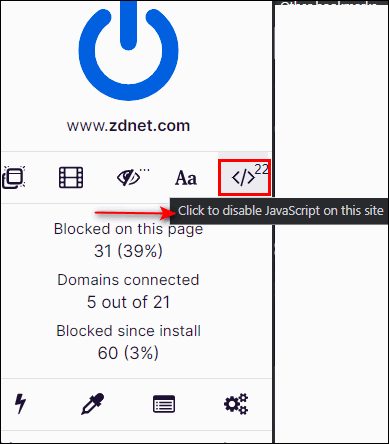 There are a lot more settings available from the uBlock Origin dashboard.  To open the Dashboard, click on the uBlock Origin icon in your browser, then click "gears" icon in uBlock Origin.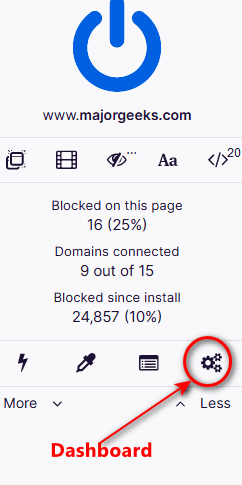 The dashboard (shown below) will open.

Above: uBlock Origin offers even more customization from the Dashboard. 
Below: If you're not sure what a setting does — "Cosmetic filtering" for example — just click the encircled "i" for more details and information.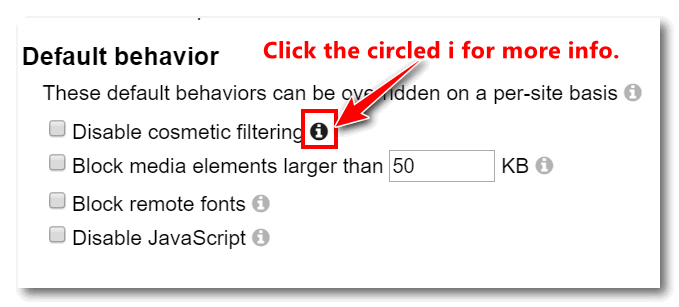 Finally, if you want to exempt a website from ad filtering – in other words, you want to support a site by allowing advertising on a site, it's easy to do. In the uBlock Origin dashboard, click on the "Trusted sites" tab.
Type site's URL (minus the http:// or https://, and www) you want to allow to show you ads. As you can see in the screenshot below, I've added thundercloud.net to the Trusted sites list. Once you've added the site, don't forget to click "Apply changes."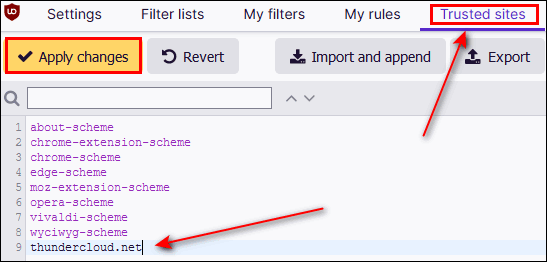 uBlock Origin is freeware and available for most popular browsers.
Here are the download links for all supported browsers
Download uBlock Origin for Chrome & Edge 
Download uBlock Origin for Firefox
Download uBlock Origin for Opera
Note also that uBlock Origin should work with most Chromium-base browsers like Chrome and Microsoft Edge.
Here are some words from uBlock Origin's developer, Raymond Hill…
uBlock Origin (or uBlock0) is not an ad blocker; it's a general-purpose blocker. uBlock Origin blocks ads through its support of the Adblock Plus filter syntax. uBlock Origin extends the syntax and is designed to work with custom rules and filters. Furthermore, advanced mode allows uBlock Origin to work in default-deny mode, which mode will cause all 3rd-party network requests to be blocked by default, unless allowed by the user.

That said, it's important to note that using a blocker is NOT theft. Don't fall for this creepy idea. The ultimate logical consequence of blocking = theft is the criminalisation of the inalienable right to privacy.

Ads, "unintrusive" or not, are just the visible portions of privacy-invading apparatus entering your browser when you visit most sites nowadays. uBlock Origin's main goal is to help users neutralize such privacy-invading apparatus — in a way that welcomes those users who don't wish to use more technical, involved means (such as uMatrix).

EasyList, EasyPrivacy, Peter Lowe's, Online Malicious URL Blocklist and uBO's own lists are enabled by default when you install uBlock Origin. Many more lists are readily available to block trackers, analytics, and more. Hosts files are also supported.

Once you install uBlock Origin, you may easily un-select any of the pre-selected filter lists if you think uBlock Origin blocks too much. For reference, Adblock Plus installs with only EasyList enabled by default.
And once again, we thank David Biggar from Emsisoft for bringing uBlock Origin to our attention. 
And we thank you for visiting us today!