URL Shortener
If you share links on social media, email, or text message, did you know that you can shorten long, messy links like this one:
https://chrome.google.com/webstore/detail/url-shortener/godoifjoiadanijplaghmhgfeffnblib?hl=en
with short links like this one?
There are dozens of browser extensions that can shorten URLs, but we've found none better than one called – ironically 🙂 – URL Shortener. We've been using for almost a year now and we've used it to shorten URLs on our Web site, in emails, and on Facebook. It works perfectly and it's safe.
We just use it shorten long URLs for our newsletters, Web sites, and Facebook. And we use it every single day. If you share links often, URL Shortener makes it EASY and QUICK to shorten long, messy URLs that you can then paste into web pages, emails, social media pages, and text messages. You can shorten the URL of the page you're on – or right-click on any link and shorten it.
Here's a brief summary of URL Shortener by its developer
Shorten the page/selected URL using TinyURL, bit.ly, cutt.ly, is.gd, v.gd, tny.im and also generate QR Code for shortened URL)

URL shortener helps you in shortening URLs with a wide range of URL shorteners.

List of URL shortener services available:

tinyurl.com
bit.ly
cutt.ly
is.gd
v.gd
tny.im

List of features available:

1. Copy to clipboard.
2. Right Click
3. QR Code Generate
4. Automatic URL shorten on extension click
5. History of URL shortened
6. Delete History
7. Export as CSV option
Here's a couple of examples. Which of the following links to a Best Buy Windows 10 Laptop on sale for $400 off would you rather share?
This one…
https://www.bestbuy.com/site/lg-ultra-pc-17-laptop-intel-core-i5-16gb-memory-nvidia-geforce-gtx-1650-512gb-ssd-dark-silver/6411997.p?skuId=6411997
Or this one?
Or what about Microsoft's Windows 10 20H2 announcement?
If you had a choice, would you share this link…
https://blogs.windows.com/windowsexperience/2020/10/20/whats-new-in-the-windows-10-october-2020-update/
Or this one?
You get the idea, right? All it takes to shorten a long URL is a single click… done and done!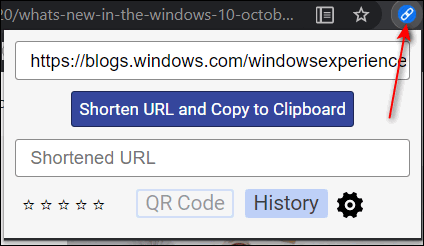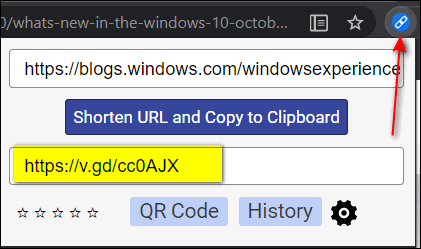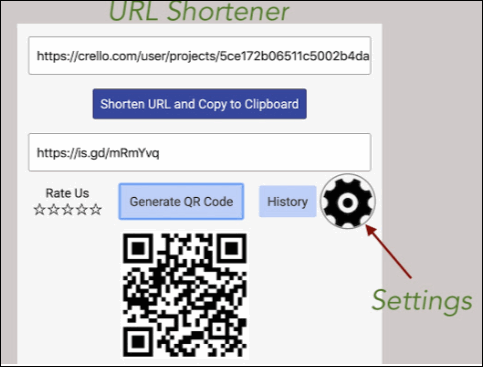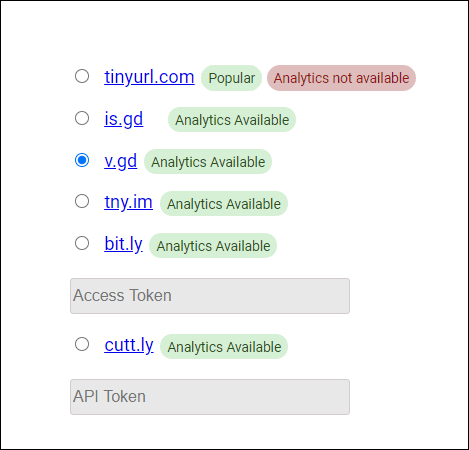 URL Shortener works with Chrome, Microsoft Edge, and most Chromium-based browsers. you can read more about URL Shortener and/or add the extension here
Yes, there are dozens of other URL shorteners (link shorteners) available. This is the one we use and have used for almost a year and the one we trust.
USING FIREFOX?
And for Firefox fans there's a version of URL shortener for you too. You can get it at https://tinyurl.com/yxvtqghz.