Using Cloudeight Stationery with Thunderbird – A tutorial
Welcome to our tutorial on using Cloudeight Stationery with the Thunderbird Email program. It's very important that you follow the steps below carefully. By default, Thunderbird is not stationery-capable. However a simple free plug-in turns Thunderbird into an Outlook Express-like email program – one which allows you to use any of our stationery created for Windows Mail (Vista).  If you're using Windows XP we recommend you use Outlook Express. If your using Windows Vista, we recommend you use Windows Mail. But if you're using Windows 7, we recommend you download and install Thunderbird. If you enjoy using our stationery and QuickNotes, and you're using Windows 7, Thunderbird is your best choice. It's free and it's a very good email program. So let's get started – please remember to follow the steps in order – and you will be using Cloudeight Stationery in Thunderbird in just a few minutes.'

Step OneDownload and install the free Thunderbird email program

Step Two
Download and install the stationery plug-in for Thunderbird (without the plug-in you won't be able to use stationery!).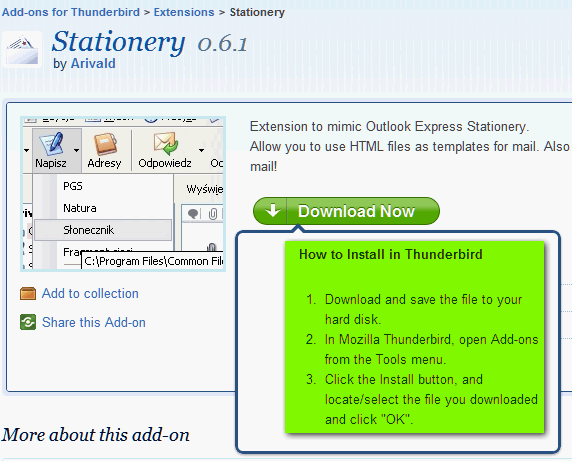 Be sure to follow the instructions highlighted in bright green (above). Windows 7 users: Your downloads go to the Downloads folder by default. Just click on "Computer" and "Downloads" folder will be listed under "Favorites" on the left side.
Step Three
Visit our stationery Web site and download at least one stationery collection for Windows Mail (Vista). You can download as many as you want, but to get started you'll need at least one. Almost all of our collections are available for Windows Mail (Vista). Don't worry that you're not using Windows Vista, it will install fine on Windows 7, and it will work great with Thunderbird once you have it set up.
Step Four (two parts)
A. After you've downloaded the stationery plug-in above, you'll need to set it up. You'll only need to do this once.
On the Thunderbird toolbar, click "Tools" then "Stationery Options":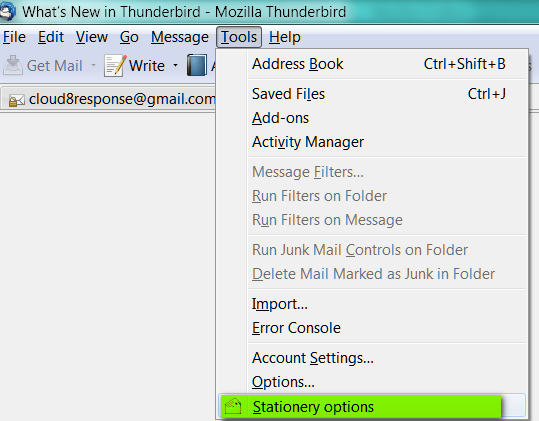 B. The stationery setup dialog (below) opens. You need to set your default stationery folder. Click the "Browse button" on the bottom of the dialog box and browse to C:\Users\your-user-name\AppData\Local\Microsoft\Windows Mail\Stationery\Cloudeight , then Click OK.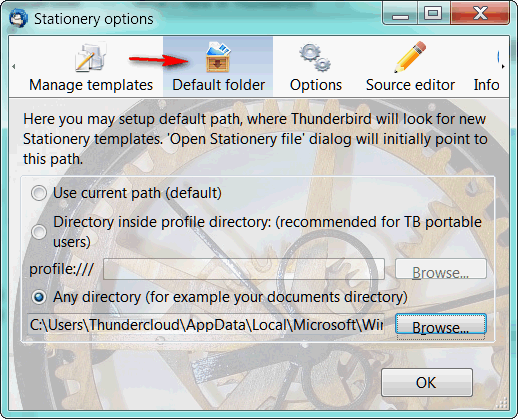 You're all set up. Now let's try it out!
Step Five
On the Thunderbird taskbar, click the download arrow next to "Write" then click "Other Stationery" (you'll notice we've used several stationery prior to doing this tutorial. They show in a list – which will come in handy later if you have some favorite stationery designs you like to use.) Since this is your first time, you won't have a list, so just click "Other Stationery" (see below):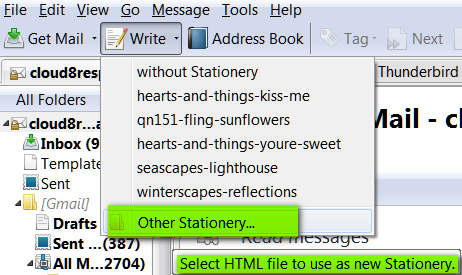 You'll browse directly to the Cloudeight stationery folder as you set up in Step Four.  It's time to choose your stationery: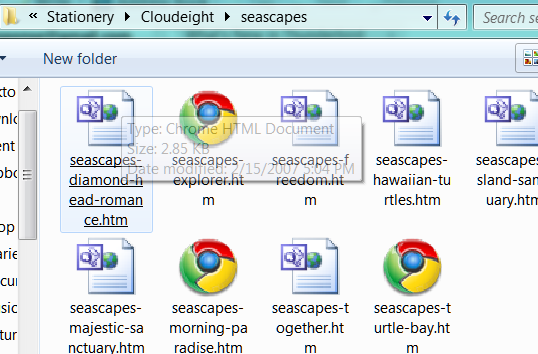 You'll see the stationery listed by name. Unfortunately. Thunderbird Stationery Plug-in does not display thumbnails – we hope it will in a future version. Any select the stationery design you want to use by clicking on it. You can change your selection easily by starting over by clicking "Write" "Other Stationery".
When you choose the stationery by clicking on it, your compose window will open and you can go ahead and write your email and send.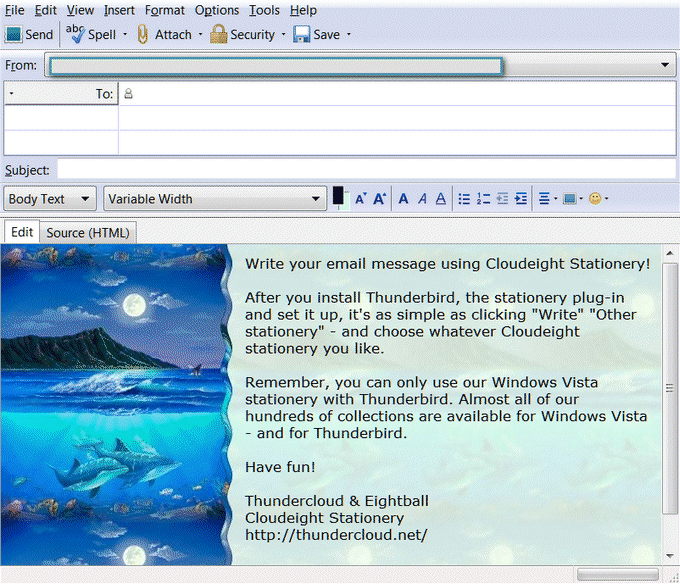 Get over 4000 free email stationery you can use in Thunderbird. Just download any of our stationery for Windows Mail (Vista) and you can install and use it on Windows 7 in Thunderbird!