Why You Should Avoid TotalAV
Every week we receive several emails from folks asking us to look a  program that most learn about through an email – spam or an email from a tech site looking to make money by selling a program that amounts to little more than a scam.
The company that makes TotalAV is the same company that made the scam-ware program called ScanGuard (see our article about ScanGuard here). 
And from Reddit this:
"… TotalAV and ScanGuard is the same company and both are a scam: https://www.totalav.com/special-deal-2019

This is not a coincidence, stay away from them. Also (I'm) pretty sure this site belongs to them as well https://antivirus-review.com/.

Even more proof… https://malwaretips.com/threads/total-av-is-it-a-scam.80362/ …"
There's a pattern of people downloading the "Free" version and being charged, and some being overcharged, and not being able to cancel without jumping through hoops.
In our experience working on computers, customers who have been tricked into downloading TotalAV have had trouble removing it. Even if the product worked well, the company behind it, and their questionable marketing methods, make it a must to avoid.
The only price that is shown on their site for "up to 3 computers" is $19 for one-year. But nowhere on that page does it say that is only for the first year — after the first year, it's $99 a year and it auto-renews and you get charged $99 automatically.  This is from a hidden part of their page informing users they have to call  TotalAV support to cancel the automatic charge… and you can almost imagine how that runaround will go.
"…Our current standard price for an annual subscription is $99. Don't want to auto-renew? You can speak to our 24/7 support team to assist with switching this off…"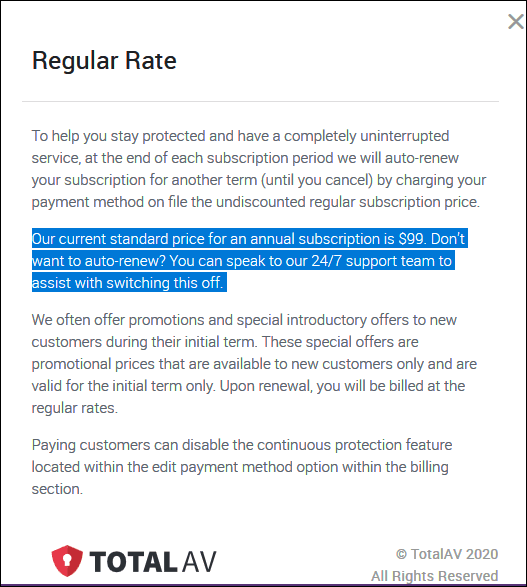 Finally, they promote TotalAV using reviews from TrustPilot, but can you trust TrustPilot?
See https://tinyurl.com/y82jfxvl and this https://tinyurl.com/yc9lcoku.
or search for "can you trust TrustPilot?"
More sage advice: Don't rely on anything CNet says, they are a known malware bundler and are also known to recommend products solely based on the financial compensation they receive regardless of the quality of the products or the problems the products they recommend may cause users.
We hope this helps you and saves you from buying into a scam.