Windows 10: Version 2004 – The Next Version of Windows 10
The next version of Windows 10 is due out next month. It's called Windows 10 version 2004, at least for now.
There are not many earth-shaking changes in version 2004, but there are some new features that are coming we think you'll like. Here are the changes coming that we think you'll like.
New Cloud Reset Option
The new cloud reset option is not the same as the cloud-reset option found in some previous versions of Windows 10. Microsoft is introducing a new, more refined and more reliable reset option in Windows 10 version 2004. 
The new cloud-based Reset option will download the install image from Microsoft instead of using the files currently stored on a hidden partition of the hard drive. But the new cloud-reset option works like the standard local reset as it will reinstall whatever version of Windows 10 that is currently installed – and you'll have the option to keep all your files or remove everything.
The improved cloud reset will download a fresh copy of Windows 10 from Microsoft's servers and install it on your computer. It will reinstall the version of Windows 10 that is currently installed on your device. In other words, it will not reinstall the version of Windows that was installed on your device when you bought it – so you don't have to worry about slipping back to Windows 7, Windows 8x or an earlier version of Windows 10.
Notification improvements
In Windows 10 version 2004 you will be able to off app notifications right in the notification popups ("notification toasts") by clicking the settings gear and choosing "Turn off all notifications for (application-name)." Our opinion: Nice feature.
Cortana
You either love Cortana or you hate Cortana. If you're one of the former, keep on reading.
Beginning with Windows 10 version 2004. Cortana will be a standalone Microsoft Store app. It will have its own taskbar button to launch anew speech-based interface that also supports typing. Microsoft says this change is "part of evolving Cortana from a general digital assistant to a personal productivity assistant that helps you in the Microsoft 365 apps." But removing Cortana from Windows and making it a Store app, also means Microsoft can update it more frequently. If you use Cortana, that's a good thing.
New & Improved Quick Search Features
Microsoft has added a few quick searches along the bottom of the Windows Search (taskbar search) window for instant access to frequently used searches such as the weather and latest news.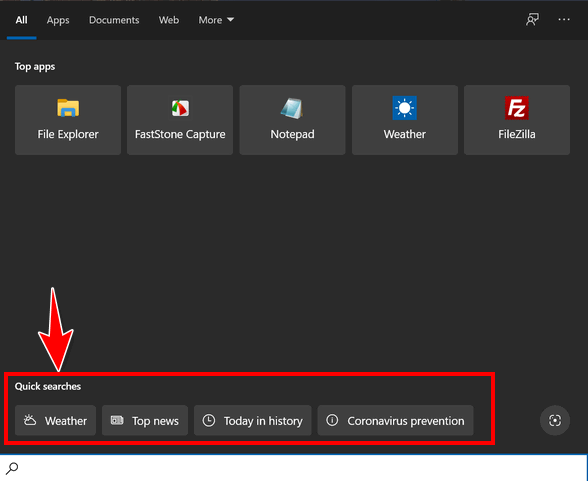 There's also a new image search button that lets you take a screenshot and then search for more information. This is a great feature if you've seen an image and you want to know more about it, but you're not sure exactly what to search for. Just take a screenshot and have Bing search analyze it and provide you with more information.
Easier Bluetooth pairing
In Windows 10 version 2004, Bluetooth Swift Pair and is further streamlined so that all pairing occurs in notification popups (toasts), without the need to open the Settings app. Also, Windows 10 version 2004, will auto pair with nearby Bluetooth devices in pairing mode.
More Kaomoji
(▀̿Ĺ̯▀̿ ̿)
I bet you're thinking… "Just what the doctor ordered!" Well, yesterday I couldn't spell Kaomoji and now I'm using them. Well, not really and not often. But lots of people do. Anyway, Windows 10 version 2004 gives you access to more Kaomjoji right from the Emoji pad.
To open the Emoji pad in Windows 10, press the Windows key the plus the . (period key). Or press Windows key plus the ; (semicolon) key. Now there's a surefire way to use the semicolon correctly.
Kaomoji is a popular Japanese emoticon style made up of Japanese characters and grammar punctuations, and that are used to express emotion in texting, email, chat, and social media. The word kaomoji is synonymous with Japanese emoticons
When did smileys and emoticons get Japanese names? I don't know!
( ͡° ͜ʖ ͡°)
And yes, more new features are coming, but most of them are minor.
We'll have more info about and more tips for Windows 10 version 2004 when it's released.