Windows 11 and the End of Support for Windows 10: What you need to know
 
It looks like a sure bet that Windows 11 is on the way. We want to make one thing clear – if you're using Windows 10 and want to upgrade to Windows 11, you won't have to buy it – it will be free for Windows 10 users who want to upgrade. And it may be a free upgrade for those still using Windows 7 or Windows 8.1. If you don't want to upgrade to Windows 11, you have over 4 years to continue using Windows 10.
According to this Microsoft page, the end-of-support for Windows 10 is coming on October 14, 2025.
There's a lot of confusion about what this means… but one thing it does not mean is that you must upgrade to Windows 11 anytime soon – or that you'll need to buy Windows 11. In fact, according to Microsoft, you can keep using Windows 10 for over four more years. Of course, Windows 10 users who want to upgrade to Windows 11 will be able to upgrade whenever it becomes available – free of charge.
Think of it this way…
Support for Windows 7 has ended but the upgrade to Windows 10 is still free.
Support for Windows 8.1 ends on January 10, 2023, and the upgrade to Windows 10 is free.
Support for Windows 10 Home and Pro ends on October 14, 2025, but the upgrade to Windows 11 will be free and optional until that date.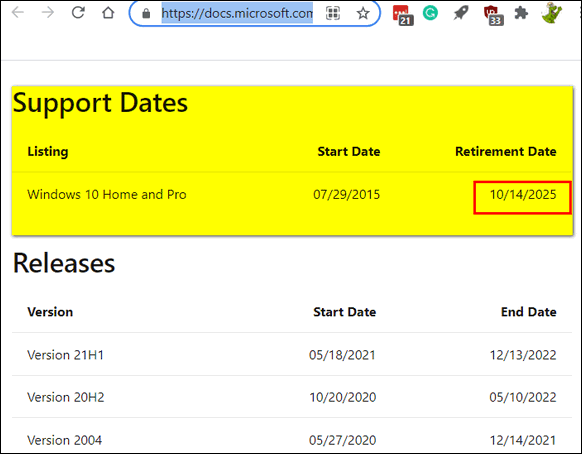 The above image is a screenshot taken from this Microsoft page.
Windows 11 TBA
Most trustworthy sources say that Windows 11 will be announced at the Microsoft event scheduled for June 24, 2021, at 11:00 AM Eastern daylight time (USA). Anyone who wants to watch the Livestream of the event can do so. If you're interested, see this page to learn more.
What do we know about Windows 11 so far?
A version of Windows 11 was recently leaked. According to sources who have installed the leaked version say Windows 11 features a centered taskbar and start menu, tiny taskbar icons, and rounded corners. Those who've seen it have mixed reactions to the new Windows 11 look.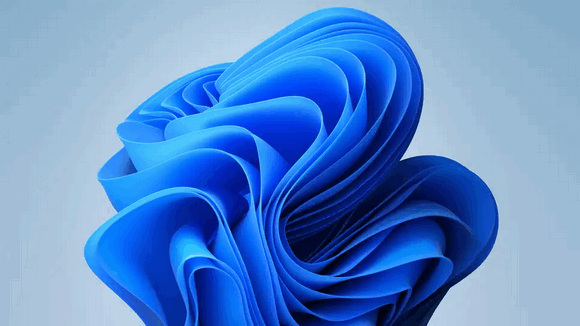 Above: Windows 11 default wallpaper
Above: Windows 11's centered start menu and centered taskbar.
According to Gizmodo…
We're just one week away from finding out what Microsoft has in store for the next version of Windows, but developer build leaks indicate Windows 11 is getting a dramatic visual overhaul.
A set of screenshots published to Chinese social media platform Baidu reveal a softer, minimalist-looking Windows. The Start menu remains, but is now centered with the rest of the taskbar instead of off to the left. The overall aesthetic is very similar to the now-canceled Windows 10X, which Microsoft intended for dual-screen devices. I can't help but notice some similarities to macOS and all its iterations. There are also some elements of Chrome OS in the way apps are placed in the Taskbar. It's not surprising, considering Chrome OS is intended for two-in-one touch-capable devices, just like Windows 10 and 11.

The Start menu in Windows 11 has been significantly pared down and stripped of all dynamic graphical elements, like those currently in Windows 10. There are no more Live Tiles, but there are still pinnable apps and quick access buttons for shutting down and restarting the device. Additional screenshots from the developers build have surfaced today, and XDA's look at Windows 11 show the Start menu in dark mode populated with icons and shortcuts, which appears more pleasing than what we can see from the Baidu leaks. It also gives us a better indication that what's coming next week is a pretty big change.

(Source: Gizmodo)
What Windows 11 means for Windows 10 users
Many sources of information about Windows 11 aren't clear about what it means for those using Windows 10. If you're using Windows 10, we want you to know that you have four-plus years to continue to use it.
You'll continue to get updates until October 14, 2025. And you'll have the option to upgrade to Windows 11 when it is released, and it will be free. Also, you don't have to upgrade if you don't want to – at least not for the next four years. And we expect that most new computers shipped later this year will ship with Windows 11 installed.
The more you know the better off you'll be
Below you'll find a list of links to articles and posts you can read if you're interested in learning more about Windows 11.
The best way to stop fearmongers and those who spread unfounded rumors is to know the facts and stay informed. We hope this post helps to clear up any misinformation or unfounded rumors that you may have read or heard.
It seems certain that Windows 11 is coming, but Windows 10 is not dead.