How to Reset Chrome and Clear Browsing History
In light of the recently exposed tech support scam (see this post) that affects Chrome browsers (and possibly Firefox), it's important that immediately after the attack that you reset your Chrome browser and remove all browsing history. In this article we show you how to reset Chrome and how to clear relevant browsing data.
How to Reset Chrome
In Chrome open Settings  [ Type chrome://settings/  in the address bar  or click the 3 vertical dots in the top right corner and click on settings ], In Settings scroll all the way down to the bottom and click " Show advanced settings" . Next scroll all the way down to the bottom of Advanced Settings until you see this:


Click on the arrow (see above), the Reset dialog appears (see below).
Click the Reset button. Wait while Chrome resets. Then close Chrome and re-open it. Chrome will be reset to its defaults and all your extensions will be disabled. You can re-enable the extensions you need (and you're sure they're safe) by opening Extensions:
Type chrome://extensions/ in the address bar (or)
Click the 3 vertical dots in the top right corner, click More tools > Extensions.
You'll see your extensions listed and they will all be disabled. Find the extensions you want to enable and tick the box next to "Enabled".  When you're done, close the Extensions settings dialog.
Quick Way to Clear Your Chrome Browsing History 
If you use Google Chrome browser,  here's the fastest way to clear your browsing date short of creating a bookmark.
Open Chrome, and press CTRL+SHIFT+DELETE on your keyboard. Chrome's "Clear browsing data" dialog will open.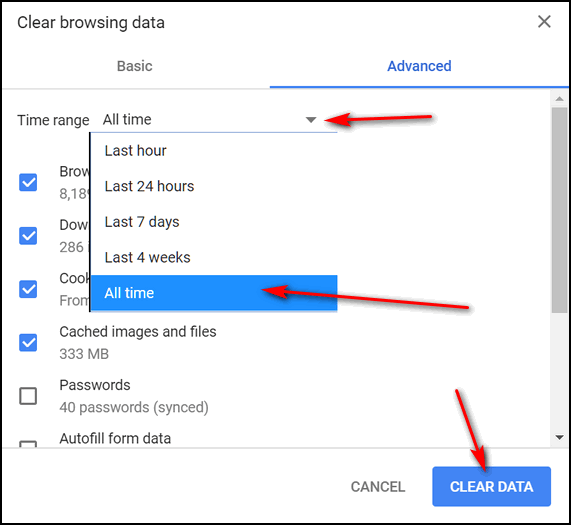 Using the down arrow, you can select how far back you want to go to delete browsing data from Chrome, even back to the first time you used Chrome.. Not actually the beginning of time, but back to the first day you used Chrome. You can also check or uncheck what you want to clear under "Clear the following items…" We suggest you choose only these four (see below) especially if you have Chrome save your site passwords: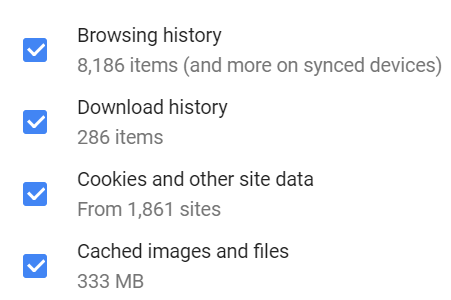 Remember, clearing cookies will log you out of sites that you're logged into. The next time you visit those sites, you'll have to enter your log in credentials again (even if you save your passwords as recommended above).