We once featured Pandora and boy were we sorry and embarrassed. We were ostracized by people who live in countries other than the USA. We are so ethnocentric that we sometimes forget that there's a world beyond the McDonald's, Walmarts, Burger Kings, Chik-Fil-As, golf courses, unemployment lines and shuttered warehouses and factories – all those ubiquitous icons of Americana.
Yes, we do know there's a China because we have cell phones. Honestly, we don't very often forget you wonderful folks in Great Britain, Australia, New Zealand, and the other countries that I can't think of the names of right now. And no, we didn't forget you dear Sgt. Muldoon – living alone in Lower Slobovia; eating carp gizzards isn't fun is it Muldoon?
It seems that Pandora doesn't like 80% of the people on Earth and only wants to canoodle with American ears. But we want to make amends to all our wonderful readers wherever you are. Even if you live under a bridge in Bukloon, if you have internet access, you'll be able to get your ears tickled. So to heck with Pandora.
Those of you over 40 may remember Tappan ranges – they were big and white and ugly. We all had one. Fess up. Anyway, Tappan is no more, they're now made in China and they're now called Nappat Segnar cooktops, which are a far cry from the ranges where Dale Evans and Gene Autry played with antelopes, and sang sappy songs beside fake campfires.
For those who are nostalgic for Tappan ranges, we're sorry to tell you that TapinRadio is not even remotely related. But if you like to listen to music – and chose it by gender genre, you'll really love Tapin radio. It plays songs you'd never get on a Tappan range, and it costs a whole lot less. It's free as opposed to $25 for a Tappan range at a salvage yard… if you can even find one.
So if you're living in the USA and you're fed up with Pandora because it's become a Yuppie hangout, or if you're living someplace else and Pandora just doesn't much care for you, you'll want to give TapinRadio an audition. Not only can you listen to your favorite kind of music (the search feature works great – much better than the salvaged Tappan range) and you can also record your favorite songs – thus probably breaking all kinds of copyright laws and treaties; but do not fear reprisal from Wyatt Earp or the Internet Police, recording songs from Internet Radio is like taking a glass of water from Lake Michigan. Who cares? Michigan is glad to give you the water, they have plenty. It's the same way with Internet radio songs…you can take it and they still have plenty left.
The author is pretty funny too, although not quite as absurd as we are. Right? Oh, sorry…
Here are a few words from the author:
"TapinRadio is an internet radio player that works most of the time. And if that's what you want then give it a go, if not then I'm sure you will find what you are looking for somewhere else.
Key Features
Quick in memory search
Many stations
Plays them
Records them
Portable version available
Benefits: Free – while stocks last"
The author is a pretty witty and laid-back kind of guy. I like him! He loves you all wherever you live. Unlike Pandora, he loves English ears and Aussie ears just as much as American ears. If you're in the mood for music and you want to hear what you want, when you want, as much as you want, without gaining weight or suffering toil, you'll love TapinRadio. And you can record with it too, I nearly forgot. It's a free download and you can get it here!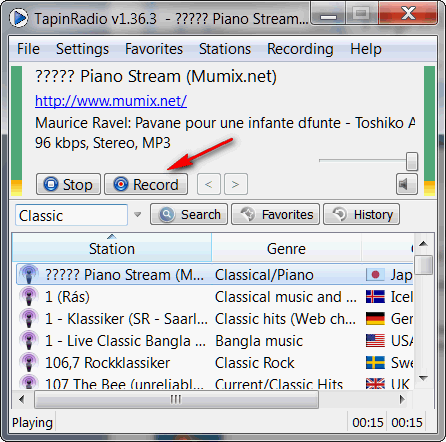 Above: TC proves he has more class than this article indicates.
PS: You might be able to listen to Gene and Dale sing "Home on the Range" on TapinRadio. I didn't try it, but if you want you can try.
DETAILS:
TapinRadio works on Windows XP, Windows Vista, and Windows 7 (32 and 64bit)