Windows 11 Installation Assistant and Windows Media Creation Tool
How to upgrade to Windows 11 using the Installation Assistant  and/or how to create a Windows 11 installation USB or DVD
On Microsoft's Windows 11 download page you'll find two options. The first option is for those who want to upgrade to Windows 11 or reinstall Windows 11. 
The second option is for those who want to create a Windows 11 installation USB or DVD.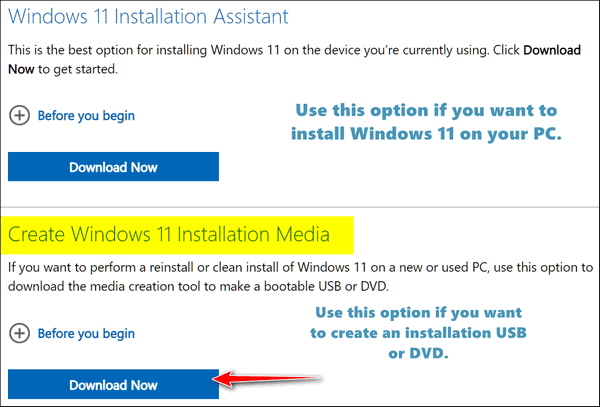 How to upgrade your computer to Windows 11 using the Windows 11 Installation Assistant
If you use the first option (the Windows 11 Installation Assistant) to upgrade your current Windows 10 PC to Windows 11, make sure your computer meets the requirements to run Windows 11.  
Microsoft says to make sure your computer:
Has a 64-bit CPU: Windows 11 can only run on 64-bit CPUs. To see if your PC has one, go to Settings > System > About, or search "System Information" in Windows and look under "System Type."

Windows 11 Media Creation Tool creates installation media only for x64 processors. For ARM-based PCs, you should wait until you are notified through Windows Update that the upgrade is ready for your PC.

Meets system requirements: Not all devices running Windows 10 are eligible to receive a Windows 11 upgrade. See the Windows 11 device specifications for upgrade requirements and supported features. Certain features require additional hardware. We also recommend that you visit your PC's manufacturer's website for information about updated drivers and hardware compatibility.

WARNING: Installing Windows 11 media on a PC that does not meet the Windows 11 minimum system requirements is not recommended and may result in incompatibility issues. If you proceed with installing Windows 11 on a PC that does not meet the requirements, that PC will no longer be supported and won't be entitled to receive updates. Damages to the PC due to lack of compatibility aren't covered under the manufacturer's warranty.
How to create a Windows 11 Installation USB or DVD
You can create a Windows 11 installation USB or DVD by following the instructions on this page.
Using the Media Creation Tool to create Windows 11 installation media:
Microsoft advises you to make sure you have:
An internet connection (internet service provider fees may apply).

Sufficient data storage available on the computer, USB, or external drive you are downloading the .iso file to.

A blank DVD disc with at least 8GB (and DVD burner) to create a bootable disc. We recommend using a blank USB or blank DVD, because any content on it will be deleted during installation.

If you receive a "disc image file is too large" message while attempting to burn a DVD bootable disc from an ISO file, consider using a higher capacity Dual Layer DVD.
If you have all of the above ready, then download the Media Creation Tool (option number 2)…
After downloading, run the media creation tool. You need to be an administrator to run this tool. If you agree to the license terms, select Accept.
On the "What do you want to do?" page, select "Create installation media for another PC", and then select Next.

Select the language, edition, and architecture (64-bit) for Windows 11.

Select which media you want to use:

USB flash drive: Attach a blank USB flash drive with at least 8GB of space. Any content on the flash drive will be deleted.
ISO file: Save an ISO file to your PC. This can be used to create a bootable DVD. After the file is downloaded, you can go to the location where the file is saved, or select Open DVD burner, and follow the instructions to burn the file to a DVD.
For the download links and more information about using the Installation assistant to upgrade your Windows 10 computer to Windows 11 and/or to create a Windows 11 installation USB or DVD, see this Microsoft page.
---
Wait! Before you go…
Every week we help dozens of people with their computers without charge or any expectation of payment. And we have helped many folks who have fallen for tech support scams or other scams designed to steal their money.
And we now depend more on readers like you to help keep us going. Your donation helps us to help more people with their computers and helps us keep everyone safer online.
Please help support our small business and help us to keep on helping you.