Xirrus Wi-Fi Inspector
Windows XP-SP2, Windows Vista, Windows 7 (32bit/64bit)
Xirrus Wi-Fi Inspector gives you a lot of information about your Wi-Fi connection – and about others around you
26.4 MB download file size
I really like things that tell me stuff I don't know – or show me stuff I know but I can't see. Like if they offered a ghost detector, I'd buy it or download it and buy it. But I don't believe in ghosts, but if I ever saw one, I might believe in ghosts. So if there is a ghost detector, please let me know because I'd like to believe in ghosts because if there are ghosts, maybe I'd be a good one. I'd love to come back and haunt EB. No! EB! I don't watch Ghosthunters.
So when I downloaded and tried Xirrus Wi-Fi inspector I was immediately attracted to the Wi-Fi radar showing all the Wi-Fi networks around me. Funny thing, some of them disappear – these people actually shut down their routers when they're not using them. Amazing. My router is on 24/7/365. Yes it's even running on Christmas Day. My network is secured with WPA2/PSK and I'm still waiting for a guy with the Pringles can to drive by my house and try to connect to my network. I will have to admit that before I saw the video of the Pringles' can guy, my network was protect by rather weak security (WEP). But now Pringles' cans scare me so I redid my security and now I'm WPA2/PSK . I love all those lovely acronyms. Don't you?
You wanna know don't you? OK here you go:
"Short for Wi-Fi Protected Access 2 – Pre-Shared Key, and also called WPA or WPA2 Personal, it is a method of securing your network using WPA2 with the use of the optional Pre-Shared Key (PSK) authentication, which was designed for home users without an enterprise authentication server.
To encrypt a network with WPA2-PSK you provide your router not with an encryption key, but rather with a plain-English passphrase between 8 and 63 characters long. Using a technology called TKIP (for Temporal Key Integrity Protocol), that passphrase, along with the network SSID, is used to generate unique encryption keys for each wireless client. And those encryption keys are constantly changed…" (From WebOPedia http://www.webopedia.com/TERM/W/WPA2_PSK.html )
I don't know about all that technical jargon, but now I don't shake in fear when I see Pringles' cans.
OK getting back to our freeware pick:
Xirrus Wi-Fi inspector helps you manage and troubleshoot your Wireless network. It also lets you see who else, within range, has a wireless network. Sometimes I'm nosy, OK? I'm not snooping…I am just curious. But like I think I said before, those who leave nearby turn their routers off when they're not using them so sometimes I feel lonely. That's when I play with some of the other tools available in Xirrus Wi-Fi Inspector… like the speed test, the quality test and the connection tests. Sometimes I get bored with the Wi-Fi radar and I go into submarine mode and change the radar to sonar – but I think I like the sweep of the radar better than the sonar's concentric rings. But it's nice I can switch.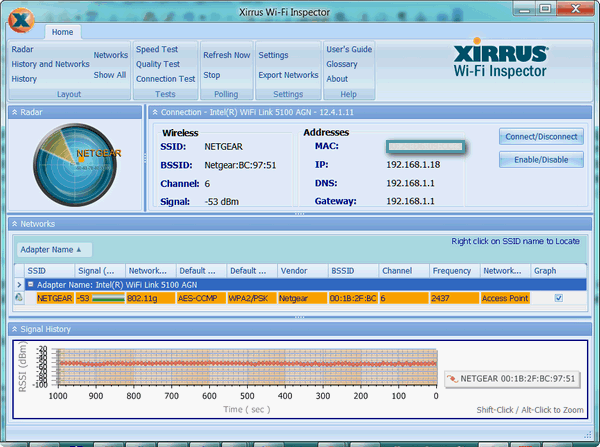 ENOUGH! I'm not going to give you every single detail of this very interesting and powerful tool! Part of the fun of installing new software is playing around with it and finding out what else it can do. So install it and find out what else it can do.
Before I let you go download Xirrus Wi-Fi Inspector, we must let the developer speak her/his mind:
"The Xirrus Wi-Fi Inspector is a powerful tool for managing and troubleshooting the Wi-Fi on a Windows XP SP2 or later, Vista, or 7 laptop. Built in tests enable you to characterize the integrity and performance of your Wi-Fi connection. Applications include:
Searching for Wi-Fi networks
Managing and troubleshooting Wi-Fi connections
Verifying Wi-Fi coverage
Locating Wi-Fi devices
Detecting rogue APs…"
If you have a wireless network, you'll find this program very useful and informative. And it makes a fun toy too. Grab The Xirrus Wi-Fi Inspector from this link – and learn more about the radio waves that swaddle you.