We first featured this program as a freeware pick of the week in 2004. Here it is seven years later and the intrepid EB was browsing one day (she took a break from grazing) and told me I should take a look at AbiWord again because it has been much improved since 2004. It's nice to hear that something has improved since 2004. I wish I could tell you that EB or I have improved, but you know we're not wines or cheeses. Believe it or not, we're people. The hair is a little grayer (OK – A LOT grayer). Well mine is; EB still dyes hers an awful shade of green. With that red hair clip in her hair she reminds me of a stuffed olive. I just let my hair get gray. I'm lucky to have hair at my age. What does all this have to do with our freeware pick today? Well let me tell you…
Absolutely nothing.
So let me segue sweetly into the gist of our freeware pick. It's a great word processor. For those who eschew Microsoft Office and want to create and open those ubiquitous Word docs – both *.doc and *.docx – AbiWord will do that. AbiWord will do a lot more than that. When you install it you can choose the AbiWord plugins you'd like to install with it. For instance, you can install the grammar plug-in. Most of you are praying that I installed that plug-in. I'm sorry to tell you that I did install it but I didn't use it to write this newsletter. I'm sure my grammar is nearly perfect anyway, right English aficionados?
Well lets get right to the pickles, shall we?
AbiWord lets you open and create documents in many different formats, as you can see from the screen shot below. You'll notice it can even save files in Outlook Express/Windows Mail *.eml format – as well as Word doc, HTML (web format), Text, Rich Text, Open Office and even *.docx. Wow. You can choose from a lovely array of formats – enough to please almost all of you.

And if you're a template lover, you'll find that AbiWord comes with a nice selection of templates to create a variety of documents. If you're like EB and I and you can't remember the proper format for business letters, you can use the Business-Letter template to make sure you look like a real corporate gazillionaire. You can even make up your own secretary's initials and stick them at the bottom. So while your sitting in your pajamas, hunched over your computer wrapped in a blanket, your letter will appear as if it came from Wall Street! Oh, the wonders of the Internet Age. Look at all the templates! (EB: please note the "Friendly-Letter" template.)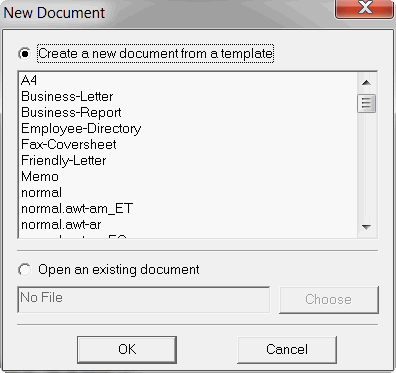 AbiWord has a lot of features – too numerous to mention here, even though I'm a well-known windbag. So look at the screenshot below. You'll see you can check your spelling, get a word count, do a search, look things up in the Wiki Encyclopedia, make annotations (I bet some of you would really love to make some explicit annotations on this newsletter), and so forth. Well, look at the picture below:
Now we've come to the point that you all love. It's time to bring in the developers and let them say their piece. So developers, bring it on!
"…Like most Open Source projects, AbiWord started as a cathedral, but has become more like a bazaar. AbiWord is part of a larger project known as AbiSource, which was started by the SourceGear Corporation. The goal of the project was the development of a cross-platform, Open Source office suite beginning with AbiWord, the project's word processor.
SourceGear released the source code to AbiWord and a developer community quickly formed around the project. SourceGear has since then stopped working on the project.
The developer community has since then continued to make improvements and increase the quality of AbiWord…"
That's about it. AbiWord is a great alternative to those bulky 100MB word processor/office programs. AbiWord packs a lot of punch into just 7.9 MB file size. No EB, not spiked fruit punch. I meant it packs a lot of features and usability into a relatively small file size. If you're tired of this rambling prose and want to download a great word processor with enough features to appease the most fussy among you, visit the AbiWord Website where you can read more about and/or download AbiWord. It may well be just the word processor you've been looking for.
DETAILS
AbiWord
Windows XP, Vista, Windows 7
33bit and 64 bit (both versions are contained in one installer)
7.9 MB Windows Installer
What is it? An excellent word processing program with a lot of useful features
Do you have a freeware program you love? Tell us about it!