There are dozens of sites on the internet that allow you to send large files to others, but none like Sendoid. Unlike other file-sending services, Sendoid doesn't upload your files to a server first. This saves time — your time.
The files are sent directly from your computer to another computer simply by sending your friend a link. And unlike other services, there is no size limit except for the limitations of your own computer. Sendoid says that limit usually is between 600MB and one GB.
Actually what Sendoid is a peer-to-peer file sharing utility – but one unlike we've ever seen before. If you have a high-speed internet connection, and the person or persons you're sending files to or receiving files from has one too, then Sendoid is the best way we've ever seen to share very large files. It's better than trying to send a 100MB file by email. And other file-sending services require you to upload the file before you can send it. Other file-sending services send an email to the recipient with a link from which they can download the file. The email also usually contains more than just a link to the file – like advertising.
Here's a screen shot of Sendoid. You'll notice that both files I've gotten ready for sharing are clearly labeled and the file sizes are clearly displayed. What a great idea Sendoid is.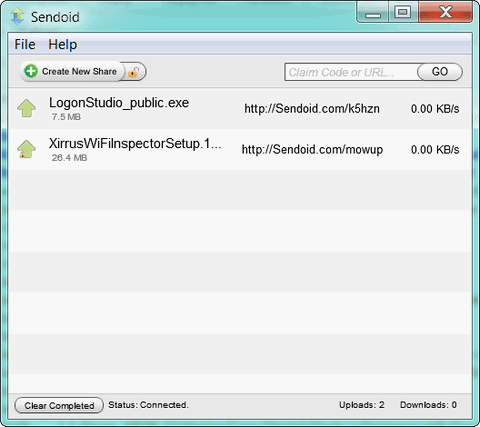 Here is what the developers have to say:
"What is Sendoid?
Sendoid is an on-demand peer to peer transfer system. It makes transferring any size file between two people as simple as clicking a link!
Where do my files go?
Directly to the recipient. The peer link provided after selecting a file connects the recipient directly to your machine. Files never touch or pass through our servers.
Is Sendoid secure?
Sendoid offers security via a 128bit AES encryption algorithm, link obfuscation, and an optional user-set password at the end-point. Always be cautious when transmitting highly sensitive data over a connection you do not control.
Are there size limits?
Sendoid's web interface limits total transfer size based on the resource availability of your local machine. This tends to be somewhere between 600MB and 1gb. Don't worry, we'll warn you if you try to send or receive a file that is too large."
If you find yourself sending or receiving large files often- you'd benefit from Sendoid. You can download and install the Sendoid client or try it out from the Sendoid Web site. Go take a look.
More Information:
Sendoid works with Windows XP, Windows Vista, Windows 7 (32bit & 64bit)
Adobe Air installer
---