A Quick Way to Find Your Windows Version
While this tip works on any version of Windows, it's particularly important for those of you using Windows 10. Microsoft is no longer going to releasing new "named or numbered" versions of Windows like they have in the past – i.e. Windows 98, Windows ME, Windows XP, Windows 7, Windows 8, Windows 8.1, etc. Now with Windows 10,  Microsoft is issuing major updates, which in the past would have been new released named/numbered versions of Windows or at least service packs.
Windows 10 (version 1507), as it was released, is quite different from Windows 10 Anniversary Edition (also known as version 1607). And the next major update will bring Windows 10 Creators Edition – and from what we've seen it's quite a bit different from the Anniversary edition.
So, as time goes by, it will become important that you know what version of Windows your using, as you can bet, down the road, there will be software that will only work with newer versions of Windows 10 and software that will work only with older versions of Windows 10.  By not releasing new numbered/named versions of Windows and piling then all under the name of Windows 10 – it's going to get confusing unless you know the version of Windows 10 you're using.
Here's a quick way to find out:
Right-click on the Windows 10 start button can click RUN
Type WinVer in the runbox and press Enter.
You can also do this: Press the Windows Key, tap R and type WinVer in the runbox and press Enter.
And you'll see a dialog showing the version of Windows 10 currently using.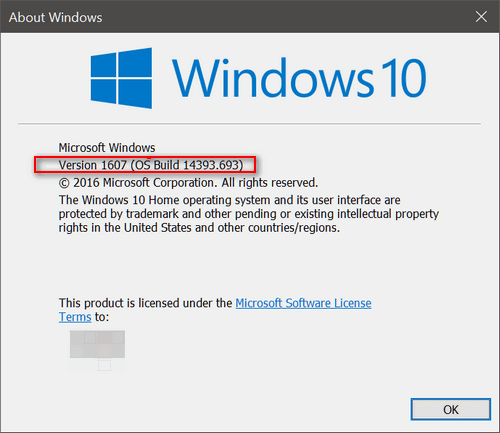 If you want to find out a lot more information including Windows version, 32-bit or 64-bit, processor type, and more do this:
Window Key + R
Type MSINFO32   in the run box and press Enter: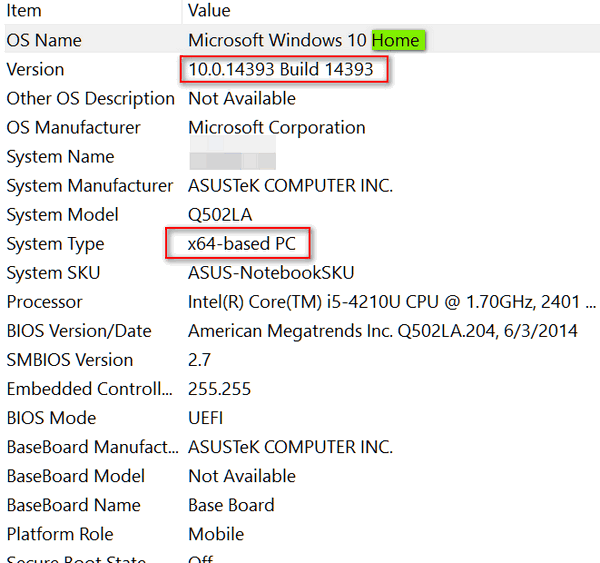 You can see though, it shows the version number as Windows 10.0.14393. If you look that up you'll see that Windows 10.0.14393 is Windows 10 Anniversary Edition (Version 1607). However, we were really trying to keep this simple.