All About Windows 10 Version 1903
Windows 10 is only a few weeks away from its debut. Version 1903 is a major update which introduces new features, and significantly changes some major features of Windows 10.
This is not an OK to install Windows 10 Version 1903, rather it's a guide to what's coming in version 1903. We think most of the changes are welcome ones and make Windows 10 even easier to use.
Unless you're an advanced user, a gambler or a masochist,  we suggest you wait a few weeks after the initial release of Windows 10 Version 1903 (May 2019 Update) in order to allow time for early adopters to report problems and Microsoft to fix them.
Here are some, but by no means, all, of the new features in Windows 10 Version 1903 scheduled to be released towards the end of May 2019.
Start Menu
A more compact one-column design is introduced in Windows 10 Version 1903… but this will appear only on new installations and new user accounts.
You'll find new icons for the "Sleep," "Shut down," and "Restart" options in the power menu, and new icons for the "Change account settings," "Lock," and "Sign-out" options in the profile menu.
Search and Cortana



Starting with the Windows 10 Version 1903, Microsoft is splitting Cortana and Search into two separate searches in the taskbar. Windows Search is for searching for things on your computer and Cortana for searching the web and to provide assistance. The Windows Search results page has a new look making it easier to read and to use.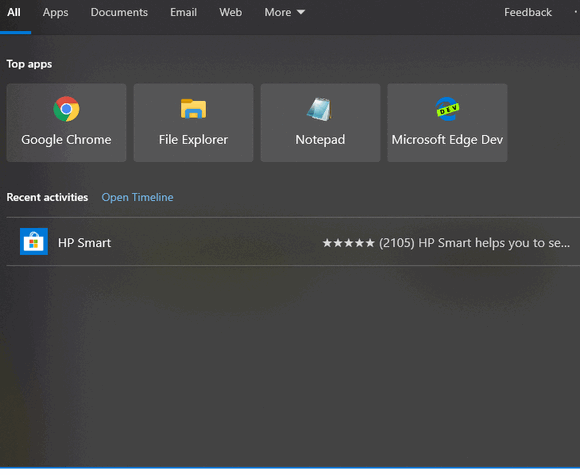 Taskbar
In the taskbar's notification area, Windows 10 will now display a new "disconnected" icon when there is no internet connection. This icon will appear when no connection to the internet is detected.
Action Center
Instead of a button that allowed you to set screen brightness to one of four brightness levels, a new slider control lets you adjust the brightness of your screen to any level of brightness.
Also, in Windows 10 version 1903 you can you add, remove and rearrange icons in Action Center without having to open Settings. Just right-click in Action Center and click "Edit".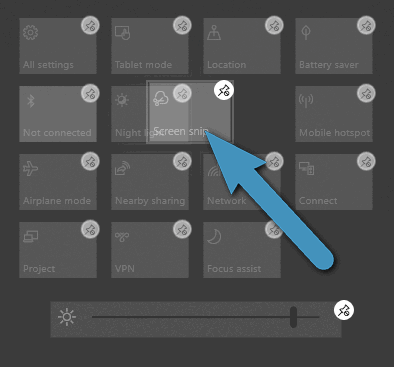 Downloads folder
In Windows 10 version 1903, the "Downloads" folder is organized by date so users can easily find files or programs they've downloaded.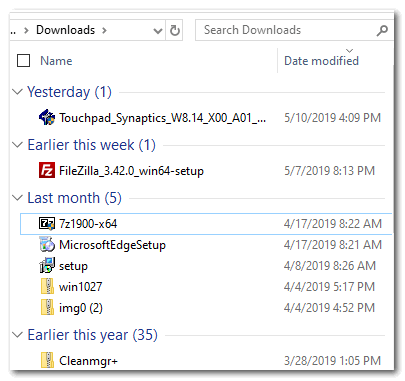 New update restart alert icon
A new orange indicator icon will alert users that a Windows 10 Update restart is pending.
Clipboard History
If you use Windows 10 Clipboard History, beginning with version 1903, you'll see a new interface that shows more clipboard content. With the new interface, you can more easily select text snippets to paste.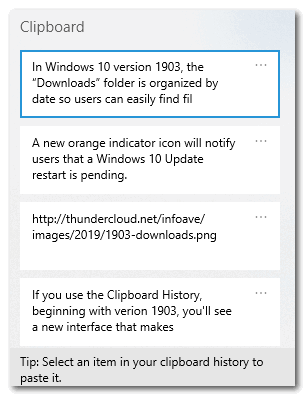 Light theme
Windows 10 version 1903, introduces a new light theme. The light theme allows users to choose a lighter theme for the Start menu, taskbar, Action Center and other Windows design features. The new light theme is different from the light/dark modes available in earlier versions of Windows 10.
The new light theme can be selected this way:'
Right-click on an open area of the desktop and choose " Personalize" In Personalization > Colors, choose the " Light" option in the dropdown menu under "Choose your color".
The Settings App
The Settings home page now looks more like a web page with images at the top that make it easier for you to manage your Microsoft account, check if updates are available, check system status and more.
Storage
The Storage settings page has a new look that makes it easy for you to see how much disk space has been used and how much disk space is free. This is a much quicker and easier option than offered by earlier versions of Windows 10, where you had to open File Explorer > This PC and then right-click on a  drive and click "Properties" just to see how much space was used and how much space is available on a drive.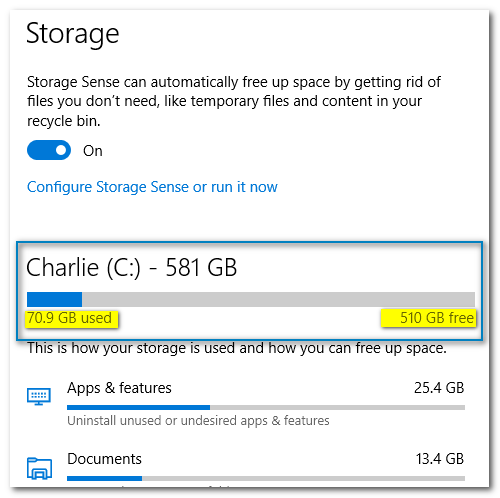 Windows 10 Version 1903 no longer has a "Storage Sense" settings page. You can still enable, disable, and configure Storage Sense by clicking Configure Storage Sense under "Storage."
Near the bottom of the "Settings" > "System" > "Storage" page, you'll see an item called "More Storage settings". In this section, you'll find an option to optimize drives (defrag) as well as an option to view space on other drives.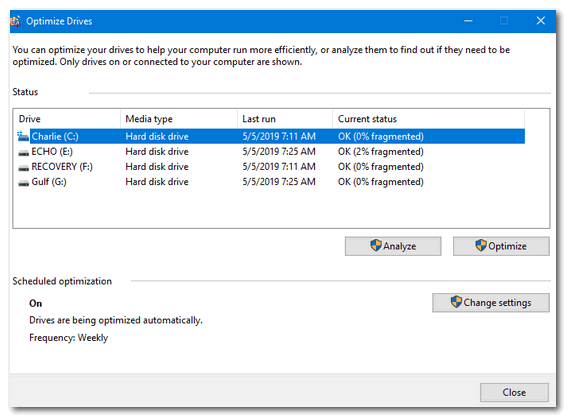 Printers & Scanners
A new Troubleshooter has been added to the Printers & Scanners settings page. You'll find it at the top right, under "Troubleshoot your printer".
Fonts
Starting with Windows 10 version 1903, the Fonts page now has a drag and drop option to install a font.
Uninstall more unwanted/unused pre-installed Windows Store apps
Starting with version 1903, you'll be able to uninstall more pre-installed apps that you don't want or don't use. These include:
3D Viewer.
Calculator.
Calendar.
Groove Music.
Mail.
Movies & TV.
Paint 3D.
Snip & Sketch.
Sticky Notes.
Voice Recorder.
Prior to version 1903, you were only to able uninstall the following pre-installed Windows apps;
Microsoft Solitaire Collection.
My Office.
OneNote.
Print 3D.
Skype.
Tips.
Weather.
Cursor & pointer
In Settings > Ease of Access > "Cursor & pointer" settings page, there's a new slider you can use to change the size of the mouse pointer to almost any size you want – even extremely large. Also, for the first time, be able to colorize your mouse pointer by clicking the mouse-pointer color icon ( the lower element highlighted in yellow in the screenshot below). You can choose one of the suggested colors or you can use the color picker to create a custom mouse pointer color.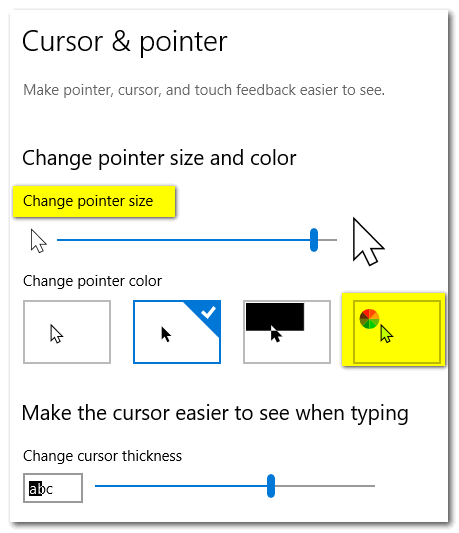 Search
In Settings > Search > Searching Windows, in the "Find My Files" section, you have the option of choose " Enhanced mode" This is a new feature in Windows 10 that enables Windows to search all of your files, folders, and drives, instead of just Documents, Pictures, Videos, Music and Desktop.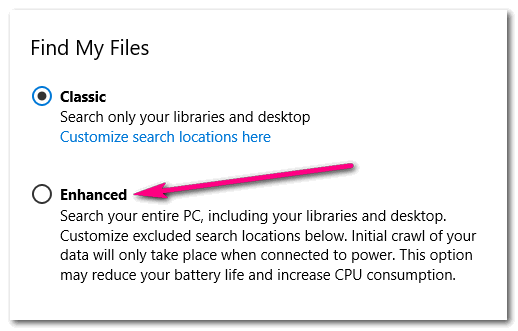 Voice activation
The Voice activation page is new to the Privacy Settings page. From the Voice activation page, you can add, remove, prevent or allow what apps can listen for voice keywords and how long applications can continue to listen after the keyword or keywords are detected. You can also turn this feature off so that no applications can be activated by your voice.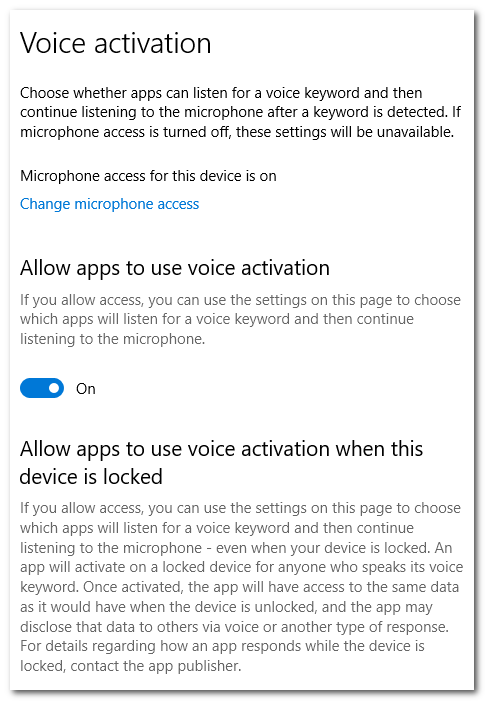 Task Manager
An updated Task Manager makes its first appearance in Windows 10 version 1903. The biggest change is you'll be able to set your preferred Task Manager tab. Currently available tabs are:
Processes, Performance, App History, Startup, Users, Details, Services. Once you set it up, Task Manager will open to whatever tab you chose.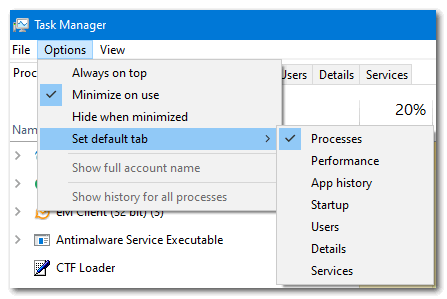 Windows Update
A new taskbar alert when an update requires a restart

A 
A new Taskbar icon will appear in the notification whenever a pending update requires a restart. The icon looks like a small trapezoid with an orange dot on it.
Troublesome Windows Updates will be automatically removed
Starting with version 1903, Windows 10 will remove troublesome updates automatically if your computer has problems booting after the update, The new feature works automatically when other troubleshooting options are not able to fix the problem.
After an update has been automatically removed you'll receive a message from Microsoft that says: "We removed some recently installed updates to recover your device from a startup failure". Windows will block the troublesome update for 30 days. That, hopefully, should time enough for Microsoft to fix the problematic update.
Update & Security > Recovery
In Settings > Update & Security > Recovery, if you choose the "Reset this PC" feature. Windows 10 version 1903 users will find a new simplified interface that requires fewer steps and takes less time to complete.
As in previous versions of Windows 10, the "Reset this PC" and "Keep my files" option will save all your personal files, remove your programs, and completely remove Windows. Windows will then be reinstalled and all your personal files and folders are put back into the same location they were when you started the "Reset this PC" operation. A list of programs that were removed will be left on the desktop to assist you in reinstalling your programs.
Install or ignore Windows 10 version updates
Finally, and most significantly for most Windows 10 users – Starting with Version 1903, Windows 10 will no longer force version upgrades on Windows 10 users. Users will receive a notification that a new version of Windows 10 is ready. From the Windows Update settings page, you'll be able to choose to install the version update or ignore it and to continue using your current version of Windows without missing any cumulative updates or important security updates.
Windows 10 Version 1903 – Coming Soon
Windows 10 Version 1903 is a Windows version update that brings with it some significant changes to Windows 10 – and for the most part, we think you'll like most of the changes. The rollout of Windows 10 May 2019 Update (Version 1903) is coming before the end of May 2019. We hope it goes smoothly for all this time.
As Windows 10 Version 1903 rolls out and more and more of you install it, we'll be keeping you in-the-know with new tips and tricks for Windows 10 Version 1903.