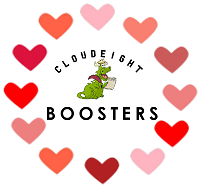 Gifts is the  new name for donations:
Thanks so much for your support. As we've noted in our newsletters, PayPal has changed the rules for donations and made them for "non-profits" only. So we had to take down our donations page. Since we did so, we have received many emails from those of you who wanted to continue to help us by making a donation. We cannot tell you how important your donations have been and how much they have helped us through some very difficult times.Since we cannot accept donations anymore, we have changed the word :"donations" to "gifts" to comply with PayPal's (and governmental) rules. So to make it simple, gifts is just another word for donations.
Visit this page to give a gift.
In exchange for your gift, you will be invited to join our Cloudeight Boosters – no matter which level of gift you decide to give (Silver, Gold or Platinum). Every one of our boosters will get special discounts on products and services, beginning with a free copy of our 2014 E-book when it is ready. You are not obligated to become a booster when you give a gift, but we both hope you'll join us. We will be creating a Booster's Hall of Fame and, with your permission of course, we will list your first name and country on our Booster's Web site. If you don't want your first name and country listed, no worries, it won't be.
We both look forward to welcoming you as a member of our Cloudeight Boosters. And we thank you in advance for your support and your help.
Please visit this page to give a gift and/or to get more information.