Automatic Drive Maintenance 

CAUTION: THIS TIP IS FOR HDDs ONLY. IT IS NOT MEANT SOLID STATE DRIVES (SSDs).
We work on a lot of computers and we still see a lot of people using drive defragmenters like "Defraggler" for instance. There's nothing wrong with that, except Windows 10 optimizes your drives automatically and it does a really good job of it too. What most of us old-timers call disk defragmentation, Windows calls "Drive optimization", but as EB says, "A rose by any other name…"
By default, Windows 10 optimizes your hard drive(s) weekly. But you can change this to daily (which would be silly) or monthly (I have no idea why you'd do this either).
You can also analyze your hard drives and/or optimize (defrag) your hard drives whenever you want.
Yet, hardly anyone knows this feature exists in Windows 10. How would you like to be the poor Microsoft team in charge of drive optimization? You and your team come up with good ideas, and no one knows you did anything because no one can find your stuff. The whole drive optimization team might as well go out to some hinky bar and start drinking cheap bourbon and doing some all-night line dancing with girls in high boots.
But we now come to the rescue of the drive optimization team We are going to show you how to find Windows 10's disk optimization (read defragmentation) feature… and show you some helpful pictures too!
Let's get sarted… type optimize drives in taskbar search.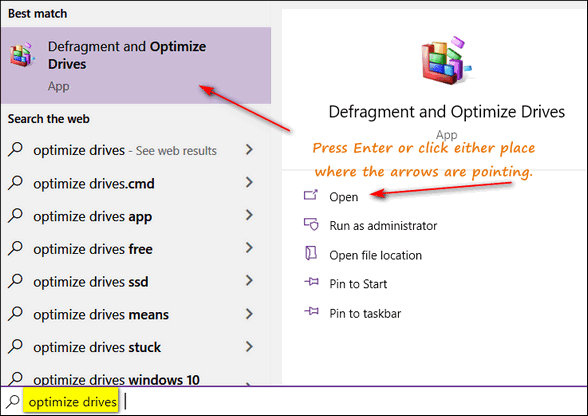 Press Enter or click on either the the places where the arrows are pointing in the screenshot above. 
The "Optimize Drives" dialog will open as you can see below. And from this little window, you can see how fragmented  your hard drives are. You can also analyze your drives and you can manually optimize (defrag) your drives.
You can also change the frequency of automatic drive optimization (defragmentation) from "Weekly" (default) to "Daily" or "Monthly". Unless you know something we don't, there's no reason to change this setting from its default setting of "Weekly".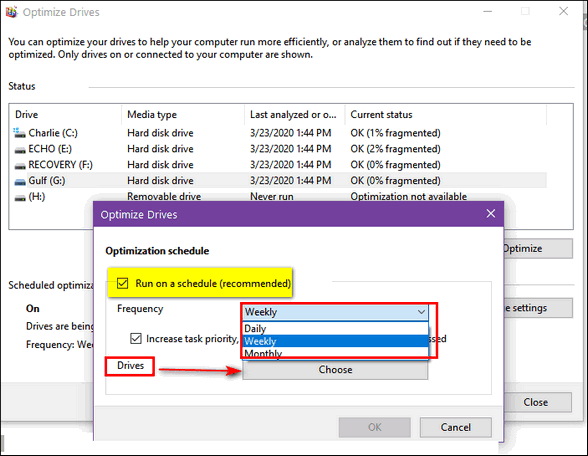 Let's take a closer look (screenshot below).  It's a good idea to leave the box next to "Increase task priority, if three consecutive sheduled runs are missed" checked to ensure that your drives are optimized on schedule.
There's no reason to go messing around with Windows 10 automatic drive optimization (defragmentation) unless you have a valid reason or you're a very advanced Windows 10 user.
And there's also no reason to be downloading, buying, and/or installing any disk defragmentation programs. Windows 10 will automatically keep your hard drives defragged (optimized) so you don't have to worry about it.
And now you know!