BleachBit: A Unique System Cleaner
Once in a while, we find a freeware program that seems to be a re-hash of other applications, but on closer look isn't. BleachBit is one of these kinds of applications.
On the surface, it may seem to be just another system clean-up tool (yawn!) of which there are dozens of free ones to choose from. But when we looked closer, we found it to be the most powerful, most comprehensive free clean-up tool we've ever used. And because it can be so powerful – it can cause problems for some users — especially those who are inclined to not heed warnings or read program documentation.
But we've decided to recommend it to you because it cleans areas of your computer that most others don't touch,  BleachBit is a powerful system clean-up tool, and when it is used with care, it can clean up files like Adobe Reader's cache. temporary files, system files, files created by popular browsers such as Chrome, Opera, Firefox, Internet Explorer, etc., and much more. Plus its file shredder can make you private files impossible to recover.
It goes places other cleaners don't — and that's why we are featuring it. Here's a simple description from the developer:
"When your computer is getting full, BleachBit quickly frees disk space. When your information is only your business, BleachBit guards your privacy. With BleachBit you can free cache, delete cookies, clear Internet history, shred temporary files, delete logs, and discard junk you didn't know was there. Designed for Linux and Windows systems, it wipes clean thousands of applications including Firefox, Adobe Flash, Google Chrome, Opera, and more. Beyond simply deleting files, BleachBit includes advanced features such as shredding files to prevent recovery, wiping free disk space to hide traces of files deleted by other applications, and vacuuming Firefox to make it faster. Better than free, BleachBit is open source…

BleachBit has many useful features designed to help you easily clean your computer to free space and maintain privacy.

Delete your private files so completely that "even God can't read them" according to South Carolina Representative Trey Gowdy.

Simple operation: read the descriptions, check the boxes you want, click preview, and click delete.

Multi-platform: Linux and Windows

Free of charge and no money trail

Free to share, learn, and modify (open source)

No adware, spyware, malware, backdoors, browser toolbars, or "value-added software"

Translated to 63 languages besides American English

Shred files to hide their contents and prevent data recovery

Shred any file (such as a spreadsheet on your desktop)

Overwrite free disk space to hide previously deleted files

Portable app for Windows: run without installation

Command line interface for scripting and automation

CleanerML allows anyone to write a new cleaner using XML

Automatically import and update winapp2.ini cleaner files (a separate download) giving Windows users access to 2500+ additional cleaners

Frequent software updates with new features

Advanced wiping on Windows (requires BleachBit 2.0 with administrator access and local file system)

Uses

Use BleachBit to:

Free disk space

Reduce the size of backups and the time to create them by removing unnecessary files

Maintain privacy

Improve system performance (by vacuuming the Firefox database, for example)

Prepare whole disk images for compression (common for "ghost" backups and virtual machines) by wiping free disk space.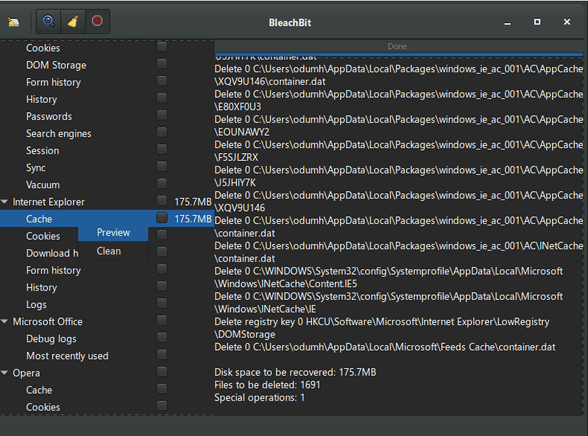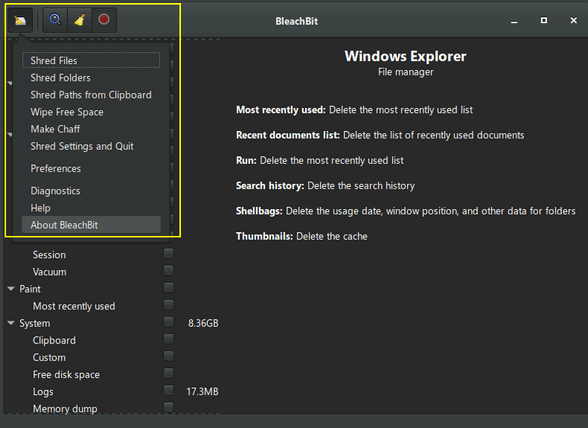 If you're looking for something that cleans the garbage from your computer and many of the applications that leave traces and junk files behind,  take a look at BleachBit. You can read more about and/or download BleachBit (free) from here.
---

Whether you live in the USA, Canada or Australia, when you shop Amazon using our links you'll get great products at great prices, and you will be helping us too! For every purchase you make using our Amazon affiliate links, we make a small commission. If you shop at Amazon, we hope you'll use our Amazon affiliate links. It won't cost you a penny more, but it will help us a great deal! Al l you need to help us is use the following link whenever you shop Amazon – for anything.
That link goes to the same Amazon site you'd see if you went to www.amazon.com, but when you use our link, we'll get a small commission on anything you buy from Amazon. It's another way you can help us and it won't cost you a penny more. And you'll get the same great Amazon prices, sale prices, and promo prices you always get.
So the next time you shop Amazon, use our special affiliate link and bookmark the Amazon page once you get there.  Then use that bookmark whenever you shop Amazon!
Thanks so much for helping us!