Back Up the Windows Registry
This tip is for Windows 7, Windows 8x and Windows 10
We try to stress the importance of keeping your computer backed up. It's the only way to protect your precious data and irreplaceable personal files. As most of you know there are dozens of ways your data is at risk. So, we know you're all keeping good backups, right?
Today, though, we're going to talk about something we don't harp on, and that is backing up the Windows Registry.
You've probably noticed that whenever we feature a tip that that includes editing the registry we always tell you to back up your registry first(or create a restore point). But, we have not shown you how to back up the registry. So, now we're going to show you how easy it is to back up your registry — and how easy it is to restore your registry from your registry backup if that should ever become necessary.
Let's backup your Windows Registry
Press the Windows Key + R
Type REGEDIT in the run box and press Enter
When the Registry Editor opens, make sure "Computer" is highlighted (see screen shot below).
Now click "File" > "Export"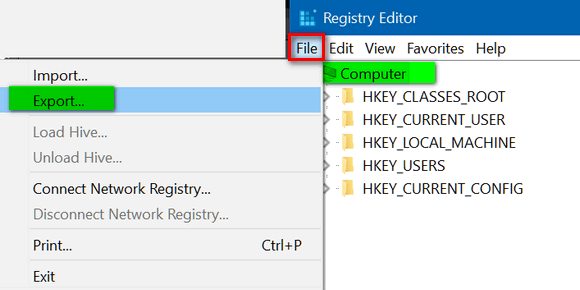 Choose a location to save your backup. HINT: Use a flash drive or an external drive to save your registry backup;  saving it to your Windows drive is not a good idea -if Windows goes belly up, so does your backup.
Save it with a name like reg-backup12sept2017 …  a file name that tells you at a glance what it is and when it was created.
If you should ever need to restore your registry using your backup, it's easy.
Just locate your registry backup file, right-click on it, and choose Merge. Be careful -only do this when you've made changes to the registry (or some program or malware program did) that caused problems.
IMPORTANT: BACKING UP THE REGISTRY DOES NOT TAKE THE PLACE OF BACKING UP YOUR IRREPLACEABLE DOCUMENTS, PICTURES, MUSIC, ETC.
RESTORING THE REGISTRY  FROM A REGISTRY BACKUP DOES NOT BRING BACK YOUR FILES. PLEASE MAKE SURE YOU KEEP GOOD BACKUPS OF ANYTHING YOU CANNOT REPLACE!