Bonus Questions and Answers 2021-1
We get a lot of great questions. We try to answer as many as we can in our InfoAve Weekly newsletter. And sometimes we use them as inspiration for our tips and tricks. And sometimes, especially after holidays, when we have many good questions that we don't have room for in our newsletters. So occasionally, we'll publish these as "Bonus Questions and Answers".
Here are this week's Bonus Questions and Answers.
---
Erik is switching from IncrediMail to OE Classic and has some questions
Hello Dear friends. Thank you for the good advice to install OE Classic. I find it very easy to use, it works perfectly. Now my question is it possible to transfer all animations, letters, stationery, etc. from IncrediMail to OE classic Pro? I have IncrediMail on another PC and my wife can't miss all those animations and stationery.
Our answer
Hi Erik. While IncrediMail stationery does not work in OE Classic, you can now import your info and messages from IncrediMail to OE Classic as of this week's update:
IncrediMail import (1.0, 2.0 and 2.5 formats)
Hope this helps!
---
Patty says her computer went incognito
I woke up this morning and found my laptop telling me I had gone incognito. I cannot remember what this means or if it is something I need. What does it do? Is it a good thing to have? If not, how do I go back to whatever mode I had?
Our answer
Hi Patty. Computers don't go Incognito, but browsers do. Google Chrome has an incognito mode – Firefox and Edge have "Private modes". It just means your browser is not saving cookies or browsing history when you're in Incognito mode (Chrome). Just close Chrome and reopen it – and it should reopen in normal mode.
---
Beverly is getting Blue Screens (BSODs)
Hello EB & TC. On three occasions lately, I have had a blue screen pop up that says Your device has run into a problem and needs to restart. We're just collecting some error info, and then we'll restart for you. For more information about this issue and possible fixes, visit https://www.windows.com/stopcade. If you call a support person give them this info."
I failed to make note of the info the first time, but the second time it said…
"Stop Code: page fault in the non-paged area,
What Failed: win32kfull.sys"

And the third time it said:
"Stop Code: SYSTEM SERVICEEXCEPTION
What Failed: eppwfp.sys."
Even though it said it would restart for me, it never did and I had to do a hard shut down and restart. Can you tell me what is going on? Thanks in advance for any help you can give.
Our answer
Hi Beverly. Blue Screens are almost always caused by bad drivers. Make sure you have not installed any driver updater programs – intentionally or unintentionally via bundled freeware. But I'm skeptical of the origin of this message since the link it gives you leads to a "page not found".
I suggest that you uninstall any driver updater programs that are installed and then follow the instructions on this page on how to run SFC and DISM scans.
I hope this helps you, Beverly.
---
Jane asks about the Windows 10 weather app
Is it okay to pin the Win 10 weather app to the taskbar? Thanks, Jane.
Our answer
Hi Jane. Windows 10's Weather app is great. I have the Weather app pinned to my Start menu as well as my taskbar. If you use it every day like I do, pinning it to your taskbar is a smart thing to do.
---
Jean needs to find her wireless network password
I am moving, packing, etc. For years I have had my WIFI network password in one place. It was in the writing desk. Everything in the writing desk was packed in two small boxes or so I thought. I now cannot find the envelope that contains the password. I am moving on Jan 4 and need the password to connect WIFI in the next place. Downloaded Nirsoft. Windows Defender tried to stop it, but I got over that hump. Extracted the files. Down at the bottom of Wireless Key view, 0 Keys are entered. But I do have a key and I do have a password.
When I attempt to install WIFI in the new place, I could use a new name and password but would rather not.
I also tried the instructions you gave us using the command prompt. It said "The wireless autoconfiguration setting is not running. " I tried it twice.
Is there any other way to recover my password or should I just create a new one when the time comes?
Our answer
Hi Jean. Good question. Many people got new smartphones, tablets, streaming devices for Christmas and they may also need to find their wireless passwords to set up their new internet-connected devices. So we posted this tip this morning to remind folks there's a really easy way to recover wireless passwords without using any 3rd-party software.
At the bottom of that article, there is a link to another way to recover wireless passwords without using any third-party software.
We hope this helps you, Jean.
---
Dotty has a mysterious user account on her login screen
I first turn it on. in the lower-left corner are the two user accounts. There's my account and then there's an account called "Administrator". I can't remove this account because it does not show up in "Accounts" in settings. How do I get rid of it?
Our answer
Hi Dotty. That's called a "Super Administrator" account. You can remove that account only one way:
Type COMMAND in taskbar search. When Command Prompt shows up in the search results, click on "Run as administrator".
At the prompt, in the command box, type this (exactly as shown).
Net user administrator /active:no
and press Enter.
That's it. The super administrator account will be gone, and you won't see it on your login screen.
——–
Dotty wrote back: "It worked. You are awesome. Keep up the great work. Happy New Year to you & Darcy. Thank you!
---
Ellen has problems with Edge
During the past 2-3 months, after Edge updates, when I want to access different websites, Edge takes a very long time to reach the sites and eventually, an on-screen message quickly flashes " This isn't working right…Try clearing cookies (which I do very frequently) …Error…too many redirects". Then, the desired website finally appears on the screen. This happens every day, many times every day.
I have tried researching the message, can find nothing like it and no remedy either. I hope you can recommend a solution. Thank you, Ellen.
Our answer
Hi Ellen. This sounds to me like you have a bad extension installed or something corrupted Edge. The "Too many redirects" error sounds like a bad extension. I would recommend you reset Edge.
1. Click on the 3 dots at the top-right corner of Edge
2. When "Settings" opens click on "Reset settings" (in the menu on the left).
3. On the page that opens, click on the arrow to the right of "Restore settings to their default values"
4. You'll see the following…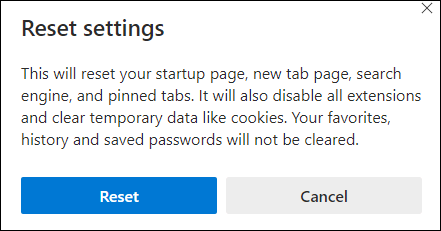 Click on "Reset".
I recommend that after doing this you restart your computer and then try Edge again.
I hope this helps you, Ellen.
---
Louise wants to know what's wrong with sticking with Windows 7
I am a senior. I'm not technically savvy. My computer is over 10 years old. Is it a problem for me to stay with windows 7? Right now, it serves me well. I have Malwarebytes protection. Thank you, Ellen.
Our answer
Hi Louise. Windows 7 is no longer supported by Microsoft -meaning you're not getting core security updates. In non-technical terms that means no matter what antivirus or antimalware you use, your Windows system is increasingly vulnerable to exploits, and the more time that passes the less secure your computer will be.
I strongly suggest you upgrade to Windows 10; it's still a free upgrade.
We offer a service where we help you with the upgrade and make Windows 10 look much like Windows 7. If you're interested, you can read more about our service here:
https://thundercloud.net/direct/2019/transform/
I'm using an 8-year-old Dell laptop and I upgraded to Windows 10 without any problems.
---
Mary's search box disappeared from her taskbar
The search bar disappeared from the taskbar. I have searched for it many times and cannot find it. I even asked Microsoft and cannot get any answers. Can you help me with this? I am lost without it. Thank you for all your help every day and weekly. I would be lost without your newsletters.
Our answer
Hi Mary. Right-click on your taskbar. Find "Search" on the menu.
Click on the little > (arrow) and a menu will appear.
Choose "Show search box" from the menu.
See this screenshot.

And keep in mind, you can use always the Windows key + S shortcut to open a search box anytime.
We hope this helps you.
---
Margaret wants to know how to use a special font in Thunderbird
How can download the Lucinda Calligraphy font into my Mozilla Thunderbird e-mail program?
Our answer
Hi Margaret. Lucinda Calligraphy is a Windows font, it comes with all versions of Windows 7, Windows 8x, and Windows 10.
Any Windows font should show up in Thunderbird in the font selector.
Keep in mind that most Windows users will see this font, but those using Apple or Android devices won't.
Any time you use a font that is not installed on the recipient's computer, they will not see the font – they will see whatever their default font is – on Windows 10 it's Segoe UI.
Hope this helps you, Margaret.