Buster: Captcha Solver for Humans
Don't you just hate it when you're browsing around the Web, minding your own business, and suddenly you see something like this pop up right in front of your bloodshot eyes?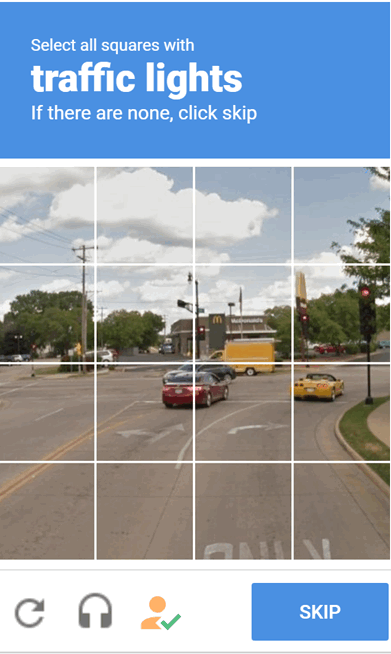 If your eyes are old and weary like mine, you may find it hard to pick out the the things you're supposed to find in the picture – for instance finding all the traffic lights in the somewhat blurry captcha in the example above.
Wouldn't it be nice if you had a way to automatically solve these crazy captchas without straining your eyeballs and raising your blood pressure?
Unfortunately, due to the limitations of technology, there is no 100% perfect captcha solver, but there is an extension that claims to be able to help you automatically solve most captchas so you don't have to. The extension is available for Chrome, as well as Firefox and Opera.
You can install the Chrome extension by visiting this page. If you're using Firefox or Opera, read on.
Without further verbosity or fanfare, let me introduce to you, the architect of Buster: Captcha Solver for Humans, the one and only Armin Sebastian:
Save time by asking Buster to solve captchas for you.

Buster is a Chrome extension which helps you to solve difficult captchas by completing reCAPTCHA audio challenges using automatic speech recognition. Challenges are solved by clicking on the extension button at the bottom of the reCAPTCHA widget.

It is not guaranteed that challenges are always solved, the limitations of the technology need to be considered.

The continued development of Buster is made possible thanks to the support of awesome backers. If you'd like to join them, please check out https://www.patreon.com/dessant

reCAPTCHA challenges remain a considerable burden on the web, delaying and often blocking our access to services and information depending on our physical and cognitive abilities, our social and cultural background, and the devices or networks we connect from.

The difficulty of captchas can be so out of balance, that sometimes they seem friendlier to bots than they are to humans.

The goal of this project is to improve our experience with captchas, by giving us easy access to solutions already utilized by automated systems.

The extension is also available for Firefox and Opera:

https://addons.mozilla.org/en-US/firefox/addon/buster-captcha-solver/

https://addons.opera.com/en/extensions/details/buster-captcha-solver-for-humans/

Reviews are not monitored for bug reports, please use GitHub for issues and feature requests.