Chrome's Built-in Malware Scanner

Chrome's malware scanner is not particularly robust and it's certainly not meant to be a replacement for good security software like Emsisoft. But it is a simple way to run a secondary check to find out if anything is going on that shouldn't be.
It's built into Chrome and it's simple to use. If you use Chrome and you'd like to try iChrome's malware scanner here's some information as a short tutorial.
The Chrome malware scanner will help you if:
You keep getting popups that your computer is infected or you need to call some 800 number to fix your computer

You get other pop-up ads that you can't seem to get rid of.

Your home page gets changed without your permission.

You open your browser and it opens to an unfamiliar page.

Your Chrome default search engine keeps changing without your knowledge or permission.

You click a link to go to a page but you're redirected to a different page.
After the Chrome Malware Scanner finishes, Chrome will let you know if anything was found and you'll have the option to remove it. You may also want to reset your Chrome browser if several things were found. See our article here on resetting Chrome.
Here's how to run the Chrome malware scanner:
Click on the 3 vertical dots (settings) icon in Chrome and click on "Settings".

Then scroll down in "Settings" and click on "Advanced".
In "Advanced" settings, scroll down to "Reset and clean up". To the far right of "Clean up computer" click the arrow.

You can choose whether to share the anonymous results of the scan with Google… the switch is on by default. But you can switch it off by moving it to the left. Then just click "FIND" to start the Chrome malware scanner.

Chrome's malware scanner will scan your computer for malware. It can take a while… it's not particularly fast, at least it was not for me.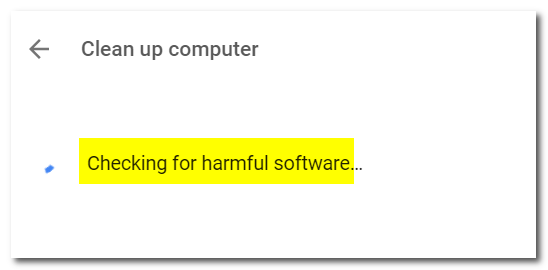 And if all goes well, you'll see this…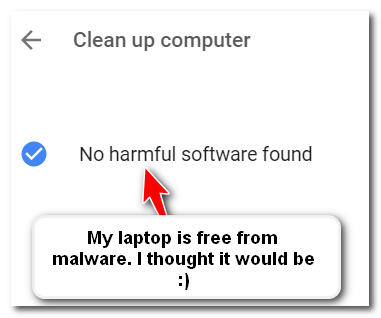 If malware is found, Chrome will give you the option to remove it. You will also have the option to reset Chrome which saves your bookmarks. And it disables but does not remove, your extensions, clears your Chrome history and cache, and resets Chrome to its defaults.
Important: You should not rely on Chrome's scanner to protect your computer. It should only be used as a secondary way to check your system for malware and hijackers. Having professional-grade security software installed is your first line of defense. We recommend Emsisoft. It provides excellent protection from malware and viruses.  Learn more about Emsisoft here.
.