Netbooks don't come with optical drives (CD/DVD) drives – so how are you going to reinstall Windows if you need to? You can install it from a USB flash drive that's how. But even if you don't have a netbook, did you know that installing Windows from a USB flash drive is much faster than installing from a CD or DVD? It is. This is because CDs and DVDs spin and have to be read by a laser. USBs don't spin! You probably already knew that 🙂 . Data access from a USB is much faster than a disc or even your hard drive (which does spin – unless you have a solid-state hard drive – which is like a big USB drive).
If you could make a Windows installation USB flash drive, not only would you have a backup copy of your Windows disc, you'd have installation media that would allow to install Windows much faster than from the DVD or CD Windows came on. But just copying Windows files to a flash drive is wouldn't work. You'd have a mess.
So what can you do? Most methods of creating bootable USB flash drives are really not meant for beginners – it can get quite complicated. But Koala makes creating bootable Windows USB intallation flash drives a snap. Anyone can do it. Really. All you need is a 4GB (or larger) USB flash drive (with at least 3.5 GB of free space), a Windows XP, Vista, or Windows 7 installation disc, and Koala.
Run Koala and follow the instructions and you'll have a bootable Windows installation USB flash drive in less than 10 minutes. Also note: If you plan on installing Windows from a USB flash drive, you'll need to venture in to your computer CMOS settings (usually tapping the F12 key while restarting your computer will get you there) and make sure that the first boot option is USB, then CD/DVD, then your hard drive. Your computer will check USB drives first for bootable media, then your CD/DVD drive, and failing to find any bootable media in those drives, your computer will boot from your hard drive – which is the way most of us boot our computers every day.
Koala's Web site is in Italian – but the program is in English. The following is from the Koala Web site – translated by Google Translate – and frillied up by us:
Koala answers the call by allowing users to create bootable USB installation drives for Windows 7, Vista, and Server 2008.
The program interface is simple and straightforward. Unlike other commonly available tools, such as UNetBootin, it creates a bootable USB from Windows disc instead of an ISO file.
Insert the operating system disk into your optical drive and plug in the USB drive that you want to create a bootable disk on. Press 'Scan' for source, and the tool will read the OS information from the optical disk. Next, scan for destination drive and the software will locate your USB drive. Once both parameters are set, click the Start button to begin the process. You have the option to automatically eject source disk and/or restart or shutdown your PC once the process is completed.
If you want to download Koala you can download it directly from this link. If you're Italian is better than ours and you want to read Italian – or fuss around translating what we already translated – visit the Koala Home Page here. Don't worry. The program is in English – we promise!
Koala works on Windows XP, Vista, and Windows 7 (32/64bit). It's a 260KB download.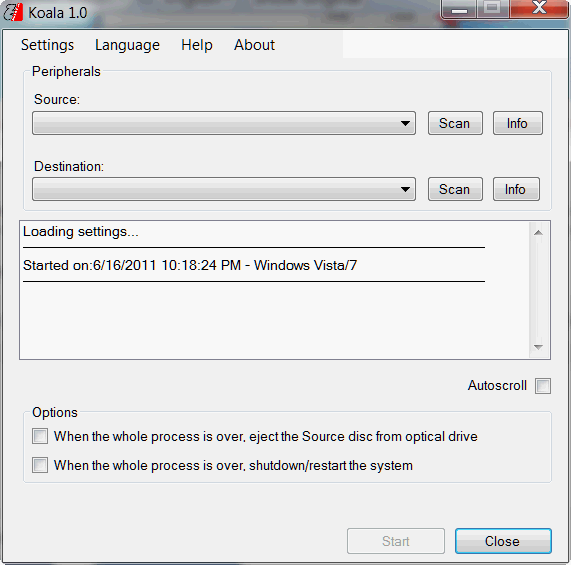 See? Koala really is in English!
The scoop:
Koala
Windows XP, Vista, and Windows 7
32bit/64bit