Did We Let You Down?
We've made many attempts in the past to prepare you in case you run into a tech support scam on the Internet – and there are plenty of them. Here are a few of the articles we've written – some with plenty of screenshots to show you what you're likely to see.
Tech Support Scams, Microsoft Support Scams: Scams Scams Everywhere!
Microsoft Support Scams are Alive and Well
Tech Support Scams are Everywhere
Yet after all these attempts we've made in the last couple of years to help you recognize these kinds of scams, it seems we've let you down. Just in the last 4 days, we've received six emails from people who've fallen or almost fallen for one of these tech support scams. Maybe our articles were too detailed, or too long, or not sufficiently concise to prepare you for the ubiquitous tech support scams on the Web. And if so, then we let you down.
So, we've decided to take a different approach. Here are two recent emails we've received – that we're paraphrasing to protect the people who wrote them. Maybe this will help more of you than are long, detailed, articles.
This one is from a person we're going to call "C" for the purpose of this article. C is not one of this person's initials.
"C" wrote … 
"I was working on my computer and browsing the web. When I changed sites, sites I use often. I was greeted with a large black and red warning box accompanied by a very loud and annoying blasts of a horn. It was Microsoft informing me that my computer was locked and it was. I could not use it at all. The warning box had a telephone number to call if I wanted the problem fixed. I dialed the number but as soon as I heard the tech speak (heavily accented English), I declined his offer to take over my computer in and fix it. I hung up, turned the computer off, and left it off for about 20 minutes. The tech was from another country and he demanded all my credit card number before he would fix my computer. I told him "NO". He kept calling back but I never answered. Why would Microsoft lock my computer? It has worked normally ever since I turned it off and then back on…"
The one is from a person we're going to call "M".
"M" wrote…
"I was on a site a visit regularly, when all of sudden I got a very loud audible warning telling me someone was trying to hack into my computer. Then I saw a warning message a appear with a phone number to call if I wanted to get my computer fixed. I called the phone number. The technician told me my computer is infected with a Trojan. I hung up but I'm writing to you and hoping you can help me. You have fixed one of my computers in the past…"
Just read those two statements and look at the similarities. These are only two of the six emails like this we've received in the past few days. They're all similar because each of these people either fell for or almost fell for a tech support scam.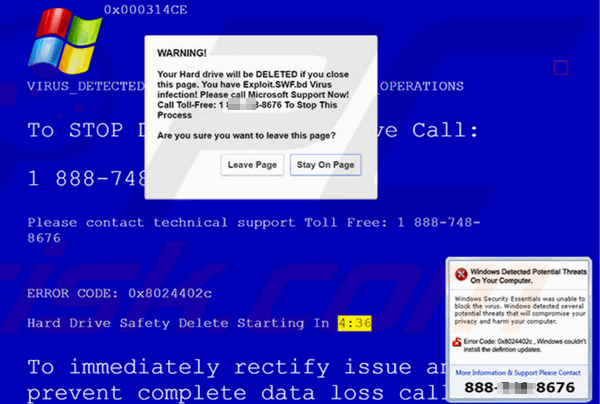 No one on the web, not Microsoft nor anyone else, knows if your computer is infected or not They don't know if you have Trojan or not, they don't know if you have computer problems or not. They're trying to scare you into calling a number and getting you to provide your credit card number – and even your personal information like your phone number.
What would you do if someone called you out of the blue and said your house was infested with termites, and if you didn't give the caller your credit card information, your house is in danger of turning to dust. You wouldn't believe someone you didn't know, calling you out of the blue, telling you your house was infested with termites, or that your plumbing is bad and your house is going to turn into a sewer if you give out your credit card information.
If you're browsing the web, even if you're visiting familiar sites, sites you've visited dozens of times before and you hear a loud siren or horn and/or you see a warning box saying your computer is going to be locked, or your hard drive erased or that it is full of viruses, or Trojans or someone is trying to hack your PC… do not panic. It's a tech support scam. That's all it is. And it's easy to get out of that situation:
NEVER EVER EVER CALL THE NUMBER YOU SEE ON YOUR SCREEN.
THEY WON'T FIX ANYTHING BUT THEY WILL HAVE YOUR PHONE NUMBER AND YOUR CREDIT CARD INFORMATION IF YOU FALL INTO THIS TRAP.
USE THE CTRL+F4 SHORTCUT
CTRL+F4 will close the browser tab in focus (on top). Pressing CTRL+F4 repeatedly will close all your browser tabs and then close your browser.
IF CTRL+F4 DOES NOT WORK, JUST RESTART YOUR COMPUTER
If you can't close your browser using CTRL+F4, just restart your computer. Don't worry – your computer is not going to be locked and your hard drive is not going to be erased. One thing you need to be aware of if you restart to avoid a tech support scam – when you reopen your browser will probably give you a message that says something like: "Your last browsing session was closed incorrectly – would you like to reload the tabs that were closed?". NO. you don't want to reopen the tabs that were closed unless you want to go back the tech support scam.
Tech support scams are nothing but clever ads designed to make you panic and part with your hard-earned money and maybe some personal information. When most of us panic we don't think logically.
Don't fall for these tech support scams, OK?