June has problems with a couple of programs freezing
Hi guys. Every time I close my hallmark card program it says it has quit working and will close? even though I closed it? The other program that does this is my nVidia control panel. It mostly turns its self off because of  data execution prevention and when  I try to change that ,it says I can not for this program? can you help? Thanks June
Our answer
Hi June. There are so many things it could be and we have so little information about your computer. So we're going to give you a few ideas and hope one of them works for you.
First make sure you're logged-on with administrator privileges. We've worked with dozens of readers now through our Cloudeight Direct Computer Repair program and we've seen some who've created a restricted account for themselves and use it. The reason? They read in another newsletter where this keeps them safer. It really doesn't. What it does do is prevent people from using their computers the way they want. So if you've created a restricted account, log out of it and log on with your administrator account.
Turning off DEP is a good way to keep programs which seem to crash often running without crashing. But you can't turn off DEP for certain programs if you are not logged in as an administrator. And you can't use DEP at all if your computer's processor doesn't support DEP. See the picture below: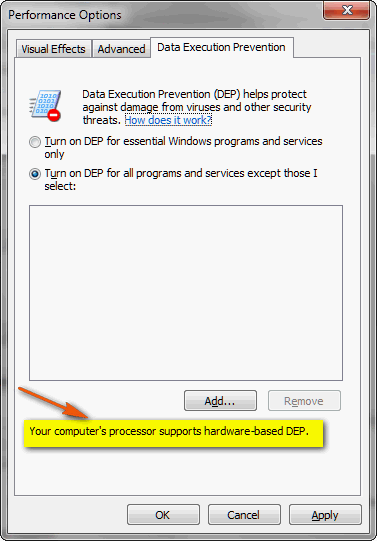 If your DEP dialog doesn't say "Your computer's processor supports hardware-based DEP" then turning off DEP is not an option for you. To learn more about DEP and how to turn it off or selected programs to prevent them from freezing (crashing) see our article on DEP here: https://thundercloud.net/infoave/new/?p=2621
If you're using a 3rd-party firewall (and again we remind you – you don't need a 3rd-party firewall. All you need to do is make sure Windows firewall is turned on.), you'll have to read the documentation that came with it and learn how to manually configure it to allow those programs to run. And, just an aside – you don't need nVidia control panel at all. Your graphics will work fine without leaving it on  — and you can still change screen resolution and so forth by using Control Panel.
Another thing that causes programs to crash – especially if they been running for awhile — is low system resources. Take a look at your start-up programs and disable the startups which aren't essential. You don't need nVidia control panel starting with Windows. Nor do you need printer software, graphics programs, email programs, browsers, chat programs, etc. starting with Windows. The only things you need to start with Windows are Windows components and your security program(s). You can disable any start ups by pressing Windows key plus the "R" key and typing MSCONFIG in the Run dialog – then press "Enter". Click the Startup tab at the top and remove the checkmarks from any program which doesn't need to start with Windows. This is one of the most universal problems we've seen so far – too many programs starting with Windows. If you have a lot of RAM (4GB or more) this probably isn't so much of a factor, but if you're running Vista on 2GB or less of RAM – this will be a factor. Every program that starts with Windows runs continuously in the background and using system resources. If you do a lot of multi-tasking too, you'll notice your computer getting slower and slower the longer you use it. And when available system resources (RAM) starts running low, programs start crash.
Finally check for updates to your software programs – if any updates or upgrades are available, install them. Many times developers will release updates that fix known issues and bugs. Make sure you have the latest versions of the software programs you use. Finally, if you continue to have problems running certain programs, check with the software programs'  manufacturers. It may well be that you're not the only Windows Vista user experiencing these problems – and they may be able to offer you a simple solutions for them.
We hope these suggestions help you (and others) solve problems with programs that freeze and/or crash.
We can perform services like these for you! Learn more about our Cloudeight Direct Computer Repair service .