Windows Disk Cleanup is on every Windows XP, Windows Vista and Windows 7 computer. And for those of you who have never used it, you will find it works very, very well. Much better than many of the freeware cleaner programs you've probably tried. If you haven't given Windows Disk Cleanup a try, why not try it right now?
To start Windows Disk Cleanup, press the Windows Key plus the "R" key, then type cleanmgr.exe in the command line and press Enter. Windows Disk Cleanup will begin to scan your system looking for junk to remove – well that's what it does!

You'll then be presented with a dialog that allows you to choose which files you want to delete. The files in this list can be deleted – without worry.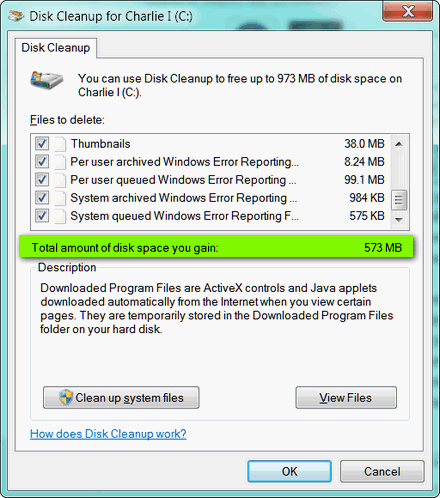 If you want more options, for instance cleaning up old system restore points, click "Clean up System Files". Another scan dialog will appear and then a dialog – that looks exactly like the first one but with a More Options tab at the top. Click on More Options. You'll be able to delete all the old system restore files but the most recent one. Do not do this if your computer is running poorly. You may find you need to go back further than the most recent restore point, and if you clean up all the old ones, you won't have the option to go back further than the most recent restore point. So please use this option with care.