Don't Ignore System Restore
The first thing you should do is something bad happens to your computer is keep calm. Most of the time if something happens all you need to do to fix it is a System Restore. System Restore will return your computer to the exact state it was in at the Restore Point you choose. So what you need to do is to choose a restore point, BEFORE the date your problems started. And the sooner you do the restore the more likely it will be successful.
Here's how to do a System Restore in Windows 7, Windows 8x or Windows 10:
1. Press & hold the Windows Key and tap the R key.
2. In the RUN dialog that appears, type RSTRUI and press Enter
3. System Restore will start.
4. Follow the screenshots and instructions below: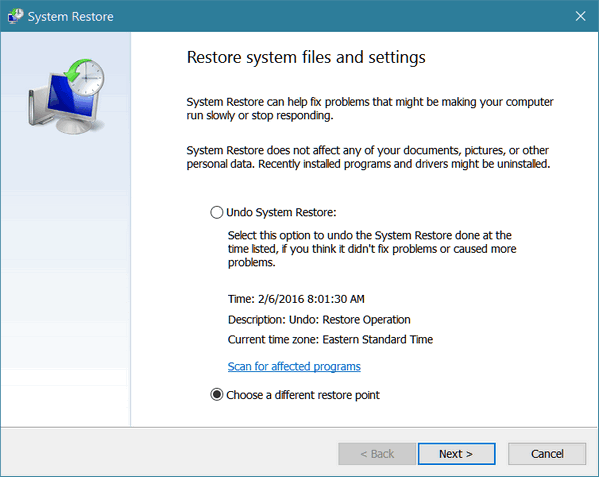 On the first screen select "Choose a different restore point" (to give you the full list of restore points available) and then click "Next" .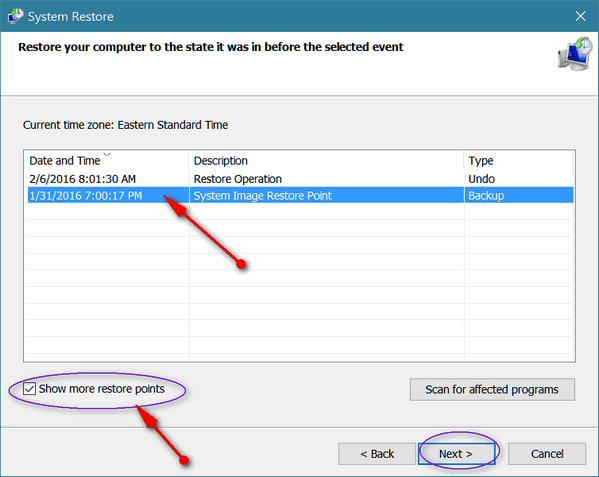 On the next screen you will see the most recent restore points. Remember: You're looking for a date at least 24 hour before your problems started.
Highlight the Day you want to use as your Restore Point, remember to choose a date from at least 1 day prior to the date your problems began.
I had a problem with my computer that I first notices on February 2, 2016. So, as you can see below, I choose a restore point dated 1/31/2016.
You can see how it shows the exact date and time to which your computer will be restored. If you're sure this restore point is BEFORE your problems began, click Finish and System Restore will start. You'll get a warning that once System Restore has started you can't stop it. Click OK.
You won't lose any personal files. But any programs that you installed between the restore point you choose and date you do the restore will be gone – and that's a good thing; it's likely something you installed, caused your problems. And remember, doing a system restore does not remove or change any of your personal files. All your pictures, music, documents, emails, will be there after the System Restore has completed – you won't lose any of them.
THIS IS IMPORTANT: System Restore can take a long time. It may take 30-45 minutes (or even longer) for System Restore finish. The worst thing you can do is to interrupt it. If you sit there and watch the screen it may seem like an eternity: you may see nothing at all, you may see a little spinning globe, you may see text saying that System Restore running. Whatever you do, do not interrupt it. Walk away. Come back in 45 minutes. When you come back, and System Restore has completed, you'll see a dialog on your screen that will say "System Restore has successfully restored your computer…" back to (whatever date you choose). Close the dialog box and start using your computer – it should be exactly the way it was on the date of the Restore Point you chose. And the only thing(s) that won't be there will be any programs you installed after the date of the restore point you chose.
System Restore can be a powerful tool you can use to fix your computer when it is not running well. But System Restore is only effective if you use it as soon as you can after you notice your computer problems. If you wait a month or more, System Restore may not be an option because you may not have any restore points old enough – or the ones you have may no longer be viable. Think of System Restore as a doctor – the sooner you see him after you have health problems – the faster and more completely he'll be able to heal you.
Everyone should think of System Restore first when they start having problems with their computer. It works quite often especially if you use it as soon as you can after your computer troubles begin.