One more thing about Windows 10 Storage
There is another thing you can do with Storage that we didn't mention, and that is that you can manage your temporary files from Windows 10 Storage too.
So open Storage by going to Settings (press Windows key + i or click on the Start button and click Settings). In "Settings" click on "System" and in "System" click on "Storage". Get the full scoop on opening working with Windows 10 Storage here.
Next select the drive you want to manage. For this article, we've chosen our Windows drive – Drive C:\ . If you look at the list that opens when we clicked our C:\ drive, you'll see in the list, "Temporary files". (Note that this is an unreasonably large quantity of Temporary files, but this screen shot came from EB's PC and you can see she's quite messy, unlike me 🙂 )
And when you click on Temporary files you see the Temporary Files dialog (below):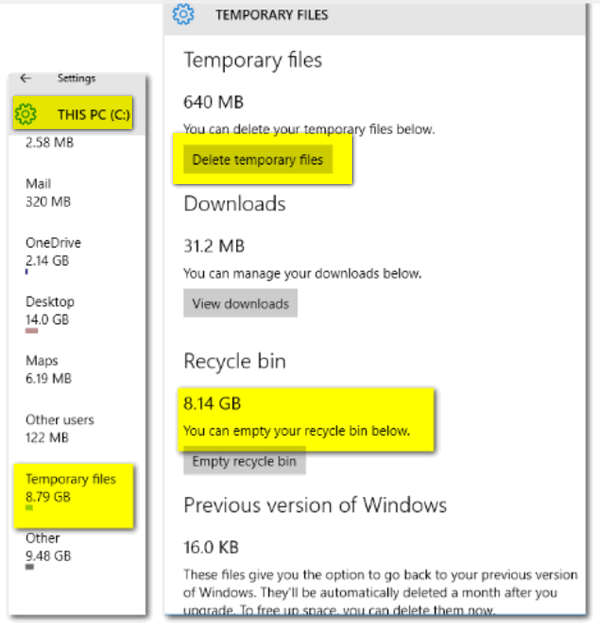 Notice that beneath "Temporary files" is a button "Delete temporary files". As you can probably imagine if you click that, you'll delete the unnecessary temp files on your computer. If you let your eyeballs float down lower, you will see you can even delete the contents of your Recycle Bin from here too. I sure hope EB cleans her recycle bin soon!
One more important thing you'll see on this list is "Previous version of Windows". You'll have the option to remove previous versions of Windows and save a lot of space, but heed this WARNING: If you do this you will not be able to go back to the previous version of Windows. After you upgrade to Windows 10, you have 30 days to keep Windows 10 or return to your previous operating system without losing anything. However if you choose to delete your previous version of Windows less than 30 days after you install Windows 10 – you'll lose the option to return to your previous version of Windows without losing anything. According to Microsoft, and from what we've seen, after 30 days the previous version of Windows is removed.
I'm concerned about the junk on EB's PC. I'm going to clean it when she's not looking.