Take Control of System Restore
We've heard from many of you that when you try to use System Restore you can only find one or two restore points, even when you tick the box that says "Show more restore points."
The reason for this is that Windows, by default, has set the maximum hard drive space that System Restore can use at 1 % of the total hard drive. If you have a 1 TB hard drive, that's a maximum of approximately 10 GB. If you have a 500 GB hard drive it's only about 5 GB.
System restore points, depending on the amount of data on your computer, can be quite large, so it's quite likely that many of you have only 1 or 2 restore points you can choose from if you need to do a system restore, because of Window's small default System Restore size limit.
We recommend that you change this to at least 5% and preferably 10% – and here's how you and that.
Press Windows key + i to open Settings. In Settings click on "About" then "System" then "About". In the About dialog,, under "Related settings" click on System Info.

You can also get to System info by pressing the Windows Key + the Pause/Break key.
Next click on "System Protection" in the System info dialog.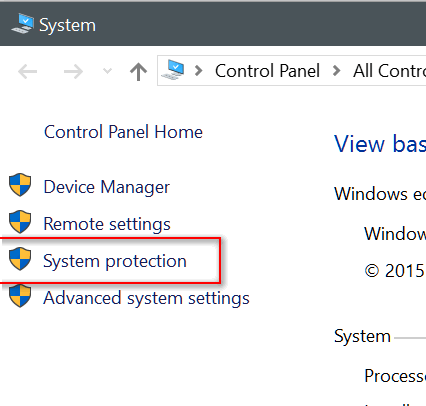 In System Properties, under the "System Protection" tab, select your Windows drive (usually "C:" ) and click on the "Configure" button:
In the System Protection dialog, make sure that "Turn on system protection" is selected. Under"Disk Space Usage" use the slider to adjust the amount of disk space you want to allocate to System Restore.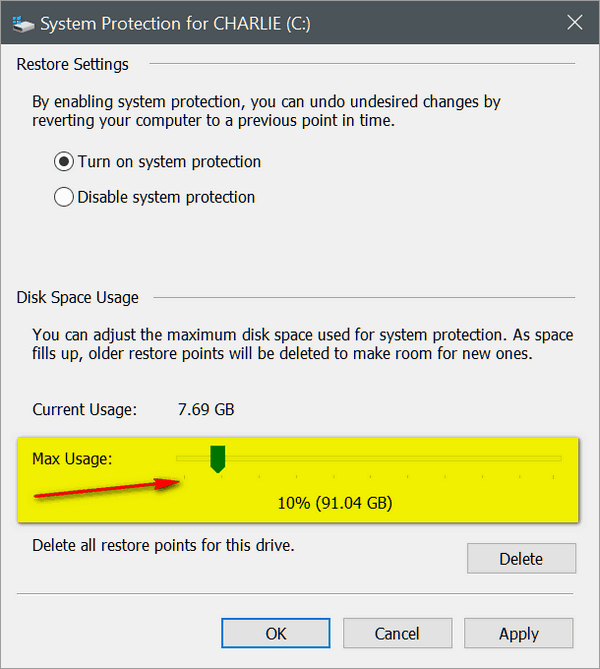 Now, click Apply/OK.  Increasing the disk space allocated to System Restore increases the number of restore points you'll have available. We recommend you don't go crazy and allocate more than 10% of your hard drive space to System Restore. And keep in mind too, increasing the drive space allocated to System Restore has no immediate affect –  you're not going to see five new restore points appear out of the blue. Over time, you'll have 4 or 5 (or more) restore points to choose from instead of 1 or 2. More is better to a point – don't go crazy 🙂