Download Windows ISO Files With Ease
If you don't have a Windows installation disk (or bootable installation USB) you should.
This Cloudeight freeware pick makes it easy to download a Windows 7, Windows 8.1, or Windows 10 ISO file from which you can easily create a Windows installation disk.
If you don't know what an ISO file is, it's a CD/DVD disk image from which you can burn a CD or DVD. In the case of Windows, you can create a bootable DVD disk that you can use to :
Boot your computer in case you cannot boot normally.
Access Windows troubleshooting tools like System Restore, Command Line (from which you can run disk check and System File Checker), and, in the case of Windows 8.1, System Refresh and System Reset, and System Reset in Windows 10.
Clean install Windows
Our freeware pick is Windows ISO download – a simple too to use – and one you don't even need to install – just download and run it. If you plan on using it more than one, it would be a good idea to pin it to your start menu and/or taskbar, or make a desktop shortcut to it.
Here are some screen shots to give you an idea of how simple and easy ISO Downloader is to use: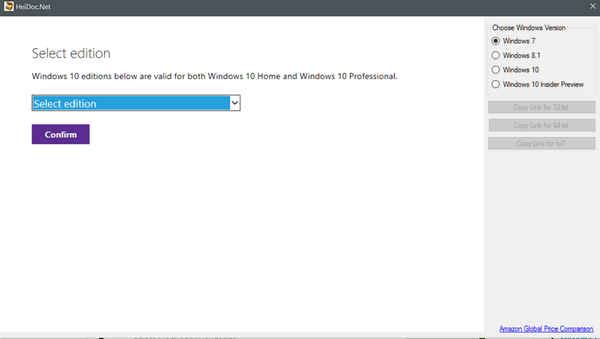 On the right, you can choose the Windows version for which you want the ISO file.  Above I've chosen Windows 7.  And below you can see all the ISO files available. Most of you using Windows 7 will want Windows 7 Home Premium SP1 or Windows 7 Professional SP1.
You can choose Windows 7, Windows 8.1, Windows 10, or Windows 10 Insider Preview.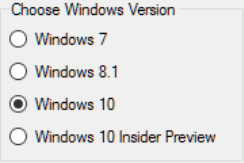 And you be able to choose from many different versions of Windows 8.1 and Windows 10, similar to the lists shown above for Windows 7.
If you don't have a DVD drive, you can make a bootable USB drive from an ISO,  but you'll need a freeware program to do it easily. See this page for more info on making a bootable USB from an ISO image. If you have a CD/DVD drive in your computer, we suggest you burn a DVD instead of a USB – unless you're sure your computer's BIOS is set  to boot from a bootable USB.
Having a Windows installation disk can be use to boot your computer, troubleshoot your computer when you can't boot normally, and/or to reinstall Windows. You should have one.
The author of Windows ISO Download Tool is, unlike me, thrifty with his/her words. Here, from the developer of the Windows ISO Download Tool is this brief description:
This new tool allows an easy and comfortable way to download genuine Windows 7, 8.1 and 10 disk images (ISO) directly from Microsoft's servers.
Ever since Microsoft pulled the Windows disk images from Digital River, hunting for untouched ISO files has been a pain. Our new tool will make your life easier, and provides and interface to Microsoft TechBench to download original Windows images directly from Microsoft's server.
So there you go. That's about it. You can download the Microsoft Windows ISO Download Tool from here. No tricks, no games. No install needed. Great freeware.