If you find that your current anti-virus program either will not allow Emsisoft Anti-Malware to run, or that Emsisoft Anti-Malware shuts down your current antivirus program – don't worry. Unlike Malwarebytes, Emsisoft Anti-Malware is also an antivirus. We want you to make the right choice — and that choice is letting Emsisoft be your antivirus program as well.
Why? First, Emsisoft is one of the few antivirus programs to score 100% on AV Comparatives last test (March 2013). If you look at the chart at the bottom of this article you'll see it ranks above some very known programs. Secondly, Emsisoft is a powerful anti-malware program which helps you recognize and avoid the most ubiquitous software wrappers, bundlers, hijackers, rogues, scareware, rootkits, Trojans, and other nefarious software that is becoming a daily threat to almost everyone who surfs the Web.
So, if you are using an antivirus suite like McAfee and it will not allow you to install Emsisoft — or if Emsisoft shuts down your current antivirus — make the right choice and choose to use Emsisoft. You'll be making the right choice in antivirus protection and in anti-malware protection.
To learn more about Emsisoft Anti-Malware please visit this page.
This chart comes from AV Comparatives Independent March 2013 Antivirus Testing.  You can download the full article in PDF format here.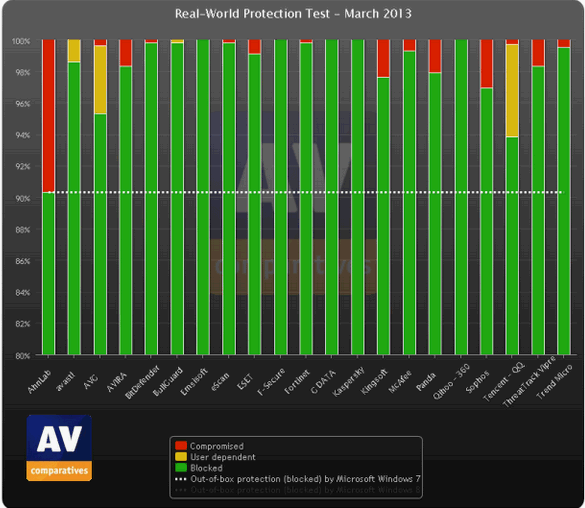 How does your current antivirus compare to Emsisoft Anti-Malware?