Export Your Gmail Contacts
If you've been using Gmail for a while, you have probably built quite a list of contacts (Address Book). If you'd like to export your contacts for use in a desktop email program or other application, you'll be glad to know it's really easy to do.
Here's how:
Log-in to your Gmail account. Right beneath the Google logo, you will see the word Gmail and right next to the word Gmail, you'll see a tiny down-arrow. Click the down-arrow and select "Contacts" from the list. See the picture below: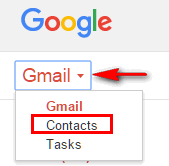 When you click Contacts, another dialog appears.
Click on "More" then click on "Export". See?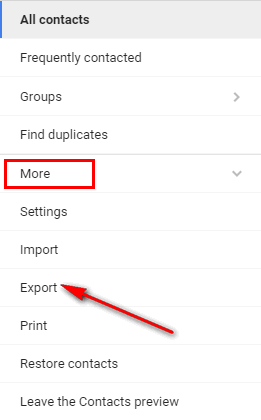 When you click on Export you'll be able to choose the contacts you want to export (we've selected "All") and the format in which you want to save your contact list. Almost always you'll want to choose "Outlook CSV" because this is a standard format recognized by the vast majority of email program.




Once you've selected the contacts you want to export and the format in which you wish to export your contacts list, just click the blue "Export" button. Your contacts list will be downloaded to your computer where you can import it to most email programs by clicking on "File" "Import" and choosing CSV format and then browsing to the file you downloaded from Gmail.

It's just that simple 🙂
---

Microsoft has announced that as of January 2017, they are no longer updating or supporting Windows Live. Microsoft addresses no longer work in Windows Live, and many ISP that use new secure servers, or have plans to, will soon stop working with Windows Live Mail.  And Windows Mail on Windows 10 is a problem because every time Windows 10 has a major update, Windows Mail has to be reset. Plus, the Mail App included with Windows 10 is very basic and few people find it useful
Mozilla Thunderbird is a great alternative for those of you who have been using Windows Live Mail or Windows Mail on Windows 10 and who don't want to use the limited Windows 10 Mail App. Thunderbird is compatible with all email accounts, including all Microsoft accounts, Windows 10 updates don't affect it, and has the familiar look of Windows Mail and Windows Live Mail. However it's very different as far as setting it up and configuring it.
So we're offering Cloudeight Thunderbird Email set-up service.

Our new Thunderbird Email set-up service includes installing and setting up Thunderbird to look and work as much like Windows Live Mail / Windows Mail as possible. We'll configure up to 3 email accounts for you and set them up as IMAP so that all your mail messages and folders on your mail server(s) are included in your Thunderbird Email program too! Plus, we'll give you a list of tips & tricks to help you get the most out of Thunderbird Email program.
Our new Thunderbird Email Set-up Service begins on October 1, 2016. We are now scheduling Thunderbird Set-up sessions. Get email that works the way you want it to — get your Cloudeight Direct Thunderbird Email Set-up Service key right now and put an end to the Windows 10 email merry-go-round.
GET MORE INFO AND SIGN UP FOR OUR THUNDERBIRD EMAIL SETUP SERVICE RIGHT NOW!