FastStone Image Viewer
We've always been big fans of FastStone Capture for a very long time. In fact, it's our screenshot tool of choice. Sure, it's old, but the developer still updates it, and it does everything we need it to do
The other day, I was downloading an updated version of FastStone Capture, and accidentally downloaded FastStone Image Viewer. Now, we are Irfanview fans and have been since Darcy introduced me to it way back in 1998. I've used it Windows 98, Windows 98 SE, Windows ME, Windows XP, Windows Vista, Windows 7, Windows 8x, and with every version of Windows 10, I've had. But there's an opportunity in every miscue, and so it was with my mistaken download.
Now, I'm not going to lie to you and tell you that I'm about to replace IrfanView with FastStone Image Viewer, but I'm going to tell you that many of you will love the extra features of FastStone Image Viewer that are missing in Irfanview.
FastStone Image Viewer is an image browser that almost instantly provides you with a "contact sheet" of every image in a folder. You can batch rename, you can create slideshows and even add music, batch resize photos, and much more.
And rarely do we ever come across a developer who is more verbose than us. But the developer of FastStone Image Viewer is one. So, rather than us telling you all about the program, we're going to let him/her do that for you and spare you our sparkling diatribe.
So, we'll start with some screenshots, and then let Mr. or Ms. FastStone tell you all about FastStone Image Viewer.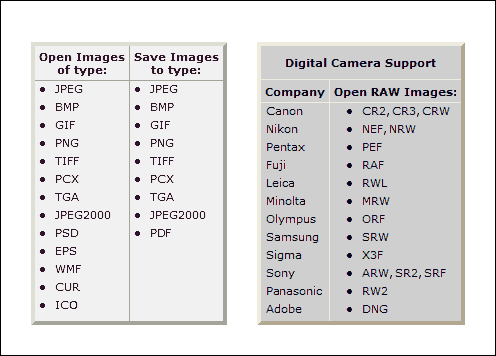 Now, from the developer of FastStone Image Viewer:
FastStone Image Viewer is a fast, stable, user-friendly image browser, converter and editor. It has a nice array of features that include image viewing, management, comparison, red-eye removal, emailing, resizing, cropping, retouching and color adjustments. Its innovative but intuitive full-screen mode provides quick access to EXIF information, thumbnail browser and major functionalities via hidden toolbars that pop up when your mouse touches one of the four edges of the screen. Other features include a high quality magnifier and a musical slideshow with 150+ transitional effects, as well as lossless JPEG transitions, drop shadow effects, image annotation, scanner support, histogram and much more. It supports all major graphic formats (BMP, JPEG, JPEG 2000, animated GIF, PNG, PCX, PSD, EPS, TIFF, WMF, ICO, CUR and TGA) and popular digital camera RAW formats (CR2, CR3, CRW, NEF, NRW, PEF, RAF, RWL, MRW, ORF, SRW, X3F, ARW, SR2, SRF, RW2 and DNG).

True Full Screen viewer with image zoom support and unique fly-out menu panels
Crystal-clear and customizable one-click image magnifier
Powerful image editing tools: Resize/resample, rotate/flip, crop, sharpen/blur, adjust lighting/colors/curves/levels etc.
Eleven re-sampling algorithms to choose from when resizing images
Image color effects: gray scale, sepia, negative, Red/Green/Blue adjustment
Image special effects: annotation, drop shadow, framing, bump map, sketch, oil painting, lens
Draw texts, lines, highlights, rectangles, ovals and callout objects on images
Clone Stamp and Healing Brush
Superior Red-Eye effect removal/reduction with completely natural looking end result
Multi-level Undo/Redo capability
One-touch best fit/actual size image display support
Image management, including tagging capability, with drag-and-drop and Copy To/Move To Folder support
Histogram display with color counter feature
Compare images side-by-side (up to 4 at a time) to easily cull those forgettable shots
Image EXIF metadata support (plus comment editing for JPEGs)
Configurable batch processing to convert/rename large or small collections of images
Slideshow creation with 150+ transition effects and music support (MP3, WMA, WAV…)
Create efficient image attachment(s) for emailing to family and friends
Print images with full page-layout control
Create fully configurable Contact Sheets
Create memorable artistic image montages from your family photos for personalized desktop wallpapers (Wallpaper Anywhere)
Acquire images from scanner. Support batch scanning to PDF, TIFF, JPEG and PNG
Versatile screen capture capability
Powerful Save As interface to compare image quality and control generated file size
Run favorite programs with one keystroke from within Image Viewer
Offer portable version of the program which can be run from a removable storage device
Configurable mouse wheel support
Support program skins
Support dual-monitor configurations
Support touch interface (tap, swipe, pinch)
Support dual instances
Play video files (Third party codecs may be required for old versions of Windows)
And much more…

No Adware. No Spyware. Free for Home Users
So, see? Sometimes mistakes can be fruitful. And we plucked a great freeware pick from this one.  Learn more about and/or download FastStone Image Viewer from this page. There are no tricky download links or buttons. No malware, spyware, grimware, or other foolishness going on here. You can download FastStone Image Viewer without trepidation.