Find Duplicate Files With Anti-Twin
We have received several requests recently for safe ways to find and manage duplicate files – particularly photos.
After years of trying and rejecting all kinds of duplicate file finders, either because they were distributed with garbageware, bundled with malware, or were too aggressive thus leaving reeling users with tears rolling down their faces because the files that some duplicate file finders found were not dupes at all, we have finally found a duplicate file finder we can recommend.
Now, that does not mean you can throw caution to the wind and delete every file that might be a duplicate. You still have to exercise good judgment. But Anti-Twin does a great job of finding duplicate files and then letting you compare the duplicates so you can make an informed decision it the duplicate is really a duplicate and if you want to delete it.
Anti-Twin is the fastest, coolest, safest (when used according to directions and with reasonable care) free duplicate file finder this side of Mars. I can't tell you what's beyond Mars, but I have a feeling I might find out someday if EB's size 10 boot ever finds my posterior.
Anyway — Anti-Twin is a small (less than one megabyte) program that will find duplicate files in any folder and help you eliminate the mess that duplicates cause. Plus Anti-Twin compares files in all sorts of ways to ensure the files are really duplicated. You sure don't want to delete aunt Emily by accident.
But lest I ramble on too long and start being redundant, let's allow the Anti-Twin's author, Jörg Rosenthal, to tell you all about his program Anti-Twin:
Anti-Twin Version 1.8d (2010)

* Byte-by-byte comparison of user-defined files (file content)
* Search for identical or similar file names
* Pixel-based image comparison, e.g. search for similar pictures

Free for private use

Anti-Twin is a small software application which compares files, i.e. it searches for duplicate or similar files on your hard disk drive. All similar or identical files that were found can either be sent to the recycle bin or directly deleted. This will increase the hard disk space on your computer.

Select the option "Compare file content" to compare the entire binary content of the files. This means that the file names are irrelevant. Here, the basic principle is: "Name is but sound and smoke – size matters! And never lose sight of the inner values."

Anti-Twin is an excellent application to e.g. find and delete duplicate MP3 files in a download folder or to find similar images. Apart from that, Anti-Twin helps you clean up employees' chaotic file repositories in company networks, e.g. by searching for unnecessary file copies and redundant data back-ups.

Anti-Twin is freeware and can be downloaded from the Download page…. Please also read the instructions and note the warnings.
Anti-Twin works on Windows 7, Windows 8x, Windows 10 (all versions). We created the screenshots below on Windows 10.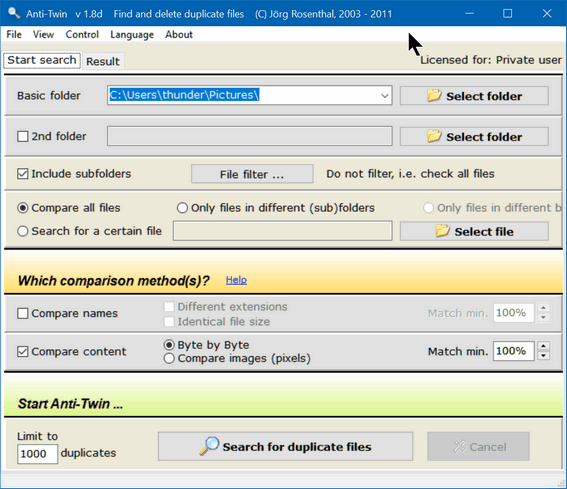 Above: The Anti-Twin program interface. A little dated, but still intuitive.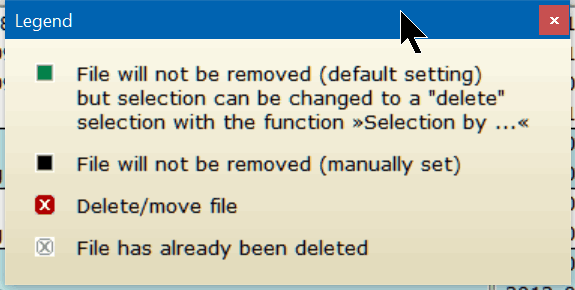 Above: Default setting in Anti-Twin makes sure suspected duplicates are not deleted without your review. You get the final say… but only if you leave the default setting alone.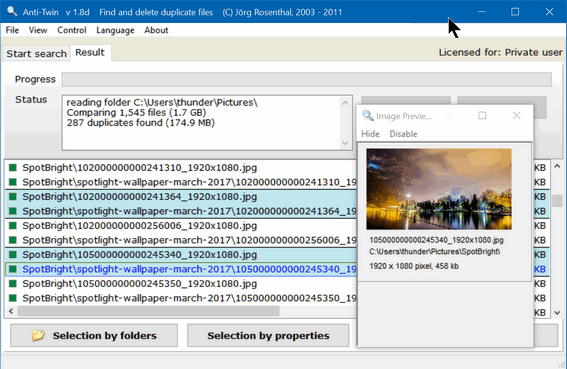 Above: Some duplicate images found in my Pictures folder. Note by clicking on each duplicate I can compare the images, images sizes, and type… and be absolutely certain they're duplicates.
You can read more about and/or download Anti-Twin from http://www.joerg-rosenthal.com/en/antitwin/. You can download it with an installer, just the executable, or as a zip file. We recommend you download the installer. All files are clean and green – free from any garbage, tricks or malware. If you want to go directly to the download page, here's the link:
http://www.joerg-rosenthal.com/en/antitwin/download.html
Oh, and one more thing: Please do as Jörg says and take a moment to read the instructions and the warnings. Anti-Twin is easy enough to use you'll be tempted to skip the instructions and that means you'll be tempted to skip the warnings but please don't. Use Anti-Twin only as directed.