How to Find Out if Your Phone Number Was Stolen in the Facebook Breach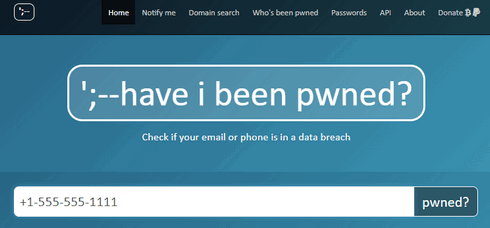 Recently, the personal data of 533 million Facebook users was stolen and placed on a hacking forum. 
"Have I been pwned" has added a new feature that is especially useful if you're a Facebook user. As a result of the Facebook breach, the site now allows people to find out if their phone numbers have been exposed. "Have I been pwned" previously allowed users to check to see if their email addresses and passwords were exposed in past breaches.
The recent Facebook breach prompted Troy Hunt, the security expert who runs "Have I been pwned", to enhance the site so that people can search to see if their phone numbers have been breached too. As you may know, the recent Facebook breach exposed far more phone numbers than email addresses.
To see if your phone number was exposed in the Facebook breach, go to
https://haveibeenpwned.com/.
To search for a phone number, enter your phone number using the international format — i.e. with the country and area codes. A user in the U.S.A. would add +1 and their area code before their phone number. For example, a U.S. phone number 555-555-1111 would be entered as +1-555-555-1111.
Here are a few country codes:
USA country code +1
Australia country code +61
New Zealand country code +64
Great Britain country code +44
If yours is not listed, just google country code + the name of your country.
Good luck. May your phone number not be listed among the ones pilfered.