Find the Best Software Alternatives at AlternativeTo
This is about evolution – no, not the kind you argue about with atheists and astrophysicists, but about software evolution. Remember when Bill Gates was a skinny geeky, god-like creature who ruled over the world of desktop PCs like a skinny, male schoolmarm with funny glasses – deciding for us what we'd like and then, just like the Wizard of Oz only doling out tidbits, crumbs of things we almost liked but never really did?
Remember when Steve Jobs got fired and came back to Apple and stuck a penny in his ear and invented the iPod and became the darling of the tech world. Oh, 'twas so long ago and far away when we were all younger than today.
For whatever reason, a lot of software gets worse with each new version. What was wrong with Windows XP? Nothing. But everyone had it, and if everyone has something they like, they don't want anything new.
But Microsoft needs you to buy new things so they can meet the Wall Street forecasts and the executives can get bonuses, buy yachts, and fancy cars and private jets, while the rest of us grovel around like fuzzy little peasants tapping on keyboards looking at the latest incarnation of Bill Gate's Windows. Microsoft peers down at us peasants saying, "Let them eat cake!" Such arrogance. Still, we grovel and push our little mice around and spend our time searching for the start button. Windows 10 is free but comes with telemetry tracking so Microsoft can make zillions off our habits. What was wrong with Windows XP?
And so it goes with software evolution. Newer is not necessarily better. In fact, most of the time it's not better. It's worse. How many freeware programs are no longer free? How many freeware programs have become bundled with malware like a lonely crumb of meat in a large cheese and bean burrito? Perhaps we really are peasants groveling for a voice – a voice that says, GIVE ME THE SOFTWARE I WANT AND NOT THE SOFTWARE YOU WANT ME TO HAVE!
If you are one of the many who have watched your favorite programs devolve into senseless programs managed by ribbons and toolbars that make no sense, don't give up — search for an alternative.
Our feature site pick today is AlternativeTo. And its name is as descriptive as I'll ever get. So, because I'm tired, full of beer, and yawning, I'm going to turn this article over to Mr. Alternative and Miss To – and let them fill you in, okay?
About AlternativeTo…
AlternativeTo is a free service that helps you find better alternatives to the products you love and hate.

The site is made by Ola and Markus in Sweden, with a lot of help from our friends and colleagues in Italy, Finland, USA, Colombia, Philippines, France, and contributors from all over the world. That's right, all the lists of alternatives are crowd-sourced, and that's what makes the data powerful and relevant.

Feel free to send us your questions and feedback at hello@alternativeto.net, in our forums or on social media.

We have one mission: helping you find the right software for your computer, mobile phone or tablet. Our main focus is to give you alternatives to software you already know and want to replace. Based on our users' recommendations we list great alternatives to the applications you want to replace. By joining the site, you can participate in the process of making these recommendations better, so please join in!

Stay updated

There are numerous ways to follow AlternativeTo and to keep in touch. Join our Discord server, follow @AlternativeTo on Twitter, follow our page on Facebook, and you can of course send us regular e-mails on hello@alternativeto.net.

Terms & Privacy policy

AlternativeTo knows that you care about how your personal information is used and we take your privacy very seriously. More about that in our Privacy Policy and Cookie Policy.
Some screenshots for you!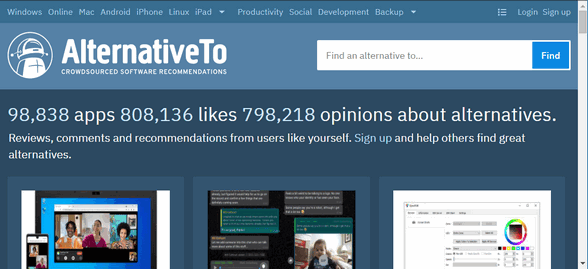 Searching for an alternative to Microsoft Word yielded seventy-nine alternatives.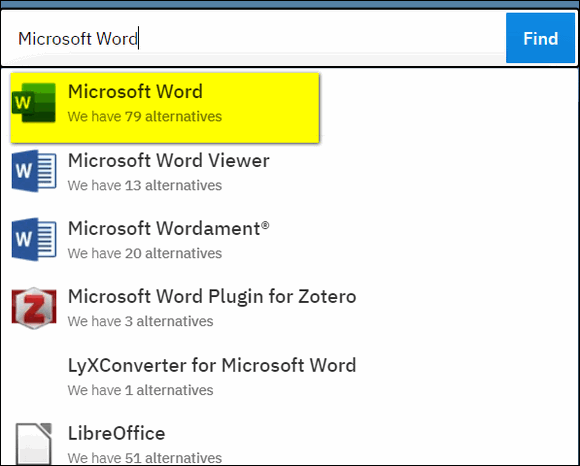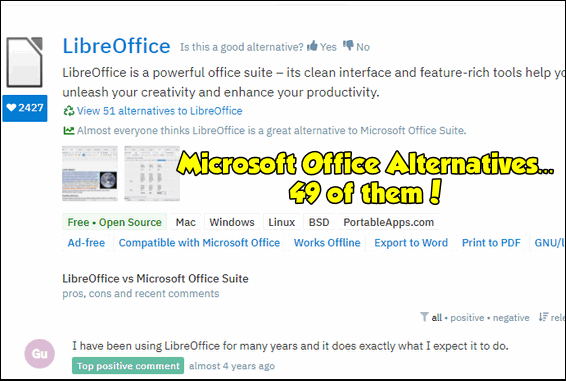 Searching for an alternative to Adobe Flash Player for those who can't live without it gave us eleven alternatives.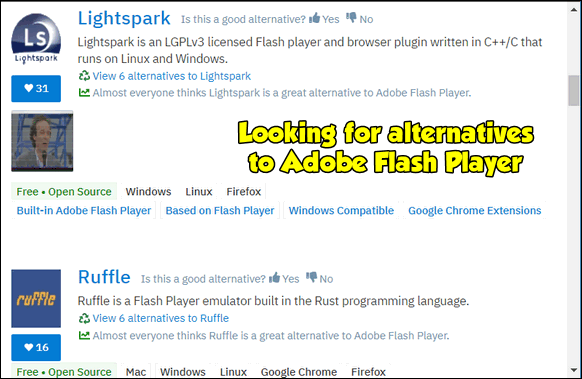 If your favorite programs have devolved into huge hairless apes with too many buttons and knobs – and when you run them they suck up all your RAM and CPU cycles – perhaps it's time you found a good alternative by visiting our Cloudeight Site Pick, AlternativeTo.
I have never once claimed to be sane.